41 Sailboat Cruising Essentials for Long Trips
In this post I list the items you are unlikely to have if you have never done bluewater or long-term cruising before. There are some essential safety product and also a couple of cool upgrades which will help you be comfortable.
What do you need for extended sailing trips? When going on an extended sailing trip, you need additional navigation and safety equipment, like a life raft, AIS transponder and satellite phone. There are some upgrades you might consider, like self-winding winches and autopilot. For ocean passages, you might need a watermaker and generator.
There's an endless list with upgrades you could do. But if we look at the bigger picture, it's actually just some fundamental changes. If you get these, outfitting your boat for long cruises is easy.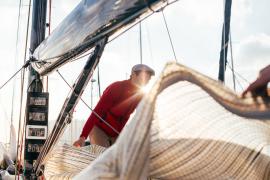 Also read:
Interactive List of Cruising Gear Essentials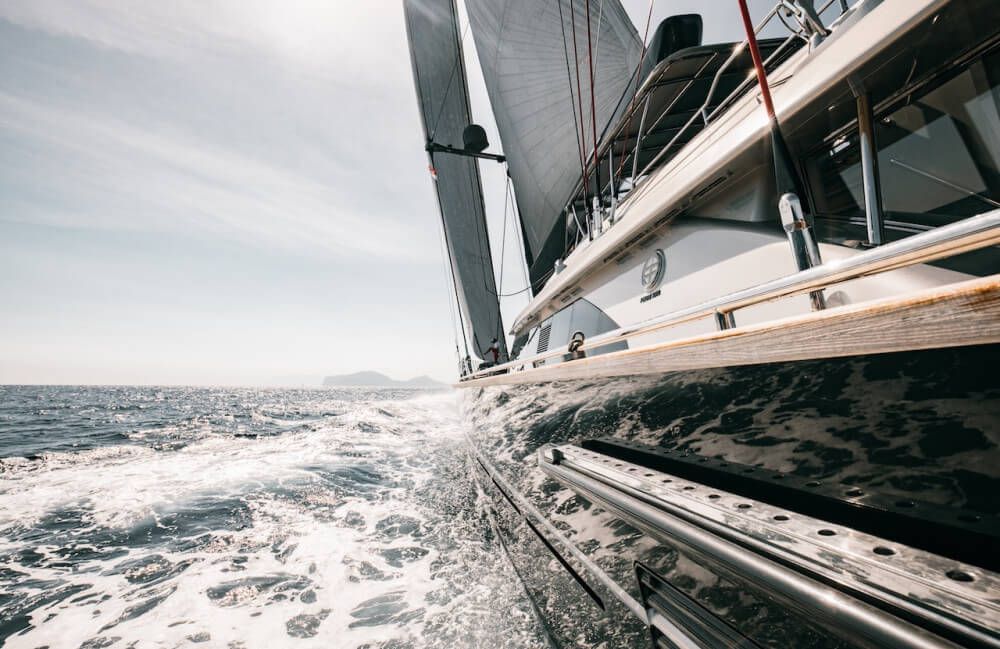 The Biggest Changes To Your Boat
If you're used to short sailing trips, a couple of things change when going on longer trips. The role your boat plays changes.
First off, it really depends whether you're planning an ocean passage or just a long trip on lakes. If you stay inland, you need less equipment.
For bluewater cruising, the change is the biggest. All of a sudden your boat is a liveaboard boat. On long cruising trips, you need to be self-reliant. You need a source of electricity, more safety gear, and a water maker.
Now that you'll be onboard for longer, these are the things that become more important:
traveling comfortably - because you travel for longer distances, you might want to upgrade some sailing gear and sailboat parts to improve the sailing experience.
living well and comfortably - you live on it, so you need to be able to be comfortable and take care of yourself.
maintenance - you travel in it, so you need to be able to keep on traveling.
traveling safely - with bluewater cruising, you need some additional safety gear.
So let's dive in. Here's my list with cruising essentials:
Sailboat Essentials to Travel and Live Comfortably
1. Watermaker
If you're about to set off on an ocean voyage, you need a watermaker. Watermakers are used to desalinate seawater. They only effectively desalinate about 10% of the water, and they require a lot of pressure (about 800 psi). Watermakers are quite large so you need to build it into one of your cabinets. They're also expensive.
So these are a couple of reasons why getting the right one can make a lot of difference.
You use on average 4-6 gallons of water each day per person. Desalinators filter anywhere from 1-8 gallons of water per hour.
So I'd say the biggest advantage of a watermaker is weight: water weighs a lot and having the option to just suck it out of the ocean instead of carrying around a 750-gallon water tank helps a lot to reduce weight, improving your overall sailing performance and speed.
2. Some Sort of Generator
With long trips, you need to be self-reliant and provide your own electrical power. Most long-term cruisers use some sort of generator to do this. You basically have four options:
traditional generator
solar panels
wind generators
hydro generators
The traditional generator is still the most commonly used option. But solar is on the rise, and I've seen an increasing amount of wind generators on sailboats. I don't know a lot about them, but I do use solar myself.
A generator is expensive and picking the right one is important - not just for the initial price, but also for the cost of usage. Traditional generators are a bit cheaper initially, and a bit more expensive to use in the long run. Although solar isn't free.
3. Self-Winding Winches
Self-winding winches are winches that hold the line for you while turning the winch. They make life onboard so much easier. They're especially great if you're sailing solo. Some people think they're not worth the investment, and I agree. Replacing the winches is way to expensive for just the extra comfort. But what if I told you, you can upgrade your existing winches at a fraction of the cost?
I've written an article about how to upgrade your winches to self-winding yourself - read it here (new tab).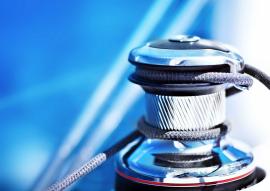 Also read:
3 Ways to Convert Your Winches to Self-Tailing
4. Roller Furling Sails
Another major investment that will make cruising life so much more pleasant. Roller furling sails allow you to quickly reef down your sails without much hassle. It does it for you. Great if the weather turns on you.
Agreed, you don't need them. But these might very well be worth the investment. Especially a roller furling jib is worth it. Be aware though that a roller furling mainsail is very expensive - you probably need to replace the mast.
5. Refrigerator
Long trips mean long days, and that means you deserve a cold beer at the end of it. This is one of these household items you simply need for taking care of yourself. You need to keep your food fresh. Especially important with ocean passages, where you could be self-reliant for up to three weeks.
6. Some Sort of Cockpit Canvas
There are multiple options for keeping your head out of the sun - and if you're constantly in the beating sun, you want some cover. You could also get hardtops, but I personally like canvas a lot more. You can change it around that way. Definitely worth the investment.
7. Mobmat
The Mobmat hangs on the side of the boat. It's a great tool for getting someone out of the water in case of a man overboard. This handy little chair reduces stress in worst case scenarios. And it's also a great hammock for relaxing in the sun.
You can check it out here: Mobmat at ADEC Marine.
8. Autopilot
Autopilot is one of those electronic upgrades you can't really do without if you sail for days on end for longer than 5 hours a day. Especially if you have to cover ground, this is the best way to get by - it allows you to sail at night, while just having someone on watch. But it also helps to reduce the stress of the day a lot - not having to man the helm continuously.
9. Handheld Vacuum
This is one of those items that you only come up with after having lived on your sailboat for some time. It's one of my favorite items on this list (apart from #29 - spoiler, it's a foldable bike) because it makes so much sense. A sailboat can be a pain to clean, but it isn't with a small 12V handheld vacuum cleaner.
I really like this one (click to check current price on Amazon).
It's a fair price for a powerful vacuum. The best part is that it's able to clean liquids, which is advantageous on a boat. It has served me well. It really increases the quality of my life. I'm not kidding.
10. Outdoor Shower Head
If you like to be clean, this is the best investment you could do for longer trips. Even if you plan on staying in marinas most of the time, this saves you a trip to the showers. You can attach the shower heads to the stern and use them to quickly wash after a salty swim.
11. Water Cans
This one's obvious but it's a shame if you forget to bring them. A couple of 1-gallon water cans will provide you with plenty of freshwater for the day.
12. Headlamp or Flashlight
Having a portable light source is absolutely necessary when you're on your own. I found this out the hard way. One day we found ourselves at the center of a thunderstorm. We were at anchor in the middle of a lake. We felt an urge to move the boat in the dark. Navigating without a light is a pain.
I use this Zebralight Headlamp (click to check current price on Amazon).
It's way more powerful than any other flashlight I have. It's also practically unbreakable and has rechargeable batteries. I've been a great fan of this head torch for a long time now.
13. Anchors (3)
For open water sailing, you need additional anchors. Ideally, you have your regular anchor and two storm anchors. This is maybe also a good time to invest in an anchor system and roller.
14. Satellite Phone
A boring piece of equipment, but absolutely essential if you are getting off the grid, so to speak. When getting out of range, you want to have a reliable means of communication. The satellite phone never fails and gives you the means to communicate in times of need.
15. Your Car: Picking a Tender
The most popular tenders are rigid bottom inflatables or RIBs.
Having a tender allows you to do two things:
you can get on shore at beaches while leaving your boat at sea
you can use anchorages and motor to shore
The first one just looks ridiculously cool. The second is impressively cheap compared to marinas. It's about 5x cheaper to use an anchorage than a marina. Also: there are probably way fewer people there.
So while a RIB can be expensive at first, it can pay for itself. For my trip to the Meds, I'd probably earn back the RIB within a year.
This is currently the most sold dinghy on Amazon. It looks great to me, and it's fairly priced.
16. Picking an Outboard for your Tender
Consider getting an electric outboard, which is way more powerful and durable. It also means you don't have to carry gas. Although the RIB will be heavier because of the batteries.
If you want to get an electric outboard, I'd recommend getting this one from Goplus (link to check current price on Amazon), which gets you the best bang for your buck.
Also, make sure you have the means to recharge the tender.
17. Radar enhancer
Radar enhancers are super useful. They warn you if the radar of another vessel picks you up. So it's kind of like a passive radar. This means you don't need a radar yourself (which means less energy consumption), but you will know ahead of time that someone is closing in on you.
18. AIS Transponder
More boring electronics. No, actually I love technology.
AIS stands for Automatic Identification System. The transponder goes in your mast head and transmits a signal to other boats. It helps you to avoid collisions. If you think an AIS is overkill, together with the radar enhancer, I'd choose the AIS over the enhancer.
19. Antennas and Range Extenders
These help to extend the range of your navigation and communications equipment, like your chartplotter. They are a must if you plan to do ocean passages, where you'll probably get out of range for most electronics.
20. Handheld GPS
For extended voyages, you need a reliable navigation backup. Most people prefer a handheld GPS. I personally love a reliable compass with some charts. Both have their pros and cons. If you want to be completely safe, carry both, or carry a sextant instead.
I like to bring three navigation tools with me that all three rely on a different input.
I have made a recommendation for a reliable and accurate handheld GPS in my article on chartplotters. Click here to learn which one to get.
If you want to know more about the different marine navigation types, I highly recommend to read my article about it here.
21. For Cold Weather: Hurricane Lamp
It can get quite cold on the water, especially at night. I like to bring a hurricane lamp to warm the cabin a bit. I don't like heaters: I don't need them, don't want to install them, and don't want to fuel them. But a simple hurricane lamp works great for that real cold night.
22. Or Hot Water Bottles
Another great tool - my girlfriend uses these at home as well. And who can blame her, they're so comfortable ... (I don't like to admit that I use them too in secret). Hot water bottles are just simple rubber bottles. You fill them up with hot water and they stay warm for an hour or so. A great and easy way to stay warm.
23. Fishing Tackle
A fishing rod and some tackle don't take a whole lot of space. And it sure is a handy way to get yourself some food when you're in need of it. For me, the math is simple:
If you don't bring your fishing rod and are in need of food, you are in trouble
If you do bring your fishing rod, you're floating on top of the largest drive-through on the planet
It's just a great reliable backup to have. And if you're not in crisis, it's still a great way to relax.
24. BBQ
No better way to prepare the catch than on a propane BBQ. I like to bring a small and sturdy one. Doesn't use a lot of gas, inexpensive, and doesn't fall over when the boat rocks.
25. Portable Marine Stereo
I have to admit, we are done with the essentials and have arrived at the nice-to-have section. But sailing long distances can be boring for some people, although I love the quiet and piece.
If you do want to break the peace, I recommend you do so using a portable marine stereo, which doesn't merely look good, but also provides killer audio quality for its price.
I have this portable JBL Charge 4 (click to check current price on Amazon). It's waterproof. The sound quality is plenty good for the price. I was really surprised by the volume and the amount of bass in this speaker. I even find the bass a bit off-balance (too loud) - but that's me.
They also have more high-end models, like the JBL Boombox, which is also waterproof and replaces your high-fi stereo system. It's a bit more expensive but I think JBL delivers on their promise.
26. Outdoor Lighting
Sitting on the deck at night, beneath the stars, is just great. But if you're trying to relax and have a conversation, it's nice to have some ambient light. Luci Lights are perfect for marine purposes. Waterproof, solar powered, and very attractive.
You can check out Luci Lights on Amazon here.
27. Change Lighting to LEDs
A great way to reduce your energy consumption is switching out your cabin lights with LEDs. Your energy needs will halve by a simple switch. LEDs aren't expensive nowadays, and batteries are, so I think this one is definitely worth the (time) investment.
28. Stove Top Coffee Maker
A stove top coffee maker. The Italians call it a 'Moka'. Some use it as a compromise - saying it gets you the best coffee in those circumstances. I disagree. I use my Moka every day. I don't have a coffee machine (and I drink a lot of coffee). I find that a stove top coffee maker gives better coffee than most machines, more consistently, and it's way easier to use and clean.
I just love simple stuff that works great.
29. Foldable Bike
My favorite. Maybe apart from the tender. Earlier I said the tender is sort of your car. But actually, this is. Most sailors operate in a small range within the marina - which makes sense. You travel on water, and then you want to rest a bit.
But I love to ride my bike, and this allows me to get my groceries in town instead of in the marina. It allows us to get to a good restaurant without renting a car (so we can drink a couple of wines as well).
The best part is: you get to the toilet way quicker on this thing.
30. Foul Weather Gear
There's nothing sadder than manning the helm in the pouring rain. Wait, there is: manning the helm in the pouring rain in your kakis. Especially if you will be sailing open seas, foul weather gear is essential.
31. Any Extra Sails You Might Need
If you don't have them already, make sure you carry all the sails you'll need. Re-evaluate your sail plan. I might want a storm jib for ocean use, and a spinnaker for light airs, for example.
To get a complete overview of the different sail types and uses, I highly recommend reading my guide on sail types. In this article, I'll walk you through all the basic sails.
Essentials for Maintenance
Some essential tools I like to carry to do on-the-fly maintenance.
32. Oil Drainer
Bringing an oil drainer only makes sense for long sailing trips. But it's such a clean and hassle-free way to do an oil change.
For most marine motors, you need to change the oil every 100 hours. However, changing the oil more often is better for the engine. 100 hours may seem like a lot, but it's actually not. If you plan on sailing for more than two weeks, and you find yourself without wind most of the time, there's a good chance you'll use the engine for 100 hours or more.
Oil drainers are inexpensive, and they make an oil change so much quicker and especially less dirty. I always have one onboard.
33. Toolkit for Minor Maintenance
If you need to be self-reliant, you need to be able to do minor repairs on the rigging, sails, and engine.
I like to be self-reliant, regardless of whether I'm doing a small trip or long - this also goes for my car as well.
That's why I always carry a basic toolkit that contains at least:
12V cordless drill
basic hand tools
voltmeter
34. Fuel Cans
Carrying spare fuel is always a great idea for longer trips - even for short ones (I found out with a couple of friends).
How much fuel should you actually carry? It's easy to calculate. Find out how in my article on fuel usage here (opens in new tab).
35. First Aid Kit
I always carry a basic first aid kit. It contains:
tampons
pain killers like aspirin, or something heavier
plasters
large bandage
This helps me to stop bleeding, treat minor injuries, and cuts. For extended voyages, the first aid kit is supplemented with antibiotics and disinfectants.
Additional Safety Equipment
A quick summary of some additional safety equipment that's required or you might want to consider.
Life raft
Fire extinguishers
Flares
Crash Blanket
Nautical Flags
Lifesling hoisting tackle - not required but nice to have in heavy weather ocean sailing
If you want to know what safety equipment you need exactly, I've previously written an article about it. Read the article on USCG safety requirements here.
Things to Consider Before Leaving
Checks and maintenance
You might want to check the following before leaving
the ground tackle
the rigging
the sails
electronic systems
propellor and engine
You might want to do some maintenance on:
the engine
the sails
the hull (anti-foul painting, for example)
clean the exhaust manifolds
converting the boat for saltwater use (if necessary)
If you want to know more about how to convert your freshwater boat for saltwater use, you can read my article here.
Skills
If you don't already know how to, you might want to consider learning how to maintain the engine and do minor repairs around the boat. I like to know how to:
change the oil
flush the engine after saltwater use
monitor the engine's health (correct RPM)
repair minor sail damage
repair the water maker
check the electricity system for problems
rewire the electronics
Related Questions
When should boat oil be changed? It's recommended to change the oil of your boat engine at least once a year or after 100 hours of running time. This is the recommendation of manufacturers. Increasing oil changes will extend engine life. Postponing an oil change may cause damage to the engine.
Did you find the answer to your specific question?
👍

31
👎

2