9 Ways to Learn to Sail for (Practically) Free
Don't own a boat, but want to learn to sail? In this article, I'll share some ways that will actually help you to learn to sail and that are either cheap or free.
Here are some great ways to learn how to sail on the cheap:
Two free online courses by NauticEd
The Skipper Rank course from NauticEd
The Sailing Basics course from Udemy
Playing Sailaway - the Sailing Simulator
Taking just two sailing lessons
Taking a 1-day sailing course
Becoming a ship's mate
Joining a crew
Chartering a boat
Now, sailing is a skill, and so it requires practice. I want to be really clear about this: you can't learn to sail by reading about it. You'll have to go out on a sailboat and actually do it.
The first steps are the cheapest - later steps get more expensive. With each step you'll know more about how you feel about sailing. This way, you prevent making a large investment upfront - only to find out it's not for you.
All in all, these steps will cost you a lot less than you might think. A couple of tenners can go a long way here. And it seems like a whole lot of experience to me.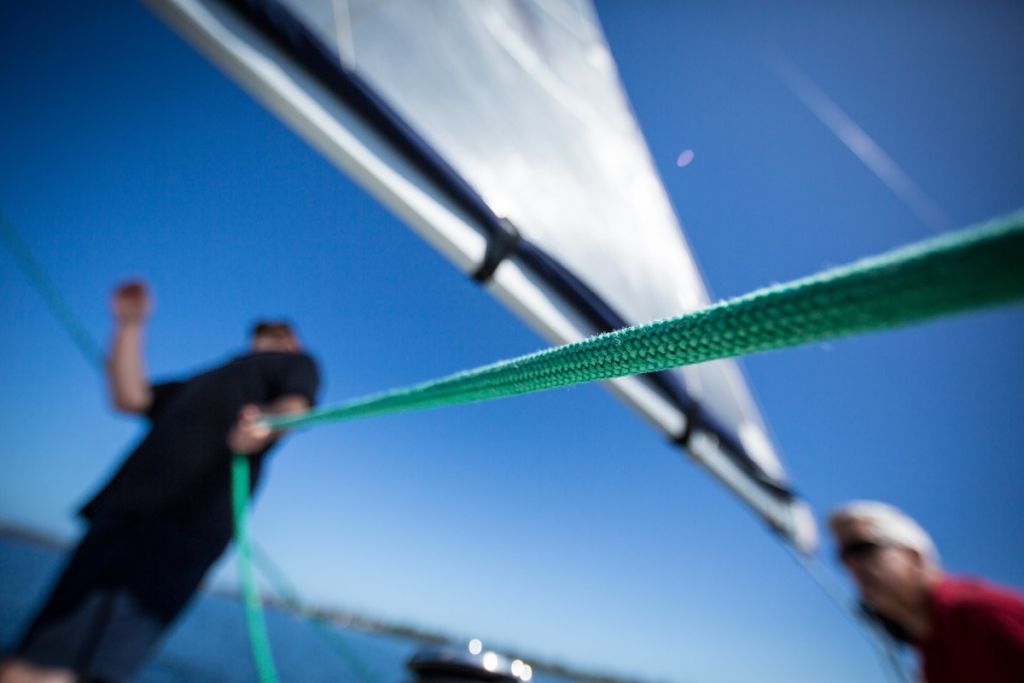 (Free) Online Courses
Before buying anything, you want to figure out whether sailing is for you or not. To do this, I suggest to get started on some good free sailing courses. I've ordered these nine tips in a way that makes (financial) sense.
Free Courses by NauticEd
NauticEd is one of the best-known names in online sailing education. And they offer two introductory courses FOR FREE.
You'll get Basic Sail Trim & Rules of Prevention of Collision at Sea. These will give you a good overview of what you need to know before boarding a sailboat.
Paid Courses by NauticEd
After that, I recommend taking the Skipper Rank course.
This course is a lot more advanced and will talk you through sailing a mid-sized sailboat (23 - 50ft). I think it's a great, comprehensive course.
It will go over all the core sailing theory: Weather and Sea Conditions, Anchoring and Mooring, Slip Departure and Return, Communications & Navigation, Coping with Emergencies, Sailing (of course), and many more.
It has over more than 20+ hours worth of material and will give you all the basic knowledge you need to start sailing in real life.
If you're considering taking sailing courses, I recommend reading our in-depth review of NauticEd here. In it, William will use his 20+ years of sailing experience to see how much value you'll get.
After the online courses, you can plan actual real-life sailing lessons that will build on your theoretical knowledge. The lessons are available around the world. I recommend getting at least two sailing lessons to get a feel for the boat and the basics of sailing. More on this later.
Paid Udemy Course
Another good option is the Sailing Basics Course on Udemy.
It gives an excellent overview, but it doesn't go as in-depth as the Skipper Rank course by NauticEd. But it is great value for money, especially if you can get it at that notorious Udemy discount rate. However, if you can't get it, I'd go with the Skipper Rank course.
Sailaway Videogame
This might sound silly to some, but to me, it actually makes a lot of sense.
There's a great sailing simulator called Sailaway. It's just your ordinary videogame - you can download it from Steam, and start playing. But it is more of a simulator than anything else. So I thought it might be useful in learning how to sail.
So does it? The short answer is yes.
It really mimics the sailing experience quite well. Also, the tutorials are at the same time sailing theory lessons.
But here, the same goes: it remains theory - until you get out on a boat and do it for real.
Digital is great: it's cheap (practically free) and comfortable. It's great to explore new interests. But after 50 hours of Sailaway, three sailing courses, and just over $ 100, it's time to get real.
Sailing in Real Life
You now know some good ways to get started digitally. That's a great start. But as I said earlier, real experience is key.
You want to get a feel for the boat, the lines, the wind and the sea. You also want to encounter some situations to apply your knowledge to - otherwise, it will rapidly ebb away. So how to get started in real life?
I suggest, before going out and buying your own boat, you might want to start by trying out some things first. It's also great to sail with someone more experienced at first. Spending time with another sailor is the quickest way to learn.
You have a couple of solid options:
Taking Two Sailing Lessons
Taking a 1-day Sailing Course
Becoming a Ship's Mate
Join a Crew
Chartering a Boat
How much does it cost to own a sailboat?

Read our complete sailboat ownership cost guide for a complete overview of all the ownership costs and the purchase cost of a new & used sailboat.
Taking Two Sailing Lessons
There are a couple of ways to go about. You could simply register for a sailing lesson using the NauticEd website. You could also hire your own instructor. Sailing lessons range anywhere from $60 - $600. Private lessons are more expensive, but you could get started for about $100 / half day.
If you're a quick study, a couple of sailing lessons will get you a long way - especially since you've already learned most theory. I suggest taking at least two, to cover the most important basics.
Learn more on the cost of sailing lessons in my article here
Taking a 1-day Sailing Course
There are all-inclusive 1-Day Sailing Courses available. You simply rent the boat + the instructor, which is also your captain. You do have to get out to the lake or bay where the boat lies.
An entire day can be quite expensive. Rates vary between $200 - $2000. If this seems like a lot of money, it is.
However, you rent the boat for the day. So most of the times you can bring your friends. Most sailboats can easily carry 4-6 people. Split the cost, and even for a day out on the water, it's not a bad price.
Always check with the captain beforehand how many people you can bring.
The advantage of an all-in sailing course is that you get your money's worth. These instructors are generally very skilled. You might learn more from an entire day on the water with them than from ten sailing hours on your own.
Becoming a Ship's Mate
Becoming a ship's mate is a great way to gain experience. Ideally, you know someone who owns a boat. If you don't, however, you could always place a request on the well-known online sailing fora, or at your local sailing school.
Not all sailors like the company, but for some, an extra pair of hands is just what they need. You only need to find them - which shouldn't be too difficult.
Some places to get started finding a captain:
using Facebook Groups or Marketplace (which is local)
placing a request on Craigslist
pinning a message at your local harbor (or your local supermarket or town center) - old-skool
sending in a request to your local sailing club or school
place a request on the online fora: CruisersForum - SailingForums - SailNet
Join a Crew
There are two industries where skippers are always on the lookout for good crew.
Sailboats are getting delivered around the world by specialized crews
Inland and Coastal Water Tourism
You can apply to join a sailboat delivery crew at CrewSeekers. A LOT of people want to do this. If you already have a bit of experience, that's a big plus.
You could also ask around in your local harbor. Just a 20-minute drive away from me lies Harlingen Harbour. It is the kick-off point for a lot of tourist sailing trips on the Waddenzee. A friend of mine asked around and got to be ship's mate for an entire summer, on a traditional clipper.
That's certainly a way to gain a lot of experience quickly.
The Total Cost for Getting Started
After all this, you'll know more than you might expect - and you've paid less than you might think.
What you've done:
Two free online courses
One or two paid online courses
Unlimited hours in the sailing simulator
A couple of days as a ship's mate
1-2 (private) sailing lessons
What you've learned:
basic sailing theory - sail trim, navigation, rules of the road, safety
basic sailing skills - maneuvering under sail, reefing, hoisting the main, setting a course and maintaining it
experience - 20-30 hours of real sailing experience
Total cost: under $500.
I think that's not too bad at all.
The Next Step: Chartering a Boat
The next step, of course, is chartering a boat of your own. You can literally charter sailboats all over the world. In some regions, however, you do need a captain's license. The charter company could also require paperwork, exams, or experience.
Chartering a boat is an amazing experience, and if you're ready for it, I recommend you check out my boat charter recommendations. It's easy, cheaper than owning a boat, and the captain's optional. In my opinion, it's the best way to get started on a budget.
Conclusion
All in all, there are a couple of great ways to get started with sailing cheaply. In this article, I've mentioned the ones that seem most practical to me. If I started sailing today, this is how I would do it.
In this particular order, there is really no downside. You start with not spending any money at all, and gradually work your way up. With each step you'll learn more about your particular interests, and how much money you are willing to spend on it.
But the most important thing? Just get started. Right away - why not?
Get Started (and Save Money)
I have written a detailed e-book that contains actionable step-by-step lesson plans for different budgets and situations. This book will save you hundreds of dollars, hours, and a headache. You can check out my e-book here. Please do. You will support our work, and more importantly: it will help you get started much quicker and cheaper.
Did you find the answer to your specific question?
👍

32
👎

4