Best Marine GPS Chartplotter: My top pick for 2021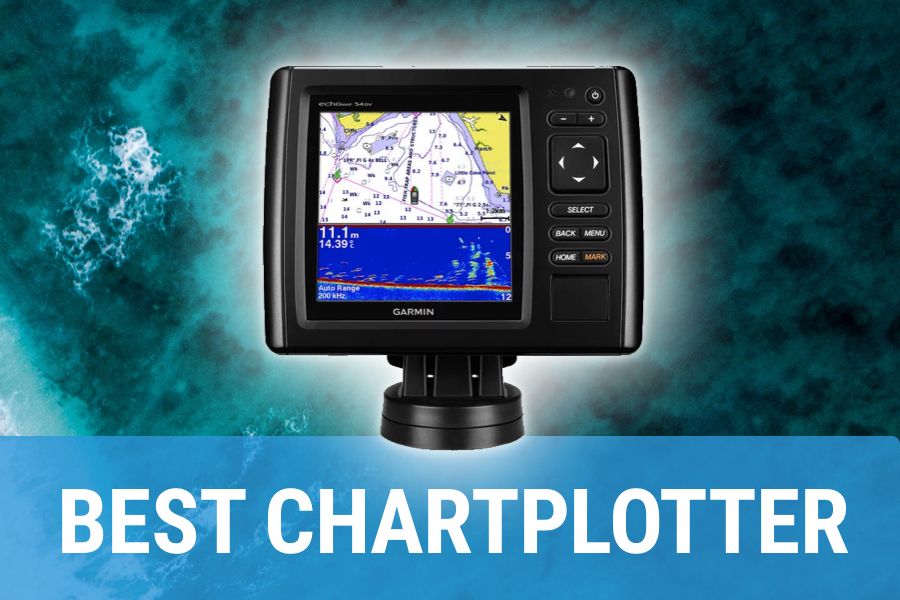 If you're looking for a simple Marine GPS chartplotter, made by a reliable brand, and want a good deal as well, there's an easy answer. In this article, I'll share my recommendation.
Which Marine Chartplotter Should I Get for my Sailboat?
I recommend the Garmin echoMAP CHIRP 54cv (check current price at Amazon) - This chartplotter is good for both inland and bluewater sailing, and made by the best-known brand for marine navigation in the world.
I think Garmin has produced this chartplotter as a fishfinder originally. However, you get so many functionalities for a great price. I think it's currently the best deal out there. The real-time depth charts are great for navigating shallow waters.
If you're looking for a budget handheld alternative, I'd consider the Garmin Striker 4 (check current price at Amazon) - This simple handheld chartplotter offers mostly the same functionalities as the more expensive echoMAP, at a really competitive price. Incredibly, it also comes with a transducer, allowing you to use echo.
Why I Picked the Garmin echoMAP CHIRP
I was actually surprised at how cheaply you can nowadays buy a full-fledged marine GPS.
You'll get all the premium functionalities you'd expect from an advanced navigation system, like echo, sonar, depth charts, and GPS plotting. But you'll only pay a fraction of the cost.
It also has loads of positive customer reviews (it's currently Amazon's Choice), which makes the decision to buy easy.
It's not the newest model and also not the most advanced model. I actually like that. It means you get great value for your money.
Pros:
Great value for money - the device itself is definitely worth more than the cost.
Accurate and reliable - The GPS updates 5 times per second. Garmin's technology is among the most reliable in the world.
Easy-to-read chartplotter - Garmin's chartplotter is easier to read than most other brands.
Easy to install - Simply mount the GPS unit to the center console.
IPX7 waterproof - Will survive 30 min submersion up to 1 meter.
Great maps - Garmin has a fantastic library of maps. All the coastal waters, inland waters, and the world's oceans.
With transducer - After installing the transducer on the stern, your chartplotter will be able to use echo and sonar (which is awesome!).
Supports Auto-Pilot - If you want to, you can hook this up to your auto-pilot.
Button control - No touch screen! Button navigation will always work.
Also, I think the controls are user-friendly and the screen is easy to read, even in broad daylight.
Cons:
You'll get maps for U.S. coastal waters. You might have to buy additional maps, which can get expensive (think 100s of dollars). For example: if you want to get the U.S. Lakes, expect to pay roughly $150.
You get a 1-year warranty, which isn't great, but not bad either.
It's an older model, which is replaced by the echoMAP Plus Series. Personally, I don't mind.
The transducer is very big. You can use the GPS without the transducer. In my opinion, the GPS without the transducer is still worth the purchase price.
Please note: If your boat is over 22 ft, you might need an extension cable for the transducer. It comes with a 20 ft cable.
What to Look for in a Quality Marine GPS Chartplotter
Great maps - The #1 feature. A GPS with inaccurate maps is worth next to nothing.
Reliability - The chartplotter should also work when there's no satellite connection.
Durability - It should be able to withstand saltwater and weather influence and have some sort of IPX rating.
Good resolution - The screen should provide a decent resolution. You should be able to read it in bright daylight.
Bluewater support - Most regular GPS's don't support water navigation. You want a system that can be used for bluewater cruising.
Auto-pilot support - Not all chartplotters can be hooked to your auto-pilot. Even if you don't need it right away, it's good to have the option.
Conclusion
True, there are way more advanced GPS systems out there. But I doubt they are really more effective than this simple chartplotter by Garmin. In fact, I think the only thing you'll get is a bigger screen.
With Garmin, you get a reputable brand - the industry standard. They have a name to uphold. They also have the largest database of quality, accurate maps in the world.
I think this Garmin echoMAP offers the best bang for the buck - by far. Order now at Amazon.
If you're looking for good quality sailing gear, I have other articles like this one. You can check them out on the recommended gear section of this site. It has all the sailing gear I love most.