Sailing Gear Essentials: the Ultimate Packing List (and PDF)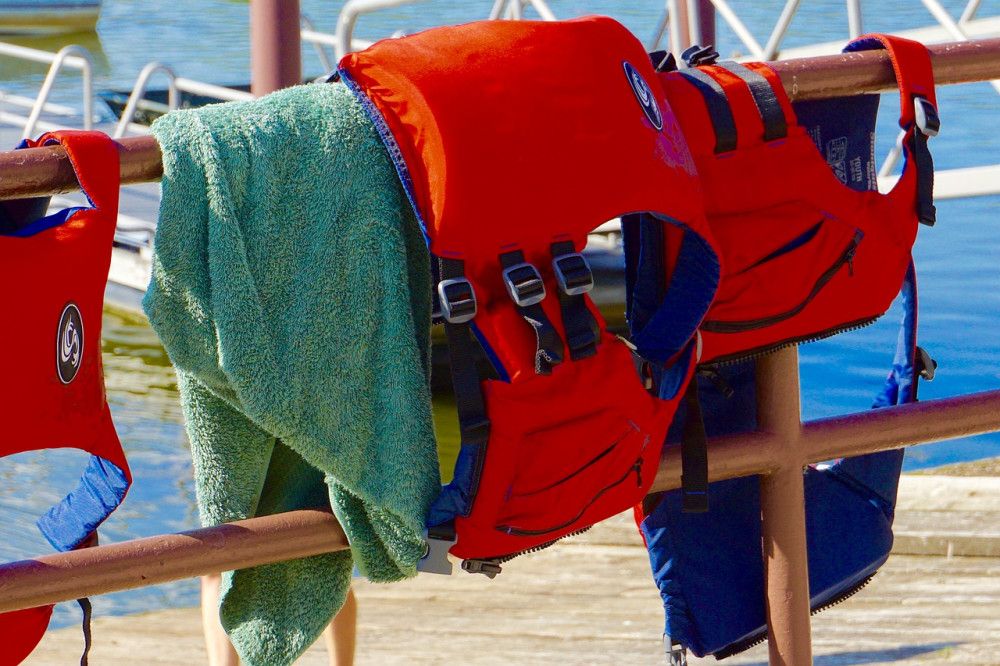 When I first started, I wish I had an overview of what I need right now, and might possibly want in the future. So here's the list with all sailing essentials.
What gear do I need for sailing? You need clothes that dry quickly, deck shoes with good grip that don't leave marks, and multiple layers of clothing. You also want to bring water and sunscreen. Depending on your type of sailing and your role onboard, you need different kinds of specialty gear.
It really matters what sort of trip you're planning. Also, if you're the skipper, you're responsible for bringing a lot of additional skipper & boat gear. I've specified the complete list below for all different conditions and roles.
I've also made a printable checklist that you can download for free.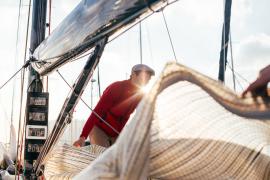 Also read:
Interactive Sailing Packing List
Gear Essentials: Quick Summary
What you need to bring depends on the sort of trip, the trip length, and your role.
I categorize gear into four types of gear:
Clothing
Crew gear
Boat gear
Supplies
Clothing - There are some basic rules for clothing, which I'll explain below. But the best way to know what kind of clothes to wear is asking the skipper or sailors that are regulars in the area. Weather conditions on the water are very different from land.
Crew gear - All other personal things like paperwork and toiletries. Only applies for trips of multiple days or international journeys.
Boat gear - Navigation equipment, electronics, and safety gear. Boat gear is always the responsibility of the skipper, so if you're joining as crew, you don't have to worry about this.
Supplies - You always need supplies, and with long trips, this can really add up. But with one-day trips, you don't really need to worry beyond water, since there will probably be restaurants and stores around. However, you never know: a simple trip around the lake can end up in spending the night there. Mechanical breakdown happens all the time, so perhaps you want to bring at least some food and extra water.
Below I'll go into more detail for each of the different gear categories. You'll also find all of these items on the downloadable checklist. But first, let's quickly take a look at the packing list for beginner day-sailors.
What you need to bring as crew on a 1-day sailing trip:
If you're tagging along for a short trip as (beginner) crew, you don't need to bring much. You need to wear appropriate clothes and bring a bottle of water and sunscreen. Appropriate clothes are:
multiple base layers of clothing that are comfortable and dry quickly
non-marking deck shoes that provide a good grip like sneakers or boat shoes
sweater and (sailing) jacket
sunglasses
sun protection, like a hat or cap, and long sleeve shirts
I'll go into multiple day trips below, but first I want to take a look at the stuff each skipper needs to consider when planning a trip.
Factors that determine the supplies and boat and crew gear
If you're the skipper, you're responsible for the boat gear and any necessary supplies. You need to decide what navigation equipment you need, and how much fuel, food, and what safety gear to bring. To make planning easier, I've created a system for myself.
Trip type
There are basically three kinds of trips that determine what safety and boat gear I need to bring:
freshwater trips - not a lot needed besides basic navigation tools
coastal and offshore trips - more safety gear required by the USCG
ocean passages - besides more safety gear, also more supplies and tools needed
Freshwater trips - Freshwater trips are the easiest to plan. There isn't a lot of safety gear required by the Coast Guard, and you don't need a lot of supplies or fuel, because there's always a gas station nearby. So no worries here. You just need to bring your basic navigation tools. Something like a compass and marine chart will do fine, or perhaps a chartplotter.
Coastal and offshore trips - For coastal and offshore trips you need to bring a lot more safety gear, especially on larger boats. You'll also want more navigation gear, and you'll need more anchors.
Ocean passages - Ocean passages are the ultimate planning challenge. Besides all safety gear, navigation, and so on, you also need to think about your supplies and bring extra tools. Once you're out there, you're on your own, so you need to be able to do minor repairs yourself.
Make sure to check out my Ultimate Guide to Required Safety Equipment on a Boat. There you'll find a USCG safety gear checklist for all different hull lengths.
Trip length
The second factor that determines required gear is the trip length. Obviously, the longer your trip, the more you'll need to bring.
short trips (1-2 days)
extended trips (2 - 14 days)
ocean passage (multiple weeks)
I mention ocean passage again here because it's usually the longest kind of trip, but it also requires special planning. You need to bring a lot more fuel than on an ordinary two-week trip along the coast because chances are you won't find any gas stations in the middle of the Atlantic.
Also, you need to bring a lot more water onboard, and spare parts for minor engine and sail repairs. With long trips along the coast, you can always find a safe harbor with a store, or request Coast Guard assistance. They will probably be there within a couple of hours at most. But in the middle of the Atlantic, chances are nobody will come for at least a couple of days.
Essential Sailing Clothes
What you need to wear depends on your role and ambitions. If you're just tagging along as crew or a curious landlubber on a sailing yacht, you need to take a good look at your clothes, but you don't need to worry as much about specialty gear. If you're a pro sailor (or want to become one), you need special sailing gloves and wetsuits. And then there are foul weather clothes for heavy weather.
For sailing clothes, the rules of thumb are:
you want to wear clothes that are appropriate to the climate
you want to wear multiple layers because the temperature on the water can change quickly
you always want to bring dry clothing
wear clothes that dry quickly; neoprene and polyester are great for cold weather, linen is great for warm weather
wear clothes that can't be caught in lines or winh; no scarfs or shawls, rather a large blanket or a thick coat for when you get cold
Beginner sailing outfit
multiple base layers of clothing that are comfortable and dry quickly
non-marking deck shoes that provide a good grip like sneakers or boat shoes
sweater and (sailing) jacket
sunglasses
hat
in cold weather, wear heavy, thick undergarments made from water repellant materials. Neoprene sailing socks are great, but wool works as well. Always bring plenty of spares.
Professional sailing clothes
sailing gloves
boat shoes or sailing boots
water shoes
polaroid sunglasses with croakies
sailing hat, helmsman hat, or cap with retainer clip
high-quality sailing jacket (inshore, coastal, and offshore jackets all have different linings)
sailing trousers - this can be a polyester legging, made from wetsuit material, or a UV protective, water-repellent chino
canvas sailing belt - works than a leather belt in wet conditions
drysuit for cold weather
Foul weather/offshore clothes
foulies (heavy weather rain suit)
ocean trousers or salopettes
Crew Gear
Crew gear is stuff every crew member needs to have, including the skipper. The safety gear is the responsibility of the skipper, the rest is up to you.
Safety gear
Each crew member should wear the following safety gear:
life jacket - also called a Personal Flotation Device (PFD) - if you go sailing regularly, you might want to consider buying your own
whistle for signaling when you go overboard
waterproof headlamp for signaling when you go overboard
For coastal and offshore sailing: harness and tether - clips you to a fixed padeye onboard to stay within reach when you go overboard
Toiletries (for multiple-day trips)
If you're going out for multiple days on end, be sure to bring your the following toiletries:
towels
toothbrush and toothpaste
medications and perhaps medication for seasickness
soap
dry shampoo
deodorant
Paperwork
If applicable, make sure to bring:
passport for international trips
diving certificate
drivers license
Other gear
dry bag - to protect your precious gear
swimming/snorkeling/diving gear
fishing gear
Additional gear for multiple-day trips
sleeping bag
cellphone and charger
electronics like an e-reader, tablet, laptop, camera, and chargers
ear plugs
12V to DC adapters
power banks and spare batteries for all electronic equipment
outlet travel multi-adapters for international trips
Skipper Gear
As skipper, you need to carry some tools to ensure a safe boat and the general safety:
Personal Locator Beacon (PLB) to transmit location in case of emergency
utility knife and marlin spike, or:
mariners knife (has a marlin spike) - used to work on the rigging, splitting lines, and so on
sailing watch - A digital sailing watch has at least an alarm, which you need for reminding you to do check-ups on the course, weather conditions, and so on. Most sailing watches also have a digital compass and barometer, which is great as a backup.
captains log if you use one
marine binoculars (with rangefinder)
Paperwork
The skipper needs some additional paperwork:
International Certificate of Competence (ICC) - for international trips only
USCG skipper's license
VHF certificate
sailing guides on the area
legal paperwork for the boat and captain - like boat registration document, and a photo ID like a driver's license
Boat Gear
Boat gear consists of cockpit gear, navigation, communication, and safety gear. For short inland trips, you only need some of that gear. You don't need a lot of navigation equipment since the waters are well mapped and finding your way isn't very difficult. First I'll give you the bare minimum, and then I'll specify each category for longer trips.
The bare essentials:
boat compass
marine chart
flashlight
required safety gear
first aid kit
small tool kit or multitool
working anchor and rode
Cockpit equipment:
wind vane and/or handheld wind meter
barometer
Cockpit Mayday procedure card
compass deviation card
flashlight
boat maintenance log
Navigation equipment:
Bring at least one (but preferably two) the following:
boat compass
handheld compass
GPS
chartplotter - make sure you bring updated charts
backup chartplotter - this can also be a laptop, tablet, or even smartphone
sextant & up-to-date navigation almanac
marine charts
I always want to bring at least two means of navigation. My favorites are the compass (by far) and the GPS since these are very reliable. I also plan to dive into celestial navigation, since this is a great backup, and it's more accurate than you might think.
You can get a cheap but reliable chartplotter and compass for less than $500 - in total. If you want to learn more, head over to the recommended gear section:
For a complete overview of types of marine navigation, I recommend to check out my in-depth article about it.
Communication equipment:
satellite phone
marine VHF radio
handheld depth sounder
signaling flags for international waters
Safety gear:
air horn or whistle
bosun's chair for rig work
radar reflector
flares or LED signaling light
emergency weather radio
first aid kit - needs to contain at least
fire extinguisher(s)
life sling
life raft for offshore sailing
Other gear:
1 anchor for inshore
at least 2 anchors for offshore (preferably 3 - 2 storm anchors)
tool kit for minor repairs on rigging, sails, and engine
multimeter for checking the wiring
full tank of fuel
spare parts (plugs, fuses, etc.)
heaving line 50'-70'
Supplies
Supplies start to get important with longer (offshore) trips. But it's especially important with ocean passages. These kinds of trips tend to take longer than expected. The most important supplies are food, water, and fuel.
Water - Fresh drinking water is your number one priority when at sea. If you'll be on the open sea for multiple days or even weeks, you should bring PLENTY of water.
Food - Make sure to bring plenty of canned foods. A fishing rod is also a great way to ensure food, in case you run out.
Fuel - For ocean passages you ideally want to carry at least 400 - 500 NM worth of motoring range in fuel. That's roughly 125 - 160 gallons of fuel. So make sure to install additional fuel tanks if you don't have the capacity.
If you want to know more about how to plan fuel consumption: I've written an article on it. Make sure to check my article on how much fuel different engine sizes burn here.
Gear You Need if You Own a Boat
If you're the owner of the boat, you need to have some gear to properly maintain it.
If your boat can be hauled out onto a trailer, you probably want a trailer. A trailer is, however, not always the easiest way to transport a sailboat. You have to take down the mast and rigging, which is a lot of work.
You also need some basic maintenance gear to take care of your hull, engine, and sails.
You want an electrical toolbox that contains:
multimeter
wire cutters
wire stripper
needle-nose and vice-grip pliers
For engine maintenance, you need a basic wrench set.
You also need:
a good selection of screwdrivers
nut drivers for hose clamps
hacksaw
hammer
large and small channel-locks
Conclusion
Sailing can require a lot of gear, but you can also do with the bare essentials - especially in the early stages of sailing when you're practicing on inland lakes for example. Remember, if you're the skipper, you are responsible for the bulk of the gear, and people depend on your planning skills. Don't take it lightly. But with this resource, I hope I've made it a lot easier on you.
If you're looking for quality sailing gear, I have a section on my website with in-depth information on all kinds of gear. If you want, you can check it out here.
Related Questions
What should I pack for a day boat trip? You want to wear multiple layers of clothes that dry quickly. Also, you want to bring sun protection, like sunscreen, sunglasses, and a hat. A sailing jacket is recommended. Always bring dry clothes and water. Besides the essentials, you probably want to bring your swimsuit, towels, water shoes, and insect repellant.
What should I pack for an overnight boat trip? Bring a pillow, sleeping bag, and toiletries. Wear clothes in multiple layers, and bring dry clothes. Always bring sun protection (sunscreen, sunglasses, hat). It gets cold on the water: bring a warm sailing jacket and gloves. Neoprene socks stay warm, even when wet. Insect repellant and Dramamine are also recommended.
What to wear when sailing in cold weather? Wear a reliable outer layer. Most quality sailing gear is water repellant and will keep you dry. Wear warm base layers, and bring spares in a dry bag. Warm your hands and toes using neoprene gloves and socks and bring spares. Wear neck and face protection, and cover your eyes using goggles. Also, wear a helmsman hat.
Did you find the answer to your specific question?
👍

6
👎

2