Best Marine Compass: Going the Right Way Cheaply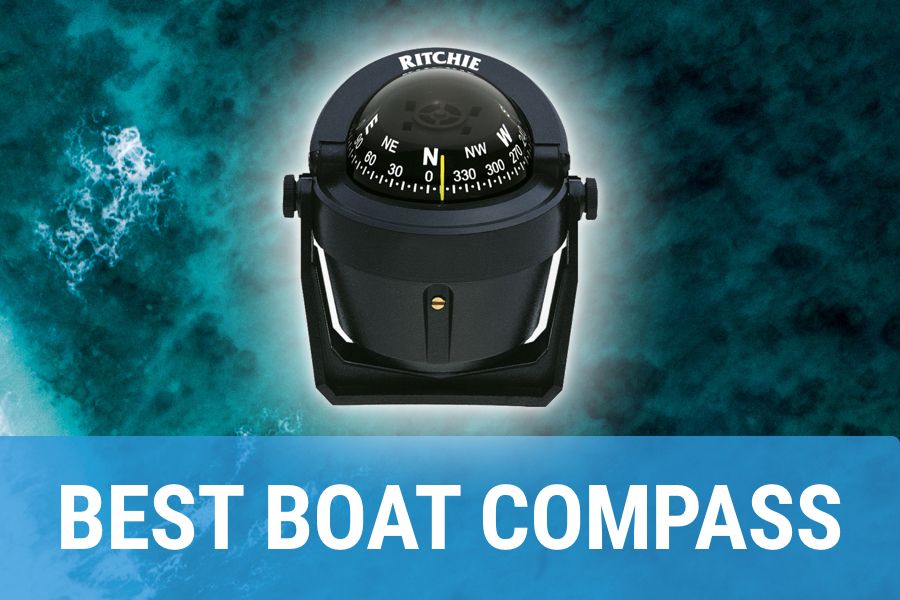 If you're serious about sailing, you know that a reliable compass can make all the difference. I've tested many compasses and read tons of reviews of other sailors, and here are my absolute favorites.
Which Marine Compass Should I Get for my Sailboat?
I recommend the Ritchie Navigation Explorer (click to check current price on Amazon) - This compass is competitively priced, good looking, simple, reliable and rugged. Bracket mount (which I like). Also called the B51, it's the all-round best compass for most people. Best bang for the buck.
This is the compass I currently have and it's my all-time favorite. It's incredibly accurate - just like its predecessor, which was also a Ritchie.
If you don't want a bracket mount, here are some alternatives:
I know, it's all Ritchie here - but what can I say? They provide very good value for money. Other compass brands tend to get pretty expensive, and the folks at Ritchie just really deliver. I never needed something else, to be honest.
Why I Picked the Ritchie Navigation Explorer
I had an older model before (I'm not quite sure which one) and just wanted the same one, but new. I like the bracket mount, it provides more stability, and it's easy to install and adjust.
Accurate compass, even when distorted by magnetic fields
Has corrector magnets, allowing you to calibrate it
Has dampening and gimbal for stabilization
Has a night light - light isn't too bright
Easy to mount (simply fasten two bolts)
Analog, so reliable
Ritchie Compasses come with a 5-year warranty - even if I can use this compass for just five years, that's money well spent
Bracket mount gives you more mounting options
I like front reading cards
If it breaks, it can most likely repair it myself
Cons: it is a pretty big compass, but it will still fit most small sailboats. The housing is plastic, but it's durable.
Important Factors When Buying a Compass
There are two major factors two consider: mounting and size.
Mounting method
Choosing the right mounting method for you makes all the difference. The three most common mounting methods are:
Bracket mount
Flush mount
Surface mount
Binnacle mount
Bracket mount - the compass rests in a bracket. Bracket mounts can be mounted in the helm or on deck. I prefer this mounting method. They are easy to install and keep the compass card at the right viewing angle.
Flush mount - the compass rests inside the dashboard. Less easy to install, but man ... it looks good.
Surface mount - the compass sits on top of the dashboard. Very easy to install and looks pretty decent for most compasses with a low profile.
Binnacle mount - the compass has it's own casing. Looks great and all, but takes up a lot of space and is a lot of work to install properly.
Size
Choosing the right size is just as important. Most smaller to mid-sized compasses are between 4-5 inches wide. You don't want a huge compass in a tiny helm, but you also want to be able to read it easily. The method of mounting also plays a large role here.
For small sailboats (under 20 ft) I'd recommend getting a small surface-mounted compass.
What Should You Look For in a Quality Compass?
Accuracy - there's no way of knowing the accuracy upfront, except by relying on brand reputation and other people's experience.
Reliability - a compass is your most important navigation tool and should continue to work in all conditions.
Dampener - high-quality compasses have a dampener under the card - this keeps them from wiggling on sea.
Corrector magnets - you'll find the corrector magnets inside the compass housing. You can use them to adapt the compass to the magnetic fields from the electronics and materials on your boat.
Gimbal system - a gimbal system makes sure your card stays level.
Design - it has to look good. You'll be staring at this thing A LOT.
Durability - a compass should be able to withstand the weather and last you a decade.
If you want a detailed look at how a boat compass works, you can read my Beginners Guide on Boat Compasses here (new tab)
Some Quality Compass Brands to Consider
I admit, I'm a fan of Ritchie. But there are other reputable brands that make great compasses out there:
Ritchie - well-known and reputable brand
Silva - Garmin is best known for producing quality marine electronics, but they also make pretty decent marine compasses under their brand Silva.
Sperry
Brunton
Seattle Sports - not a well-known brand, but they have produced accurate compasses in the past.
Conclusion
Although there are some great looking compasses out there, most of them are just too expensive in my opinion. Ritchie seems to have fixed that problem by providing a great quality compass with good warranty at a very decent price. If you're looking for a simple and clean compass, and don't want to pay top bill, I recommend the Ritchie Navigation Explorer (click to go to Amazon).
If you're looking for good quality sailing gear, I have other articles like this one. You can check them out on the recommended gear section of this site. It has all the sailing gear I love most.