Average Cost of Buying & Owning a Yacht in Dubai (2023)
In 2023, the yacht market in Dubai continues to flourish, offering you a wide range of options to own the perfect yacht for your needs. In this article, we will explore the average cost of buying and owning a yacht in Dubai, with a breakdown of yacht prices and additional purchase costs.
You can buy small yachts for AED 53,000 ($14,410), and superyachts for AED 30,000,000 ($8,100,000). Small yachts require annual maintenance costs of AED 1,000 ($270), insurance of AED 625 ($170), and crew wages of AED 20,000 ($5,400) per month. These can amount to AED 850,000 ($230,950) a year for superyachts.
Did you know that Dubai has a strategic position between Europe and Asia? It is home to some of the most luxurious and state-of-the-art marinas and yacht clubs in the world, offering yacht owners access to world-class facilities and services. You wouldn't want to miss the chance to go yachting and explore the Arabian Gulf and beyond.
Summary
As an alternative to ownership, you could consider yacht chartering to provide you with a more cost-effective and hassle-free experience, as it doesn't involve long-term commitments or ownership costs.
The prospects of yacht resale in Dubai remain promising, making it an attractive market for yacht owners.
According to Grand View Research, the global yacht market is expected to expand at a CAGR of 5.8% from 2023 to 2030, with a market value of USD 8.91 billion in 2022.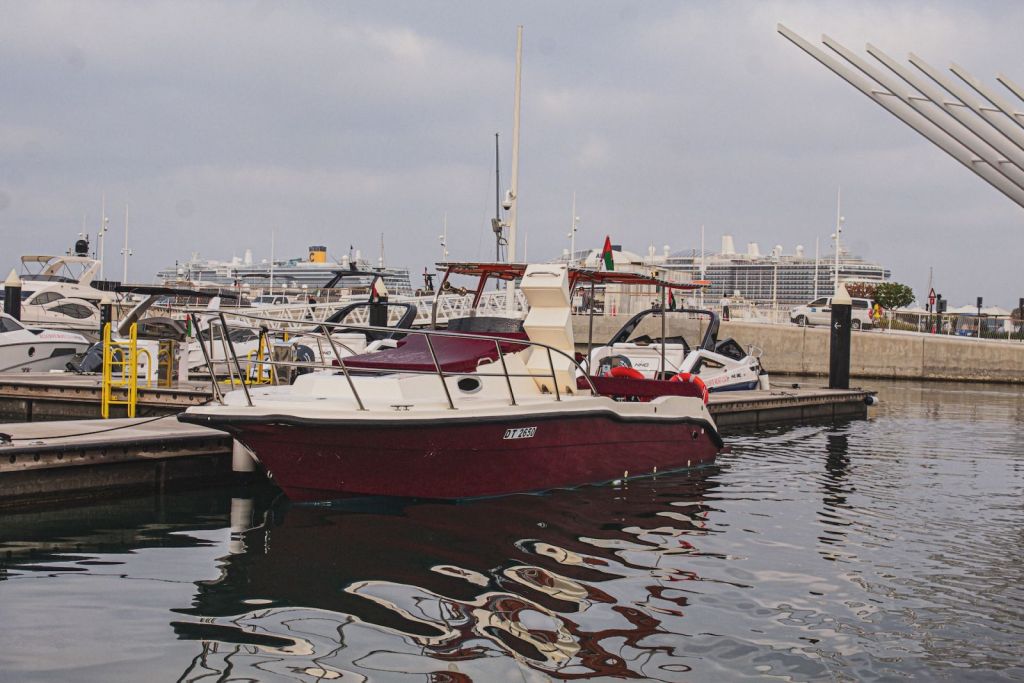 The Average Cost of Buying a Yacht in Dubai
| Yachts in Dubai | Estimated Prices in 2023 | 5% Value-Added Tax | Registration and Licensing |
| --- | --- | --- | --- |
| Small yacht (20–30 feet) | AED 50,000–AED 150,000 | AED 2,500–AED 7,500 | AED 1,000 to AED 3,000 |
| Medium yacht (30–50 feet) | AED 200,000–AED 6,400,000 | AED 320,000 | AED 3,000 to AED 5,000 |
| Large yacht (50–80 feet) | AED 7,000,000–AED 15,000,000 | AED 400,000–AED 400,000 | AED 5,000 to AED 10,000 |
| Super yacht (80+ feet) | AED 30,000,000 and above | AED 1,500,000 and above | AED 10,000 and up |
The prices of yachts in Dubai can vary greatly depending on factors such as their size, age, brand, and condition.
VAT: According to UAE law, a 5% value-added tax (VAT) is applied to the purchase of new yachts. This will add to the overall cost of your yacht.

Registration and licensing fees: Newly purchased yachts are required to be registered and licensed in Dubai. The fees associated with this process can range from AED 1,000 to AED 10,000, depending on the size of your yacht.
Consider the type of yacht you want. Would a luxury yacht, sailing boat, or sport cruiser best suit your needs? Think about how you plan to use your yacht and its size requirements. Ten percent of the purchase price is generally allocated each year for the cost of ownership. In addition, you should plan for a down payment of 20% to 30% of the total price.
Here's a table of the costs in USD:
| Yachts in Dubai | Estimated Prices including 5% VAT | Registration and Licensing | Maintenance, Repairs, & Insurance | Docking Fees per Month | Fuel Expenses per Hour | Crew Salaries per Month |
| --- | --- | --- | --- | --- | --- | --- |
| Small yacht (20–30 feet) | $13,500 to $40,500 | $270 to $810 | $440 to $4,555 per year | $217 to $405 | $50 to $75 | $5,400 to $10,800 |
| Medium yacht (30–50 feet) | $54,000 to $1,734,400 | $810 to $1,350 | $43,200 to $198,720 per year | $405 to $945 | $100 to $125 | $9,450 to $18,090 |
| Large yacht (50–80 feet) | $1,890,000 to $4,050,000 | $1,350 to $2,700 | $44,888 to $452,250 per year | $945 to $1,935 | $250 to $300 | $16,740 to $32,940 |
| Super yacht (80+ feet) | $8,100,000 and above | $2,700 and up | $202,500 to $850,500 per year | $1,935 and up | $500 to $610 | $26,190 to $51,300 |
Recurring Ownership Costs for a Yacht in Dubai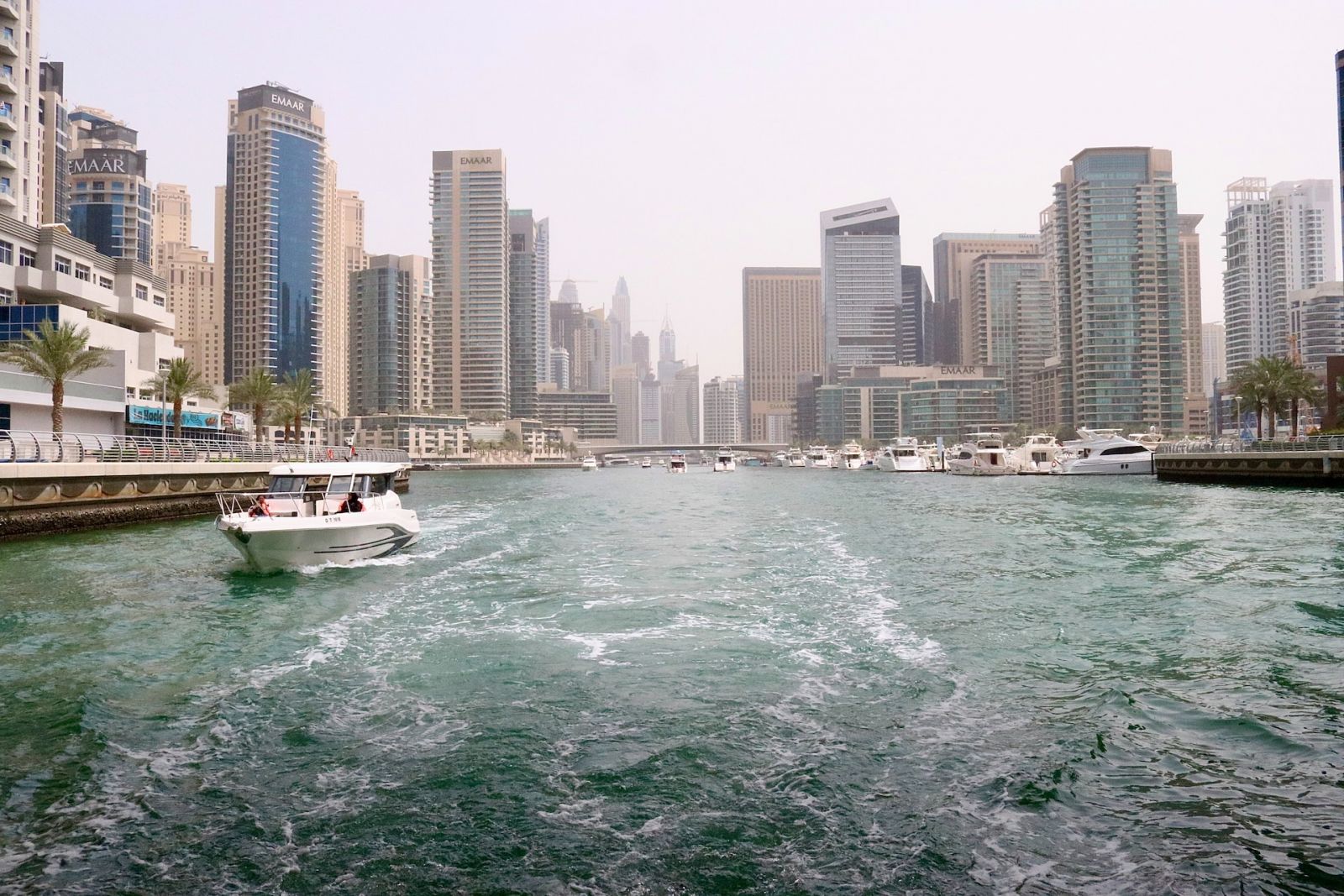 In this section, we'll discuss some of the main recurring expenses, including maintenance and repairs, docking fees, insurance, fuel expenses, and crew salaries.
| Yachts in Dubai | Maintenance and Repairs per Year | Docking Fees per Month | Insurance per Year | Fuel Expenses per Hour | Crew Salaries per Month |
| --- | --- | --- | --- | --- | --- |
| Small yacht (20–30 feet) | AED 1,000 to AED 15,000 | AED 800 to AED 1,500 (draft of up to 5 feet) | AED 625 to AED 1,875 | AED 184 to AED 276 | AED 20,000 to AED 40,000 |
| Medium yacht (30-50 feet) | AED 128,000 to AED 640,000 | AED 1,500 to AED 3,500 (draft of up to 8 feet) | AED 32,000 to AED 96,000 | AED 367 to AED 460 | AED 35,000 to AED 67,000 |
| Large yacht (50-80 feet) | AED 140,000 to AED 1,500,000 | AED 3,500 to AED 7,500 (draft of up to 12 feet) | AED 26,250 to AED 157,500 | AED 918 to AED 1,104 | AED 62,000 to AED 122,000 |
| Super yacht (80+ feet) | AED 600,000 to AED 3,000,000 | AED 7,500 and up (draft of up to 20 feet) | AED 150,000 and above | AED 1,836 to AED 2,203 | AED 97,000 to AED 190,000 |
Maintenance and repairs: You'll need to budget for routine upkeep, such as cleaning, painting, periodic servicing, and replacing parts as necessary. Also prepare for unexpected repairs that might arise. Depending on the age and condition of your yacht, annual maintenance costs can range from 2% to 10% of the yacht's value. Additionally, yachts are typically subject to a range of marine regulations, such as safety inspections and certifications, which can also contribute to ongoing expenses.

Docking fees: These fees may vary depending on the size and draft of your yacht and the location of the marina. Some marinas offer discounts for long-term contracts, so it may be worth exploring your options. Also, consider where you plan to dock your yacht in Dubai, as mooring fees differ depending on the marina's prestige and location.

Insurance coverage: Premiums will depend on factors such as the yacht's value, age, size, and intended use. In general, premiums can range from 0.5% to 1.5% of the yacht's value per year. Make sure to shop around for the best policy and adjust coverage based on your specific needs. Insurance covers damages to your yacht, liability for third-party damages, and coverage for the crew.

Yacht crew salaries: If your yacht requires a professional crew, you'll need to budget for their salaries. A small yacht might only need a captain, while a larger yacht may require a full staff, including a chef, deckhands, and stewards. Crew salaries vary depending on experience, position, and yacht size. As a rough estimate, you should expect to spend around AED 150,000–300,000 per year on crew salaries for a 100-foot yacht.

Fuel expenses vary by yacht size, engine power, and cruising speed: Fuel expenses can add up quickly, especially if you use your yacht frequently. To keep costs in check, always be mindful of your yacht's fuel efficiency and try to plan shorter trips or travel at slower speeds when possible.
| Yacht Fuel Cost by Size | Engine Power | Cruising Speed | Fuel Consumption | Fuel Expense |
| --- | --- | --- | --- | --- |
| Small yacht (20-30 feet) | 100 horsepower | 20 knots | 10–15 gallons per hour | AED 184 to AED 276 per hour |
| Medium yacht (30-50 feet) | 200 horsepower | 25 knots | 20–25 gallons per hour | AED 367 to AED 460 per hour |
| Large yacht (50-80 feet) | 500 horsepower | 30 knots | 50–60 gallons per hour | AED 918 to AED 1,104 per hour |
| Super yacht (80+ feet) | 1000 horsepower | 35 knots | 100–120 gallons per hour | AED 1,836 to AED 2,203 per hour |
Pre-Purchase Considerations for a Yacht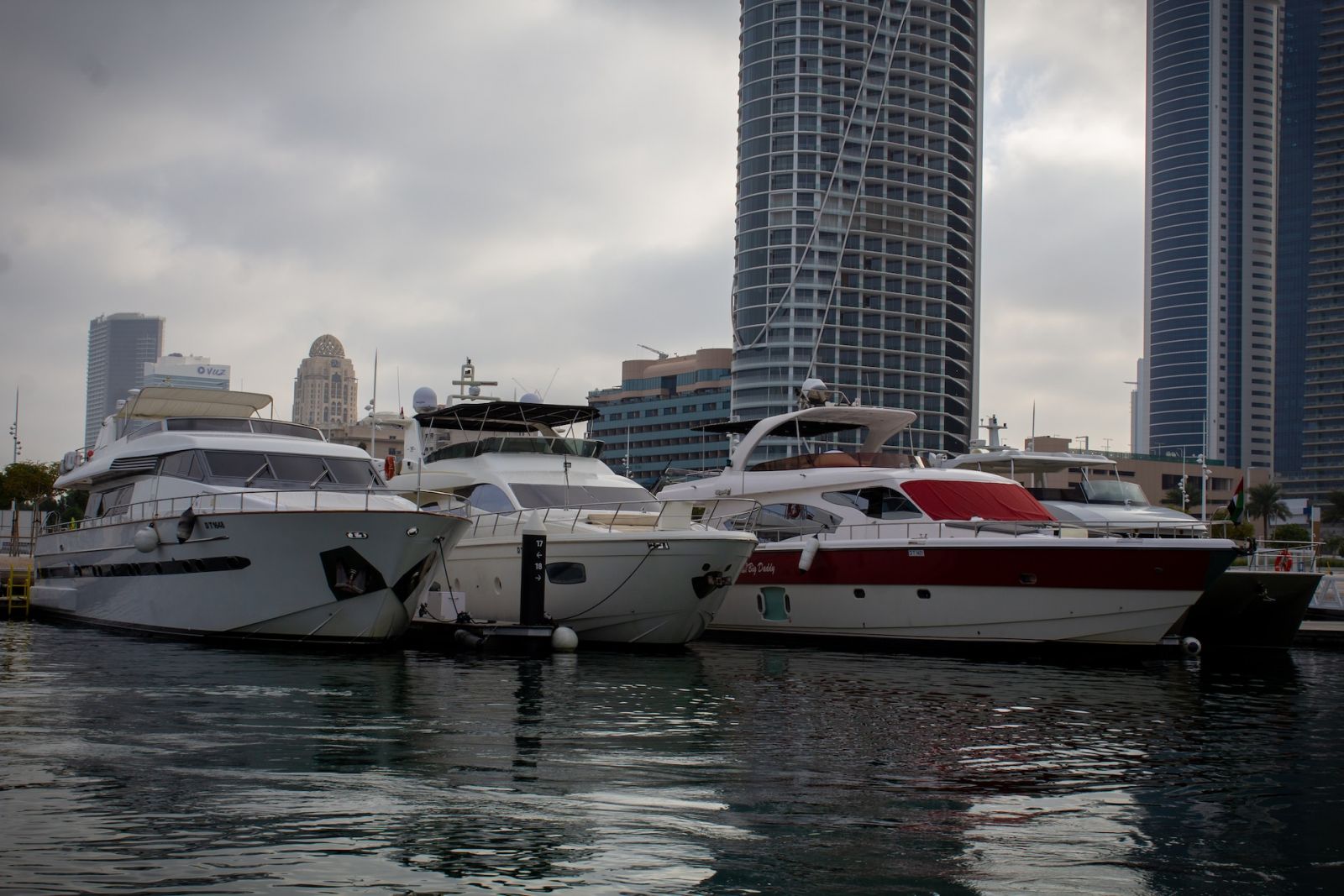 This section will help you understand the different types of yachts, sizes, new versus second-hand yachts, and finding a vendor in Dubai.
Type of yacht: There are various types of yachts to choose from, each with its own unique features and purposes. Your selection will significantly impact your overall experience and the costs associated with yacht ownership. Common yacht types include:
| Type of Yacht | Unique Features and Purposes |
| --- | --- |
| Motor yachts | Ideal for speed and luxury, these yachts typically offer ample living space and can be used for cruising, entertaining, or even as a home away from home. |
| Sailing yachts | For those who prefer a more traditional experience, sailing yachts provide a sense of connection to the sea and the joy of harnessing the wind. They may require a bit more skill to handle, but they can be incredibly rewarding. |
| Catamarans | With their dual hulls, catamarans offer increased stability and space, making them a popular choice for family vacations and long-term cruising. |
Size of the yacht: The size of the yacht is an important factor to consider. Larger yachts often come with higher purchase and maintenance costs, while smaller yachts are more accessible and easier to navigate. You should consider the kind of experience you want and the amount of space you need when choosing a size.

New vs second-hand yacht: It's essential to weigh the advantages and disadvantages of purchasing a new or second-hand yacht. New yachts come with the latest technology, a warranty, and no history of wear and tear. However, they also have a higher price tag. On the other hand, used yachts can offer significant savings but may require more maintenance and have a shorter lifespan. Make sure to thoroughly examine the condition of a second-hand yacht before purchasing, as issues discovered later may lead to costly repairs.

Dubai is home to numerous yacht vendors: Take some time to research and compare vendors, considering their reputation, expertise, and inventory. Ask for recommendations from friends, family, or colleagues who have experience with yacht purchases in Dubai, and don't be afraid to negotiate with vendors to strike the best deal. Remember to prioritize trust and transparency when choosing a vendor to assist in your yacht buying journey.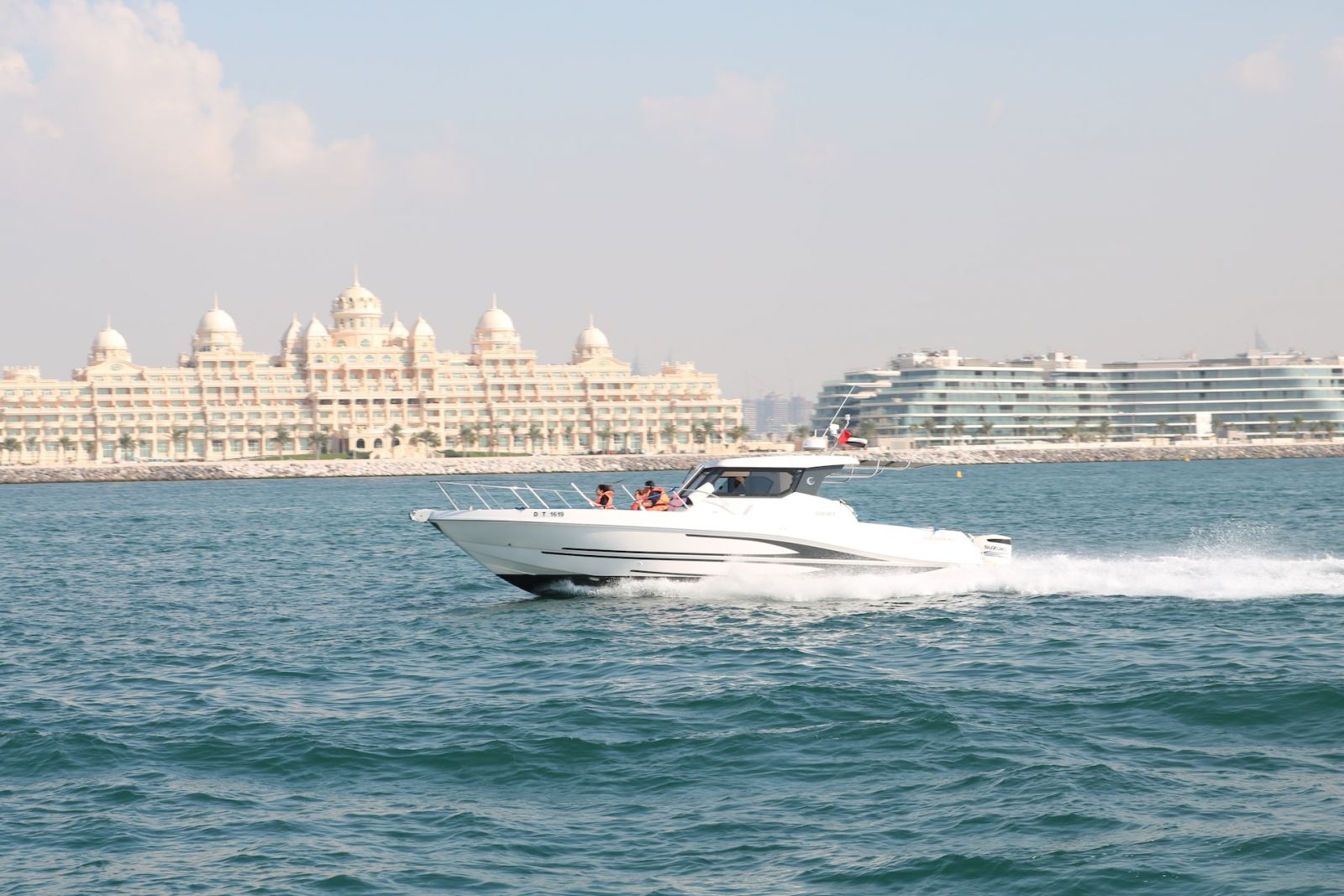 Prospects of yacht resale in Dubai
If you decide to buy a yacht in Dubai, you might want to consider the prospects of resale in the future. Reselling a yacht can help you recoup some of your investment, and fortunately, the yacht market in Dubai has been steadily growing over the years.
The demand for luxury yachts in Dubai is fueled by both local and international buyers, providing you with multiple options when it comes to selling your yacht. There is a thriving market for used yachts for sale in Dubai, and you can find buyers looking for both small and large yachts.
When considering the resale value of your yacht, it's essential that you don't overlook the importance of proper maintenance. Keeping your yacht in good condition means that it remains attractive to potential buyers and can command a higher price. Docking charges, routine maintenance, and fuel costs are some factors that come into play while owning a yacht, and remember that these expenses will be part of your overall ownership experience.
Before selling your yacht, make sure to consult with a trusted yacht broker in Dubai, as they have the knowledge and experience to help you navigate the resale process. They can provide valuable insights on the current market trends and help you set a reasonable asking price for your yacht.
Financial incentives and regulations
One aspect to consider is the VAT (Value Added Tax) on yachts. In the UAE, the standard VAT rate is 5%. This applies to both new and used yachts purchased in the country. However, if you're purchasing a yacht for commercial use, such as chartering, you may be able to reclaim the VAT paid on the purchase and related expenses.

Next, you should be aware of any import duties that may apply when bringing the yacht into Dubai. In general, the UAE has a relatively low import duty rate compared to other countries, which can be an attractive factor for yacht buyers. Before importing your yacht, check with the relevant authorities to determine the exact import duty percentage that you'll need to pay.

To further save costs, research about yacht registration and licensing options in Dubai. There are different options available to yacht owners, each with its own set of regulations and fees. For example, you have the option to register your yacht under the UAE flag or a foreign flag, which can have varying impacts on your tax situation and overall expenses. Carefully weigh the pros and cons of each option before making your decision.

Lastly, consider any available tax strategies for yacht buyers while keeping in mind the applicable laws in your home country or for your situation. Some tax incentives such as the Section 179 deduction may allow you to deduct the cost of your yacht as a business expense, up to certain limits, if you use it for chartering or other business purposes.
Did you find the answer to your specific question?
👍

0
👎

0