How Long Does it Take to Sail from San Diego to Hawaii?
The beautiful archipelago of Hawaii: if you live in California, you're in luck - you could definitely go there. A real bucket list showpiece: sailing to Hilo.
How long does it take to sail from San Diego to Hawaii? It takes between 2 - 3 weeks to sail to Hawaii. During the last Transpac race, the fastest monohull made the crossing in 5 days and 2 hours. The slowest boat, a 48' sailing cruising took nearly 16 days. However, the average recreational sailor, cruising at the average speed will more likely take 14 days.
Getting there is easy, getting back is the real problem. Some people aren't up for the task of sailing their boat upwind in the North Pacific - they say boats are cheaper in Hawaii because of it.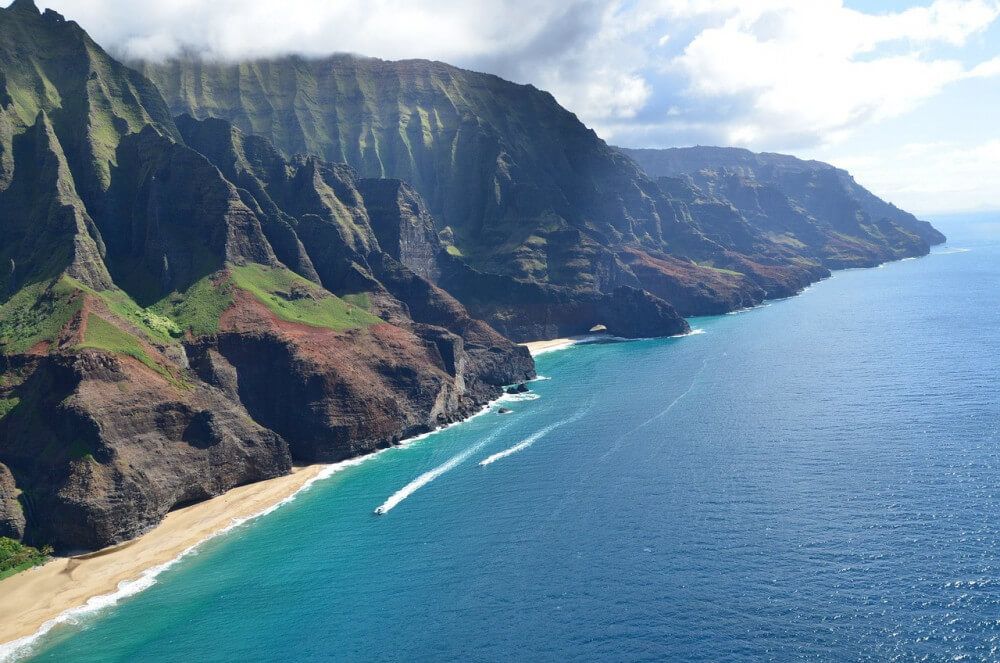 How To Estimate the Duration
There are multiple factors that determine the duration of the trip. The most obvious are wind speed and direction. Others are navigational skills of the skipper, boat type and length, and preparation. Breakdowns cost a lot of time, so a well-prepared boat will get there faster.
The direct distance from San Diego to Hawaii is 2,269 NM. But if you want to have a nice sailing experience you should probably try to get your sail in front of the eastward trade winds.
To make use of the trade winds, you have to first sail south. The trade winds only pick up until you're roughly 600 miles west of California. Once you pick up the trade winds, it's a great off-the-wind trip.
By doing so, you add roughly 200-400 NM to your trip. Your total distance is now 2,600 NM.
The crossing from the Californian coast to Hawaii is one of the longest ocean passages without any land nearby. Good to know before you go.
Let's say you sail a mid-sized boat of about 30-36' (which is recommend for bluewater sailing). The average cruising speed of these types of boats is about 6-8 knots. We sail 18 hours a day, at - let's be conservative here - 6 knots.
Please note: I wouldn't recommend any boat under 28'. A longer boat tends to be more stable, which really helps a lot with handling, but also just with overall fun.
In ideal conditions, it would take us 9 days, 15 hours.
( 2,600 / 6 ) / 60 = 7,22
To account for 18 / 24 ( = 0.75 ) hours a day
7,22 / 0,75 = 9 days and 15 hours
So how long would it take us in less than ideal conditions? Let's say we sail on average 4 knots (which is the standard calculating speed for ocean passages I belief). It would take us 14 days, 11 hours.
( 2,600 / 4 ) / 60 = 10,83
To account for 18 / 24 ( = 0.75 ) hours a day
7,22 / 0,75 = 14 days and 11 hours
I'll spare you the calculation for terrible conditions.
Want to know how to calculate the hull speed of any boat? If you're like me and like to nerd out about these kinds of things, I definitely recommend to go check out my article on the average speed of sailboats (opens in new tab).
What's the record?
If you're bored out of your mind by my math, that's fine. Let's have a look at the world records:
The fastest monohull was the Comanche with a 2017 record of just under 5 days and 2 hours
The fastest multi-hull was the Mighty Merloe with a 2017 record of just over 4 days and 6 hours
Their distance was about 2,225 NM. So their average sailing speed was 18 kt (Comanche) and 22 knots (Mighty Merloe) - impressive.
At different speeds
If you don't own a high-performance catamaran, or a 40' racing yacht for that matter, you might take a little longer. Here are some average durations for different hull speeds:
26' or 8m cruising at 4 kt: 14 days
32' or 10m cruising at 6 kt: 10 days
40' or 12m cruising at 7 kt: 8 days
65' or 20m cruising at 8 kt: 7 days
With all of these speeds I use generous cruising speeds, but I've factored in little to no wind for 6 hours each day. Of course it doesn't go that way: you will have bad wind the first couple of days, and then when you pick up the trades, you get to test out your hull speed the rest of the way.
Route
As always in sailing, the route isn't as straightforward as you'd expect. You go straight at it, but I doubt if quick win in miles outweighs the loss in pure joy from riding on the trade winds.
Trade winds are very reliable winds that are created by hot tropical air rising, after which it cools down and comes down near the poles. Thanks to this heat transaction we get a never-ending breeze, which is great news if you like sailing.
By the way, what's up with their name? Hint: it's not what you expect. Read more on trade winds in my article here (new tab).
The route:
San Diego - South to about 20-25 degrees North
Then head West for Hilo
For a more detailed overview of the route (with map), check out my Hawaii Sailing Guide here.
Getting back
Getting back is the difficult part (but it can definitely be done). You have to work your way upwind.
The return route:
Sail N until westerlies are reached - sometimes as high as Oregon due to high pressure
Then head East for San Francisco
How much fuel should you actually bring? It's easy to calculate. Find out how in my article on fuel usage here (opens in new tab).
What's the Best Time to Go?
The hurricane season in the South Pacific is from May 15th until October 20th. The best time to go is in April - May, right before the season, or in October - November, right after the season.
Please pay really close attention to the weather forecast. Hurricanes can happen throughout the year.
You know what's just another great thing about this window? You'll be visiting Hawaii in the low season, which means: less tourists! And more cocktails for you.
If you want to know what the best time for sailing is across the globe, read my article on sailing seasons here (opens in new tab). It has a handy map of most seas.
Typical Conditions
The first couple of days are grey and smooth. The wind can do some changing of direction. After five or six days you reach the trade winds. At this point, the wind gets warmer and more consistent. You can keep consistent speeds without much manoeuvring.
On the way back winds can get pretty rough. The NW winds can reach get up to 20-40 knots and you have to manoeuvre more often as you don't have the support of the trade winds anymore.
Once you get closer to shore, you may be hit by cold weather and storms. So pay attention when you roll into coastal waters.
Here's a great video on sailing to Hawaii:
(The sound gets bad due to mobile interference - otherwise great video)
My Favorite Beginner Cruising Gear
For trips like these, I recommend using sound cruising gear. It doesn't have to be expensive. Here are my top 3 items:
For more details on each one, head over to my recommended gear section.
Related Questions
What's the smallest boat to sail to Hawaii? The smallest boat to make the crossing to Hawaii is about 28 ft (or 8.5 m). Boats under 28 ft are less stable, making the trip uncomfortable. Generally 30 ft or up is recommended for bluewater sailing. Longer, more stable boats tend to handle better, and are also safer in stronger winds and currents.
How long does it take to sail from San Francisco to Hawaii? It takes 3-4 weeks to sail to from San Francisco to Hawaii. It's roughly 2,500 nautical miles. High-performance boats may be able However, sailing in a straight line is not a good route. The best option is to head south to 20-25 degrees north (To make use of the trade winds) and then head west for Hilo.
Did you find the answer to your specific question?
👍

16
👎

2