15 Surprising Benefits of a Ketch Rig (and 7 Cons)
If you're trying to figure out whether the ketch rig is for you, there are a couple of important factors to consider. In this article, I'll sum up the most important benefits.
What are the benefits of a ketch rig? Since the sail area is divided over multiple sails, the ketch is more easily managed and is great for single-handed sailing. It offers more versatility in sail plan, and is known to handle very well in heavy winds. The ketch rig is an especially effective rig for larger boats (40ft and up).
Just a quick recap: the ketch is a two-masted sailboat that has a mainmast (front) and shorter mizzenmast (aft or back). Both masts carry a mainsail. The sail on the mizzenmast is also called the jigger.
Your mizzensail provides all kinds of benefits. There are some really creative ways to put your mizzenmast to use. Read on to learn what those are.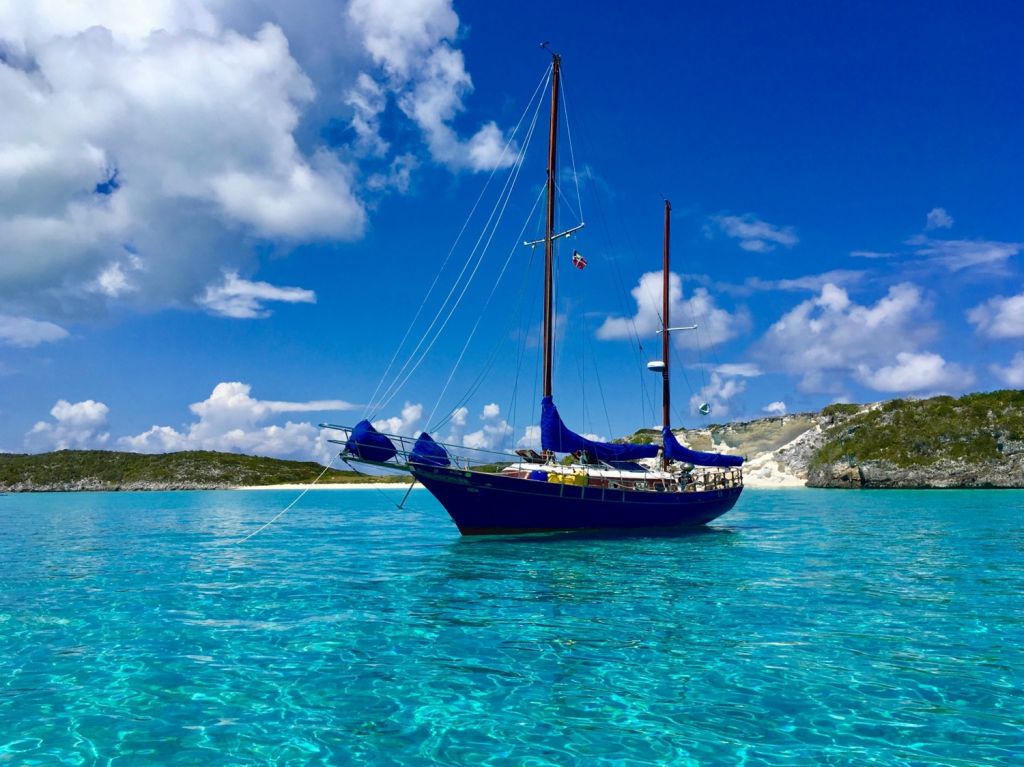 The Ideal Rig for Long-Distance Offshore Cruising
All in all, the ketch rig is widely known as one of the best rigs for long-distance cruising. There are multiple reasons to back up that claim, and we'll go over all of them one by one below. But the most important reason is that the ketch is incredibly comfortable, both in handling, maneuvering, operating, and the ride itself. This increased comfort is largely thanks to the extra sail aft, the mizzensail, which provides a better power balance.
So who's it for?
The ketch is especially great for long-distance cruisers that face rough waters and heavier winds and are short-handed. For example, couples that want to sail around the world together, or liveaboards that go on long holidays or expeditions. It's also a great family cruiser, since you can sail a larger boat without needing additional crew members or having to operate humongous sails.
Ketches Generally Perform Better in Downwind Conditions
While with the Marconi rig the main and jib get in each other's way on downwind runs, the ketch rig has far fewer problems. The mizzensail and mainsail can work together seamlessly and are far more efficient with most points of sail, except of course when sailing very close to the wind. But even then, the Bermuda rig and ketch can go neck-to-neck and the gap in performance isn't necessarily enormous. Unless you're a racer, the ketch is a really good alternative to the Bermuda rig, and most people should at least consider it.
Smaller Sails Are Easier To Manage
The ketch is a very good single-handed rig, especially for larger boats (40ft and up). Using smaller but more sails allows you to have more sail area, while it's still manageable for one person. Also, smaller sails are easier to handle in heavier winds. Splitting up your sail area is just a great way to keep things in check, even with a small crew of just one or two people.
Easier Reefing
Because you have more (and mostly smaller) sails, reefing becomes easier. There's less stress on the sails, and you can reef down gradually, in phases, moving through your sails one by one. This ensures comfortable reefing and results in less speed reduction.
Another great tip I've read somewhere is that you can even quickly drop your main when the winds come in. Instantly, you're storm proof, while maintaining speed and course.
Using Multiple Sails Allows for More Control
The ketch rig has three primary sails instead of two. This provides all kinds of benefits, and there are a couple of really surprising ones, which I'll come to later on. But the most important one is that you gain more control. The mizzensail provides more control over your stern.
Also, with the additional sail, you get a lot more trimming options for all conditions, allowing you more precise control for each point of sail and with any wind.
More Versatile Sail Plan Options
The extra sail also provides more versatile sail plan options. You have a broader operating range. There are more sails to put up with light airs, but also more sails to take down when things get rough. You can reef in all kinds of different combinations, and even take down the main if you have to. Which brings me to my next point.
You Gain a Spare Sail
This provides A LOT of benefits. For example, if you need to perform maintenance on your main, you can simply take it down, and continue sailing without losing control or a lot of speed. The ketch can sail on all points of wind with the main down (or the mizzen or jib). You have a spare sail, which will come in handy.
More Balanced Sailing
The mizzensail has a major upside you just won't get with the Bermuda sloop rig. The mizzensail balances the jib.
Sailing "jib and jigger" means just using your mizzen and jib, and leaving the mainsail down.
I've heard that this sail plan is very well-balanced, and allows you to self steer in a way. You could theoretically even use it as an temporary alternative to your autopilot, should it break down.
Superior Sail Plan in Heavy Winds
Thanks to its more balanced sail plan, the ketch rig is a much more comfortable ride in heavier winds, and many sailors praise the ketch for precisely that. Taking down the mainsail, sailing just the jigger and jib, provides a sort of instant storm sail plan that at the same time offers a lot more control than the single stormsail you'd usually put up on a Bermuda rig instead of the mainsail.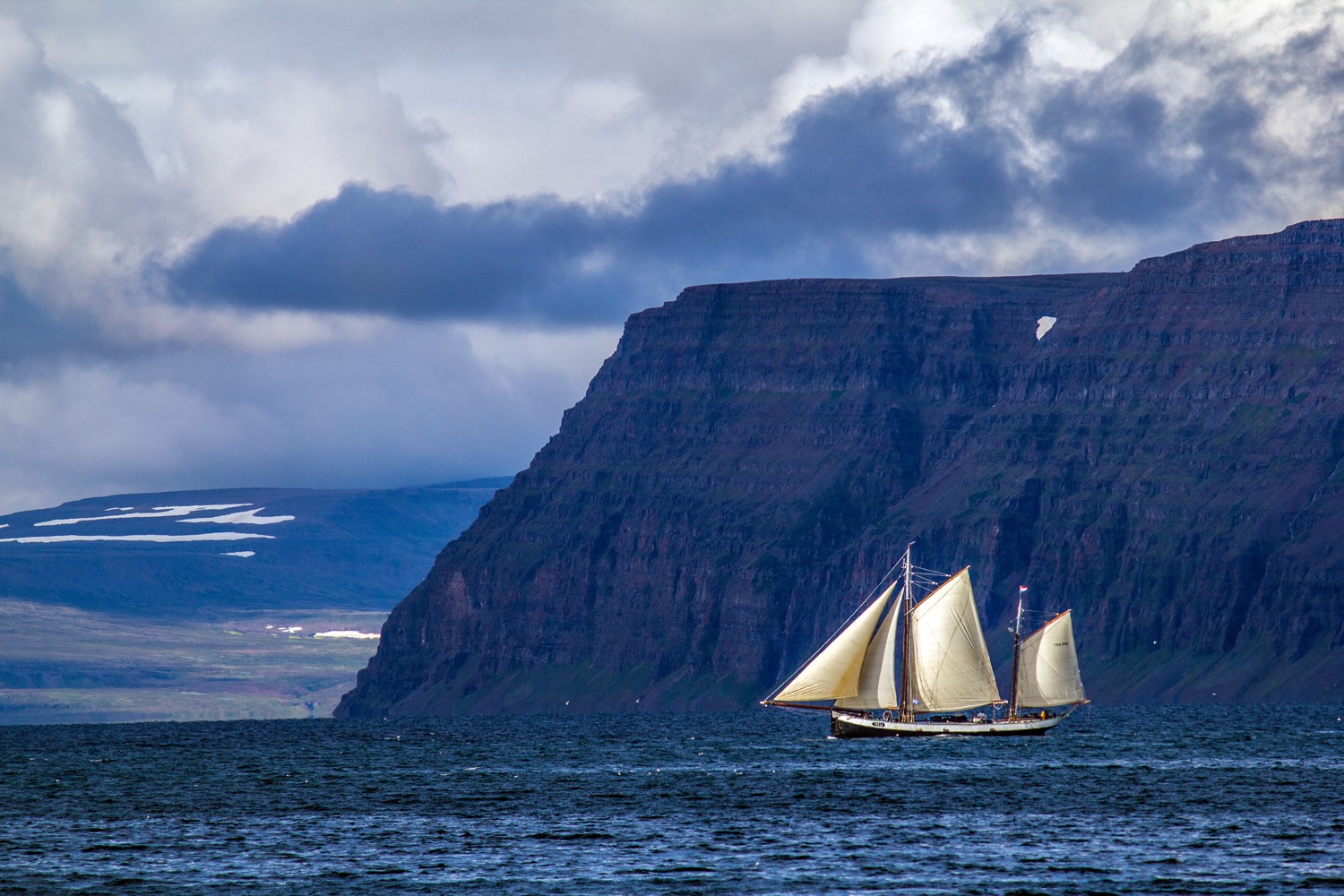 Comfort over Speed
I think it's clear by now that the ketch is maybe the ultimate cruising rig. If you value your comfort, the mizzen offers some incredible benefits. The well-balanced output of this rig and the enormous variety in sail trim options allow for a smooth ride in almost all conditions.
However, you do pay a (minor) price for all this luxury: speed. The ketch is inevitably slower than the leaner Bermuda rig. However, on a downwind run, the ketch will still satisfy: there's plenty of sail area to gain some nice momentum.
Less Stress on the Rigging
Reducing sail size means you don't have to put as much stress on the rigging and you could use shorter masts, making them stronger. The difference in mast length isn't huge, but the forces on the mast grow exponentially with length. So a bit shorter mast makes a big difference.
In turn, the stress on the rigging is also reduced, which can lead to less wear, resulting in lower maintenance costs.
Stress on the rigging seems to be the major disadvantage of the Marconi rig.
Another rig that's a bit 'softer' is the gaff rig. The gaff rig is better suited for inland, calm waters instead of long term cruising, but can be another good alternative to the uptight Bermuda. I have written about the advantages of the gaff rig in detail in this article (opens in new tab).
Variety of Mizzenmast Uses
The mizzenmast and sail can act as several things and will be very useful to creative sailors. Some cool examples I've found:
You can use the mizzenmast and sail:
Using it as a crane to load and unload cargo
Using it as an air rudder
Using it as your riding sail at anchor
The Air Rudder
The mizzen can be a great help in mooring and the likes. Many ketch sailors use the mizzenmast as a type of massive wind rudder, which is a great help when you want extra control under sail. If you learn to use the mizzensail, you gain an additional rudder, which increases control over your stern and can help you maneuver in tight spots.
Free Riding Sail at Anchor
You can also use the mizzensail as an alternative riding sail at anchor, although it isn't recommended since your sail will wear down due to increased UV exposure.
Incredibly Fast in Right Conditions
As I pointed out briefly before, the ketch rig is a bit slower than most Bermuda rigs. However, in the right conditions, it can be incredibly fast, especially with larger boats that run a well-balanced sail plan. If you are able to utilize the additional sail area and find a course with a good point of sail, the ketch rig can really ramp up.
Disadvantages of the Ketch Rig
As with anything, there is a price to be paid for all these advantages, and the ketch rig does have some downsides. I thought it would be only fair to touch on them briefly below. However, if you are able to look past these, in my opinion, minor disadvantages, the ketch rig remains a great rig for serious sailors.
They tend to be slower than sloops
The Bermuda rig isn't the most popular rig by chance. It is by far the fastest rig out there.
They can't sail as close to the wind as sloops
Although modern ketches can sail almost as high as sloops, there's a point where sloops are able to go, and ketches can go no further. However, I think that many recreational sailors won't push their rig to its limits, which means the ketch is still a good option to consider.
The mizzenmast takes up space
Extra masts and extra sails do take up additional space, and space is precious on your boat.
Most ketches are old boats
Since it is a less popular rig type, there are fewer ketches made than Bermuda sloops. The apparant result being that ketches tend to be a bit older, and are a bit harder to find.
They will be more expensive
Since there are less available, they will be more expensive - the additional mast and sails will obviously also increase your purchase. And it's my guess that most ketches are owned by people who know pretty well what their boat is worth, so it will be harder to find a good bargain.
Additional rigging
Ketches have a lot of additional rigging you just won't find on your regular Bermuda. An extra mast and main means additional sheets, halyards, stays, and so on.
More or less maintenance cost
I have never owned a ketch and I never had to maintain one, so I just don't know whether a ketch is more or less expensive in maintenance. The additional rigging and sails may drive up the maintenance cost; on the other end, the sails are smaller and maybe won't all need replacing at the same rate, which may reduce maintenance cost. Especially the fact that ketch sailors use their mainsail less will probably be really cost-effective. Also, the reduced stress on the mast and (standing) rigging, may reduce maintenance cost.
If you have more experience or information about the cost of ownership and maintenance cost of ketches, please leave a comment below. I'm always eager to learn.
In Conclusion
The ketch is a great rig that provides comfort, versatility, and control while offering acceptable speeds and a large operating range. It's a viable alternative to the Bermuda rig, and is especially interesting for people that want to explore the world's oceans with a small crew. It's easy to handle but will be more expensive initially, although I suspect the maintenance cost of the ketch rig will even itself out.
There you have it, all the advantages and disadvantages of the ketch rig in one neat overview. I hope this was helpful and has provided some insight to help you in deciding whether or not the ketch rig is for you.
Did you find the answer to your specific question?
👍

160
👎

6