17 Sailboat Types Explained: How To Recognize Them
Ever wondered what type of sailboat you're looking at? Identifying sailboats isn't hard, you just have to know what to look for. In this article, I'll help you.
Every time I'm around a large number of sailboats, I look around in awe (especially with the bigger ones). I recognize some, but with most of them, I'll have to ask the owner. When they answer, I try to hide my ignorance. The words don't make any sense!
So here's a complete list with pictures of the most common sailboat types today. For each of them, I'll explain exactly where the name comes from, and how you can recognize it easily.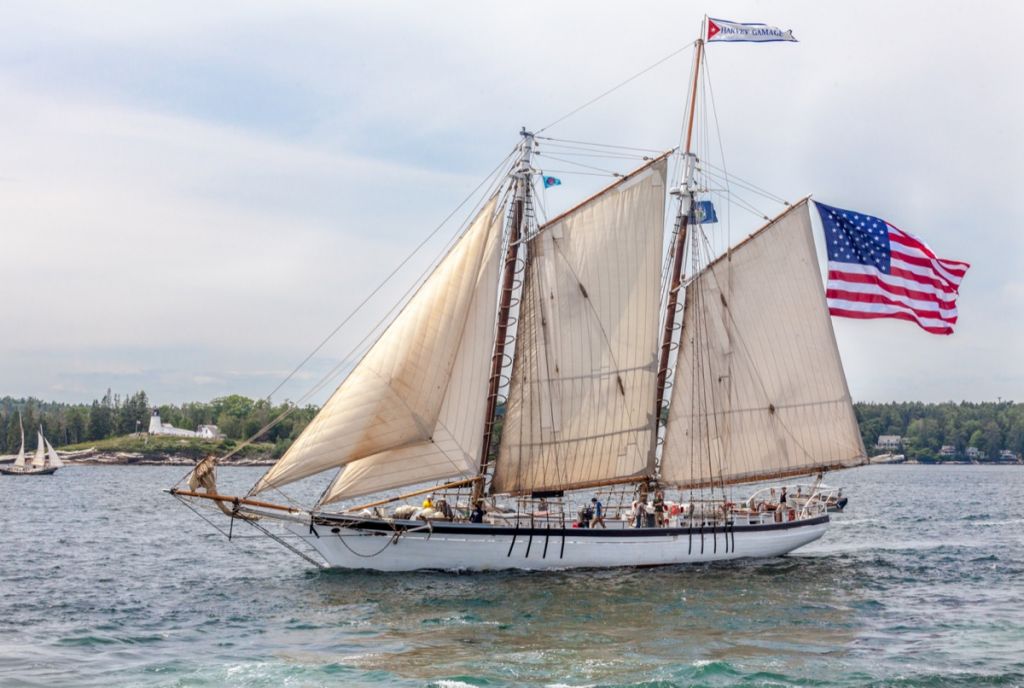 So here's my list of popular sailboat types, explained:
How To Recognize Any Sailboat
Before we get started, I wanted to quickly explain what you should look for when you try to identify a sailboat.
The type of sailboat is always determined by one of these four things:
The type of hull
The type of keel
The number of masts
And the type of sails and rig
The hull
The hull is the boat's body. There are basically three hull types: monohull, catamaran, and trimaran. Simply said: do I see one hull, two hulls (catamaran) or three hulls (trimaran)? Most sailboats are monohulls.
The keel
Next, there is the keel type. The keel is the underwater part of the hull. Mostly, you won't be able to see that, because it's underwater. So we'll leave that for now.
The sail plan
The last factor is the number of masts and the sail plan. The sail plan, simply put, is the number of sails, the type of sails, and how the sails are mounted to the masts (also called rigging).
Sailboat are mostly named after the sail plan, but occasionally, a sail type is thrown in there as well.
So now we know what to pay attention to, let's go and check out some sailboats!
Dinghy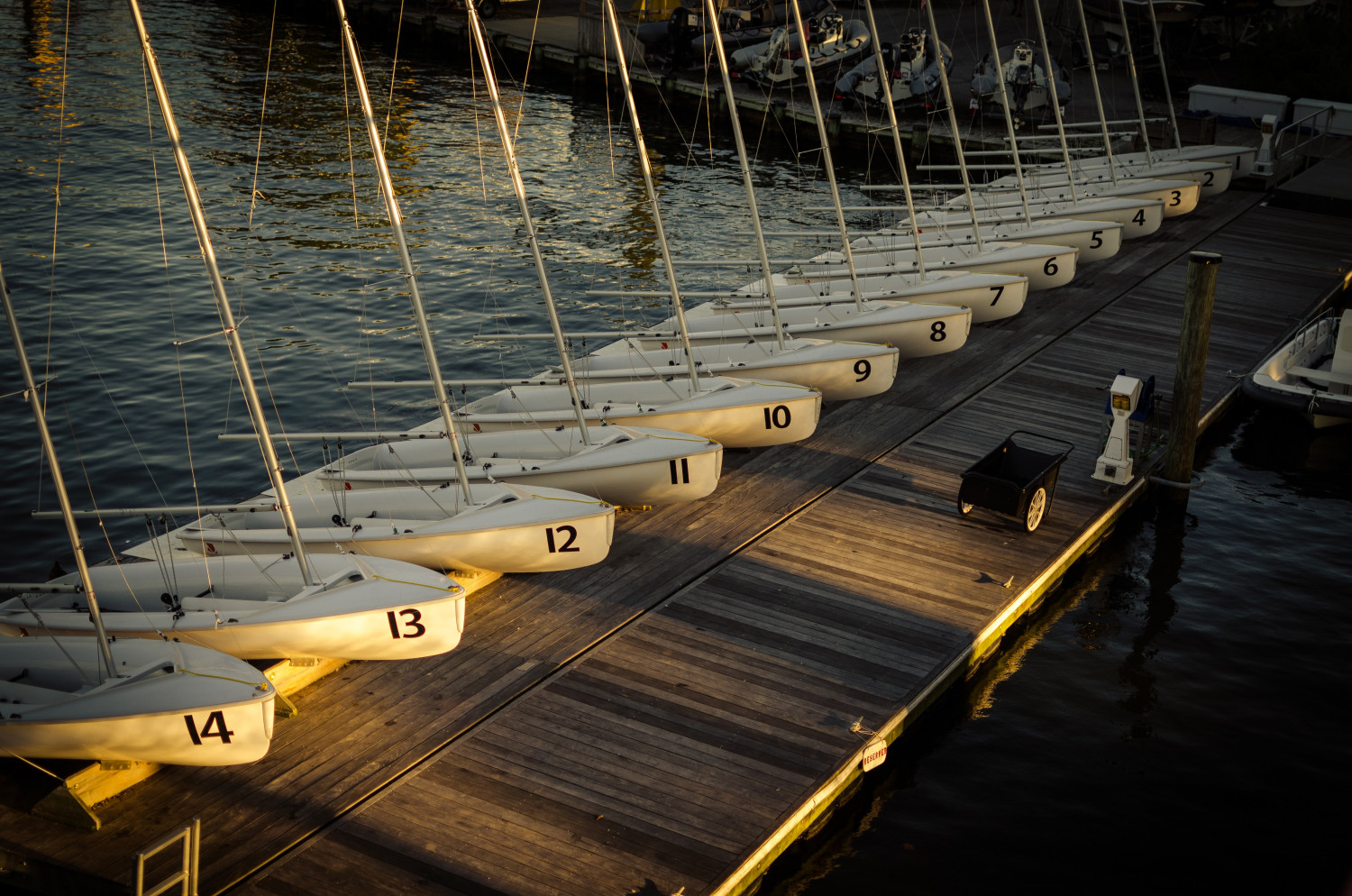 Dinghies are the smallest and most simple sailboats around.
They are your typical training sailboats. Small boats with an open hull, with just one mast and one sail. Perfect for learning the ways of the wind.
On average, they are between 6 and 20 ft long. Mostly sailed single-handed (solo). There's no special rigging, just the mainsail. The mainsail is commonly a Bermuda (triangular) mainsail. Dinghies have a simple rudder stick and no special equipment or rigging.
Dinghies are great for learning how to sail. The smaller the boat, the better you feel the impact of your trim and actions.
How to recognize a sailing dinghy:
short (8ft)
one mast
one Bermuda sail
open hull design
rudder stick
Common places to spot them: lakes, near docks
Bermuda Sloop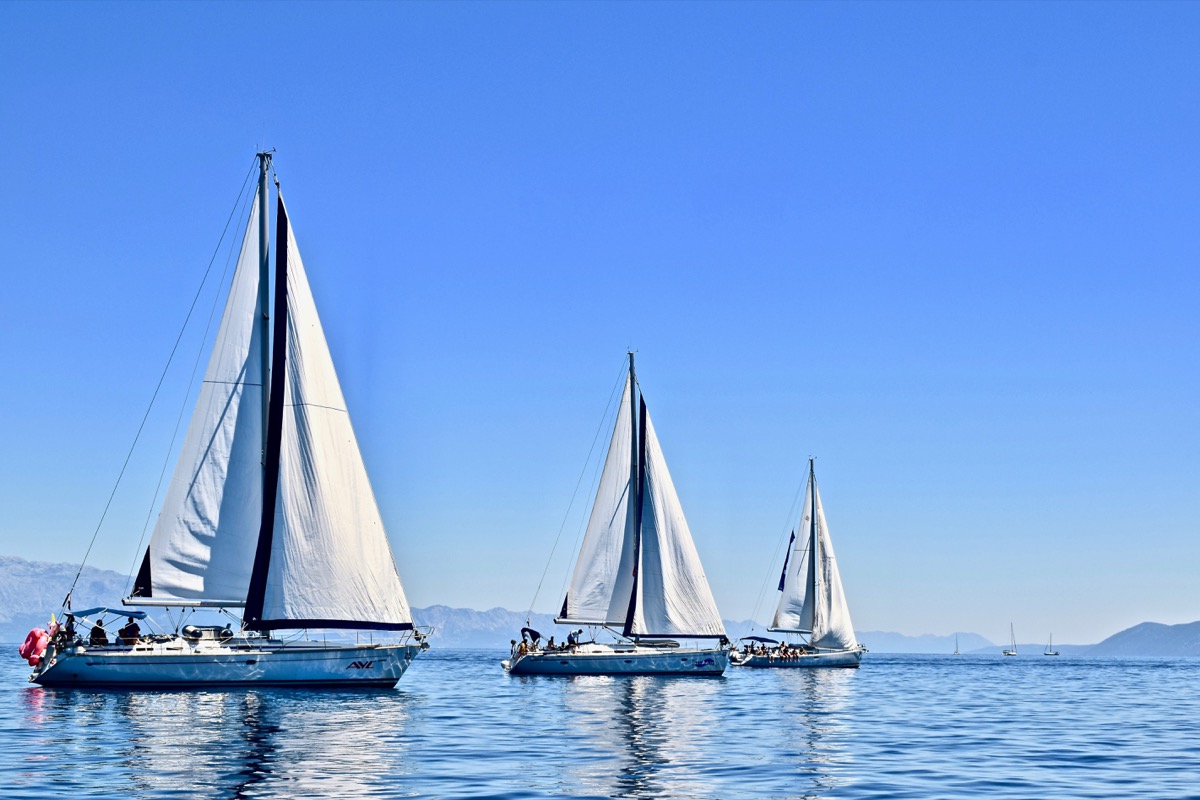 If you'd ask a kid to draw a sailboat, she'll most probably draw this one. The Bermuda Sloop is the most popular and most common sailboat type today. You'll definitely recognize this one.
How to recognize a Bermuda Sloop:
one mast
triangular mainsail (called a Bermuda sail)
a foresail (also called the jib)
fore-and-aft rigged
medium-sized (12 - 50 ft)
Fore-and-aft rigged just means "from front to back". This type of rigging helps to sail upwind.
Any sailboat with one mast and two sails could still be a sloop. Even if the sails are another shape or rigged in another way. For example, here's a gaff-rigged sloop (more on the gaff rig later):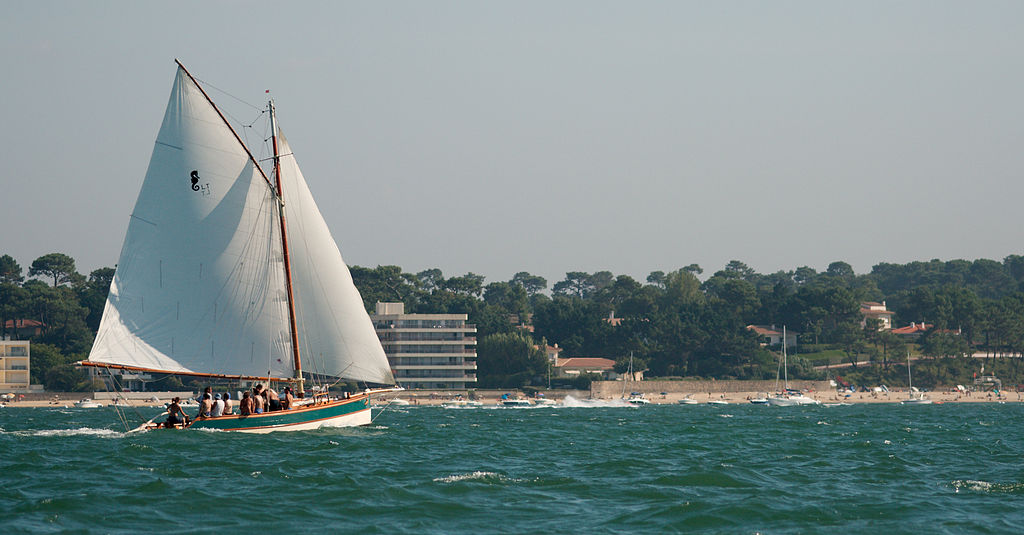 If you want to learn all about sail rigs, check out my full Guide to Understanding Sail Rig Types here. It has good infographics and explains it in more detail
The Bermuda sloop has a lot of advantages over other sailboat types (which is why it's so popular):
the Bermuda rig is very maneuverable and pretty fast in almost all conditions
it's really versatile
you can sail it by yourself without any problems
it's a simple setup
Common places to spot a sloop: everywhere. Smaller sloops are more common for inland waters, rivers, and lakes. Medium-sized and large sloops are very popular cruising boats.
Cutter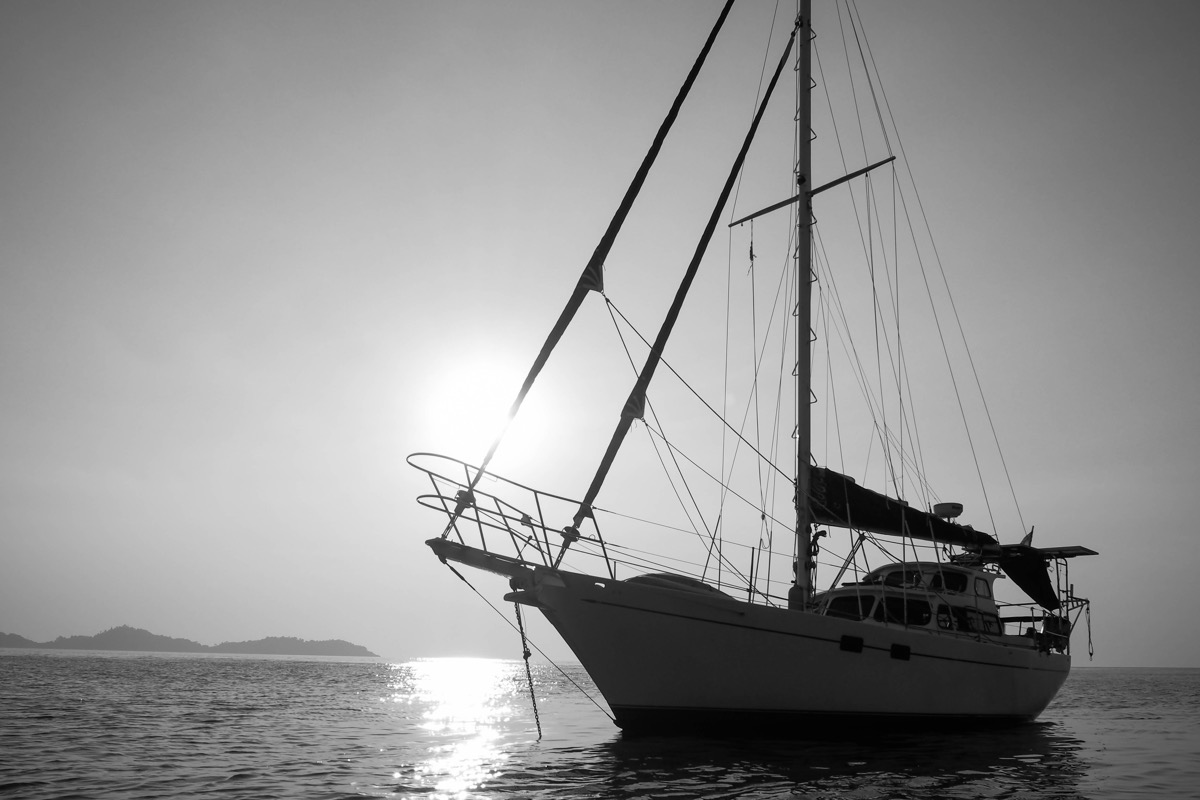 Cutters have one mast but three or more sails. Most cutters are Bermuda rigged, which means they look a lot like sloops.
How to recognize a cutter:
looks like a sloop
two or more headsails instead of one
commonly one mast
sometimes an extra mast with mainsail
Cutters have more sail area, which makes them faster, but also harder to sail single-handed. There's also more strain on the mast and rigging.
Common places to spot a cutter: everywhere. Cutters are very popular for cruising.
They mostly have a Bermuda rig, which means triangular sails. But there are also gaff cutters and naval cutters, and some have two masts.
Here's an example of a two-masted naval cutter with an extra gaff mainsail and top gaff: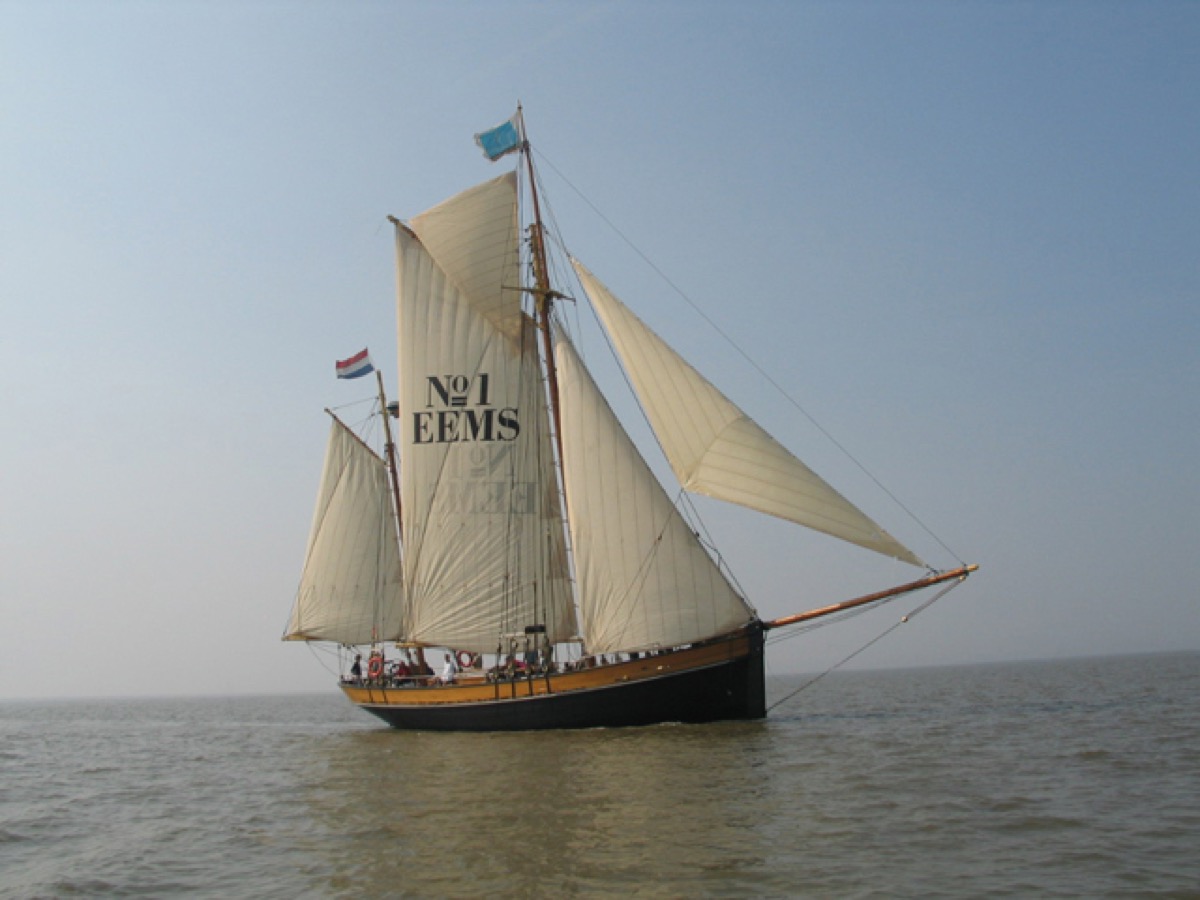 Sailing Hydrofoil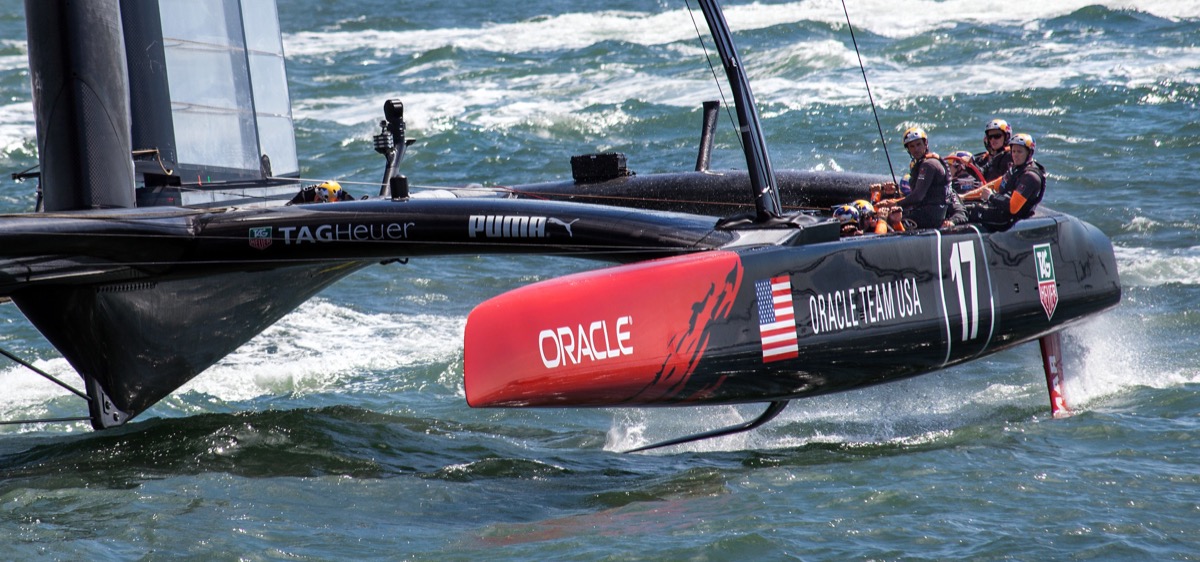 The Hydrofoil is a pretty new sailboat design. It's a racing sailboat with thin wing foils under the hull. These lift up the hull, out of the water, reducing the displacement to nearly zero. The foils create downforce and keep it from lifting off entirely.
This makes the hydrofoil extremely fast and also impressive.
The hydrofoil refers to the keel type. There are both monohull and multihull hydrofoils.
How to recognize a hydrofoil:
it flies above the waterline and has small fins
Common places to spot a hydrofoil: at racing events
Catamaran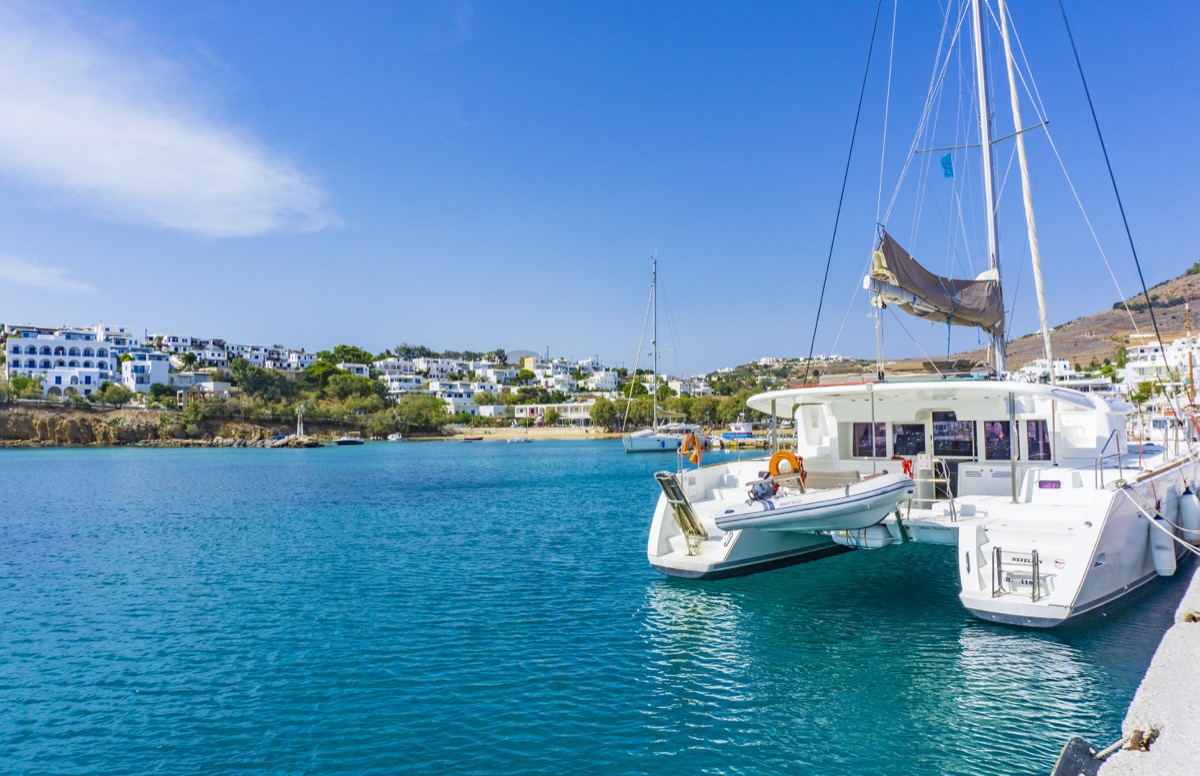 Famous catamaran: La Vagabonde from Sailing La Vagabonde
A catamaran is a type of cruising and racing multihull sailboat with two hulls. The hulls are always the same size.
Most catamarans have a standard Bermuda rig. The catamaran refers to the hull, so it can have any number of masts, sails, sail types and rig type.
How to recognize a catamaran:
any boat with two hulls is called a catamaran
Common places to spot catamarans: coastal waters, The Caribbean, shallow reefs
The advantages of a catamaran: Catamarans heel less than monohulls and are more buoyant. Because of the double hull, they don't need as deep a keel to be stable. They have a smaller displacement, making them faster. They also have a very shallow draft. That's why catamarans are so popular in the Caribbean, where there's lots of shallow water.
Catamarans are nearly impossible to capsize:
"Compared with a monohull, a cruising catamaran sailboat has a high initial resistance to heeling and capsize—a fifty-footer requires four times the force to initiate a capsize than an equivalent monohull."
Source: Wikipedia
Trimaran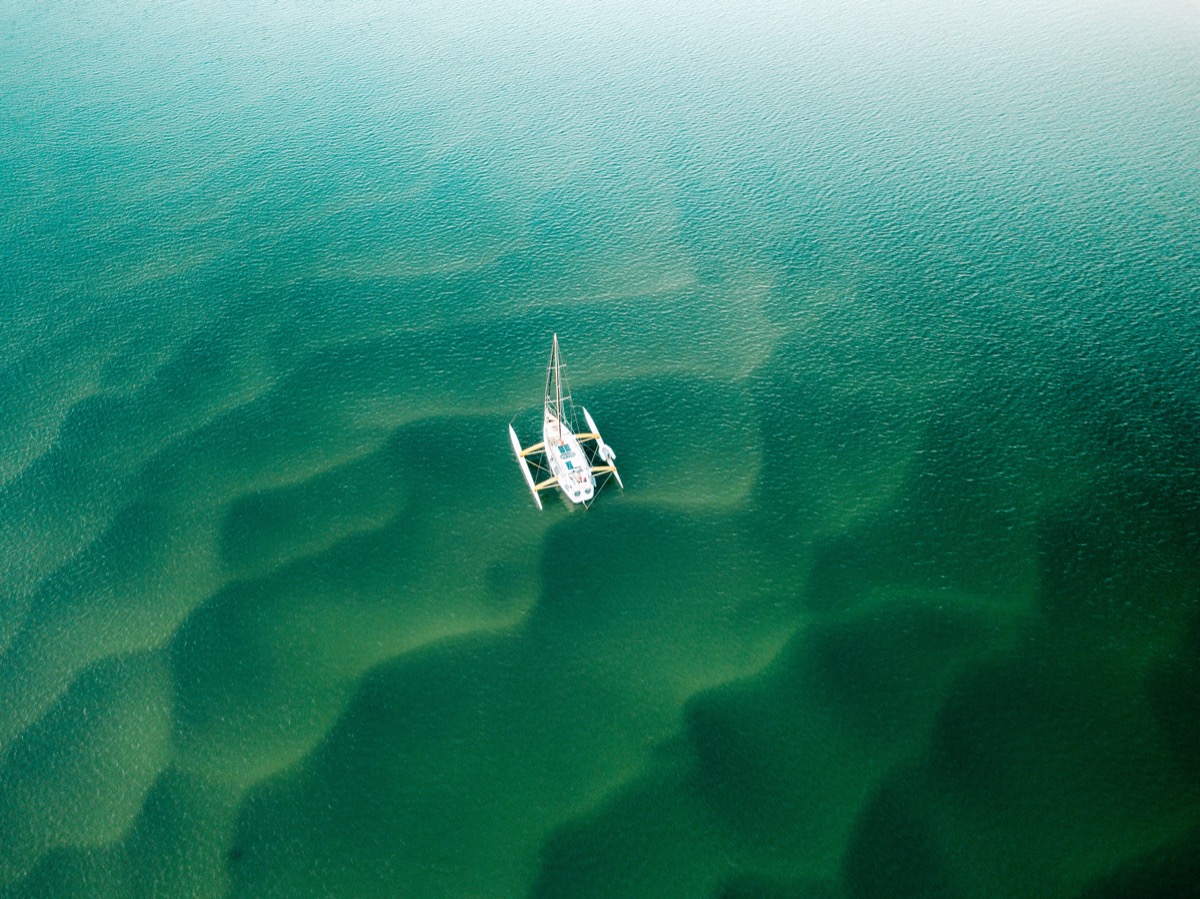 How to recognize a trimaran:
any boat with three hulls is called a trimaran
Trimarans have three hulls, so it's a multi-hull design. It's mostly a regular monohull with two smaller hulls or floaters on the sides. Some trimarans can be trailered by winching in the auxiliary hulls, like this: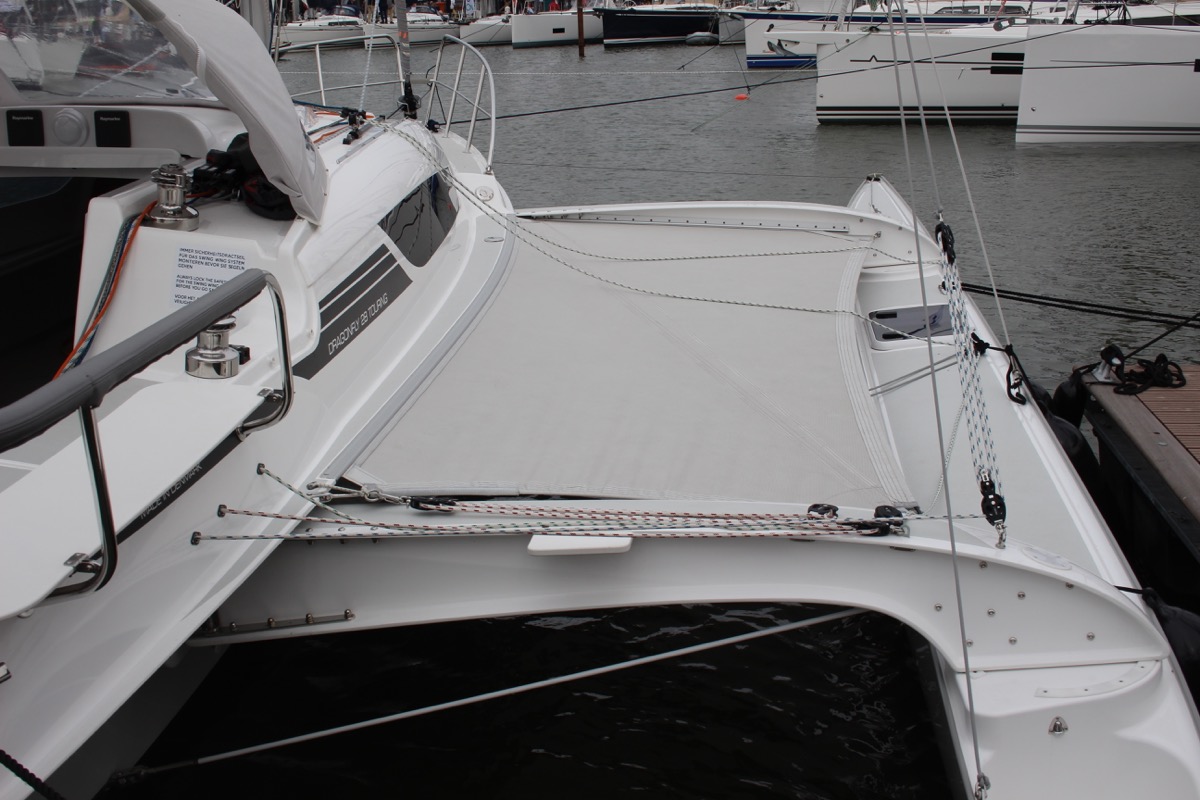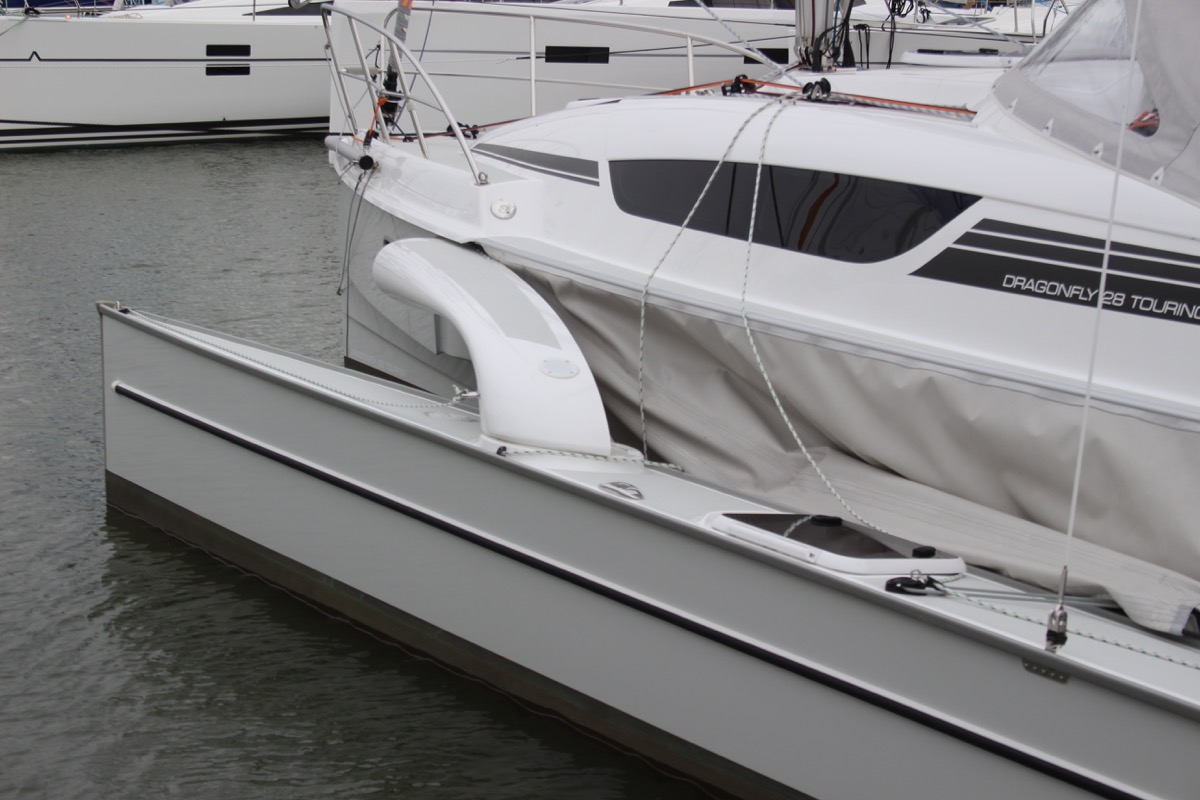 This makes them very suitable for long-term cruising, but also for regular docking. This is great for crowded areas and small berths, like in the Mediterranean. It sure is more cost-effective than the catamaran (but you also don't have the extra storage and living space!).
Common places to spot Trimarans: mostly popular for long-term cruising, you'll find the trimaran in coastal areas.
Gaffer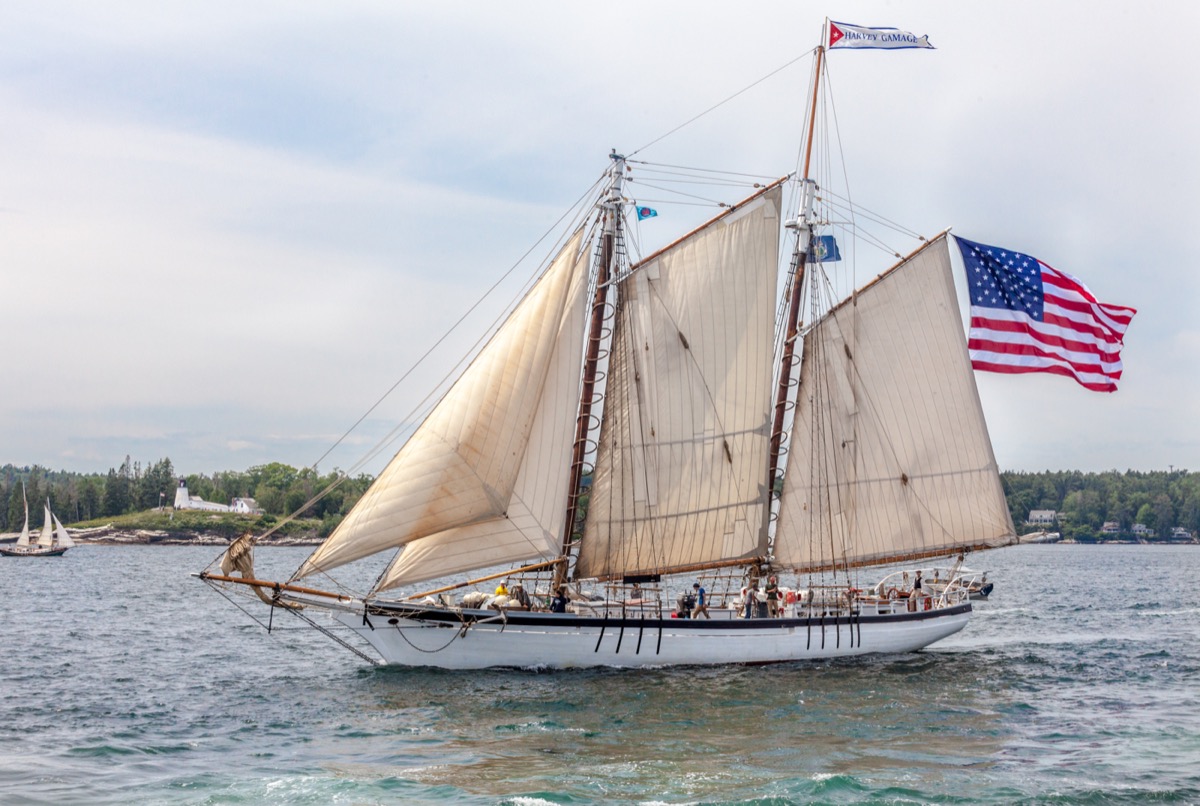 Gaffer refers to gaff-rigged, which is the way the sails are rigged. A gaff rig is a rectangular sail with a top pole, or 'spar', which attaches it to the mast. This pole is called the 'gaff'. To hoist the mainsail, you hoist this top spar with a separate halyard. Most gaffers carry additional gaff topsails as well.
Gaff rigs are a bit less versatile than sloops. Because of the gaff, they can have a larger sail area. So they will perform better with downwind points of sail. Upwind, however, they handle less well.
How to recognize a gaffer:
sail is rectangular
mainsail has a top pole (or spar)
fore-and-aft rigged
Since a gaffer refers to the rig type, and not the mast configuration or keel type, all sailboats with this kind of rigging can be called 'gaffers'.
Common places to spot a gaffer: Gaffers are popular inland sailboats. It's a more traditional rig, being used recreationally.
Schooner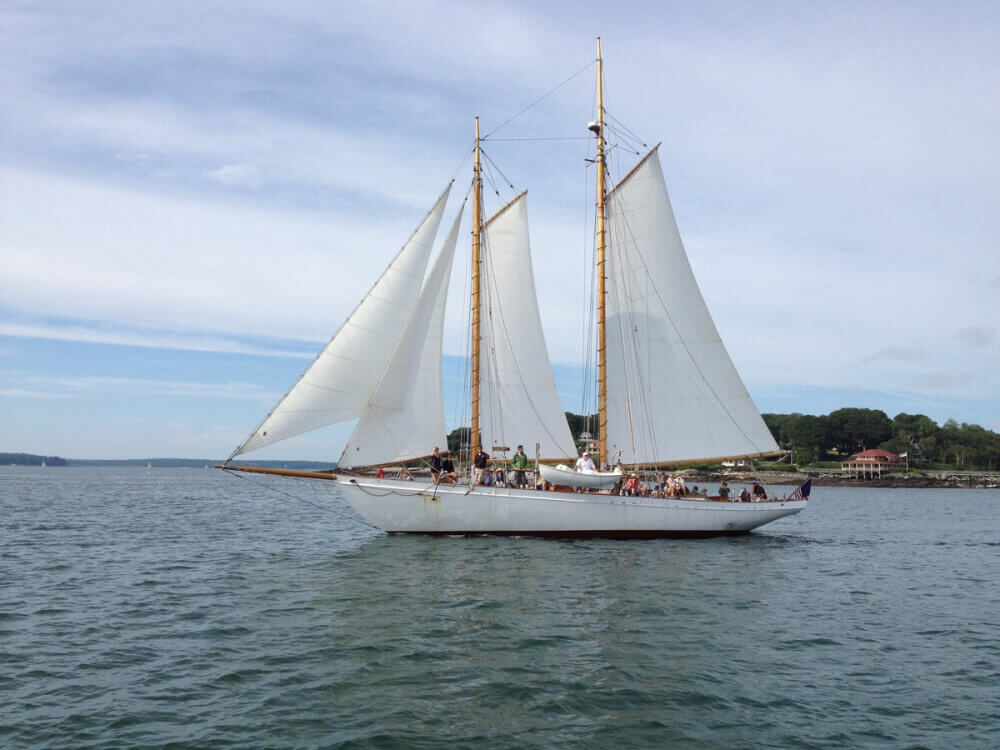 Schooners used to be extremely popular before sloops took over. Schooners are easy to sail but slower than sloops. They handle better than sloops in all comfortable (cruising) points of sail, except for upwind.
How to recognize a schooner:
mostly two masts
smaller mast in front
taller mast in the back
fore-and-aft rigged sails
gaff-rigged mainsails (spar on top of the sail)
Common places to spot a schooner: coastal marinas, bays
Ketch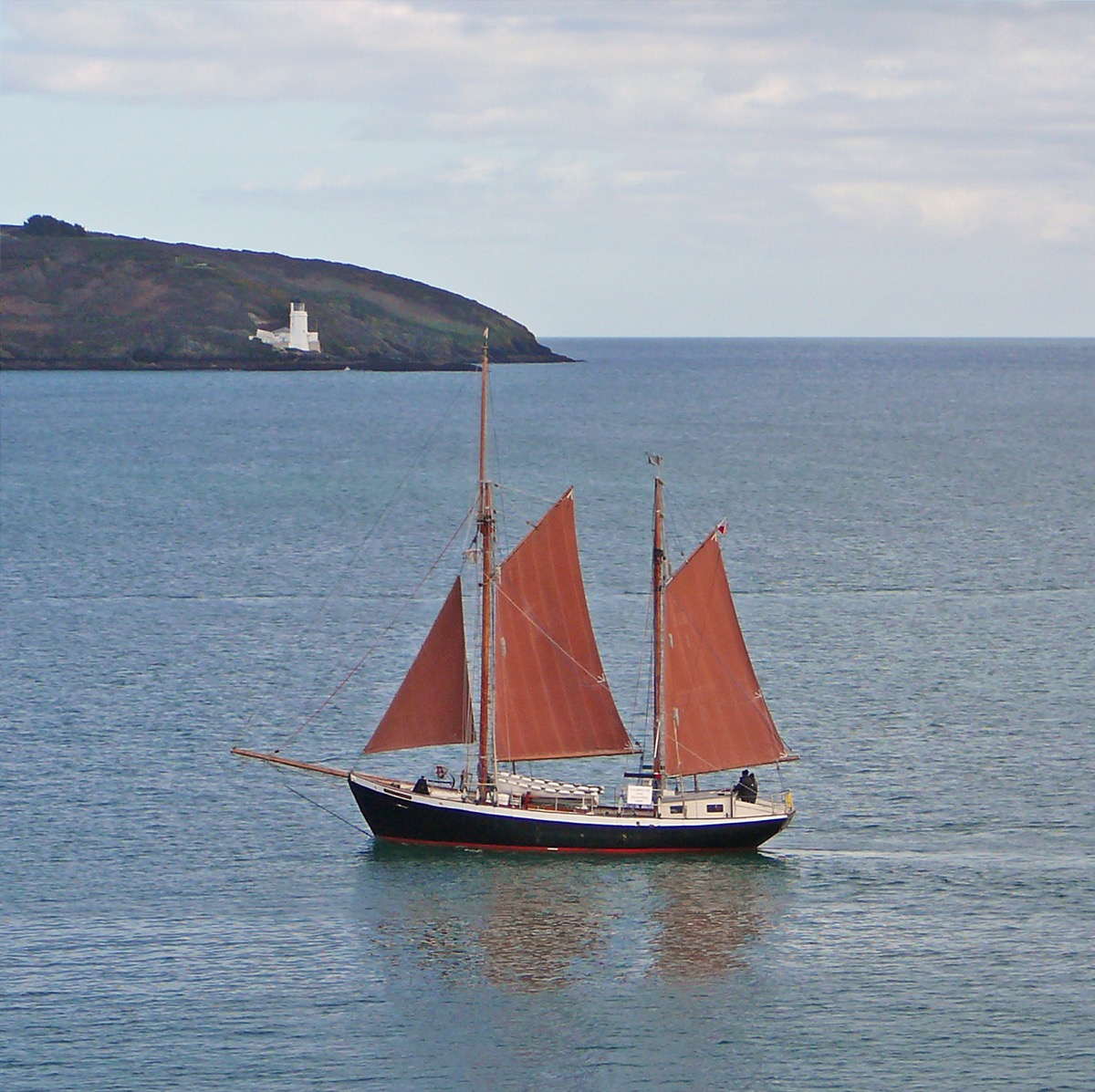 How to recognize a ketch:
two masts
medium-sized (30 ft and up)
smaller mast in back
taller mast in front
both masts have a mainsail
fore-and-aft rigged sails
The ketch refers to the sail plan (mast configuration and type of rig). Ketches actually handle really well. The back mast (mizzenmast) powers the hull, giving the skipper more control. Because of the extra mainsail, the ketch has shorter masts. This means less stress on masts and rigging, and less heel.
Common places to spot a ketch: larger marinas, coastal regions
Yawl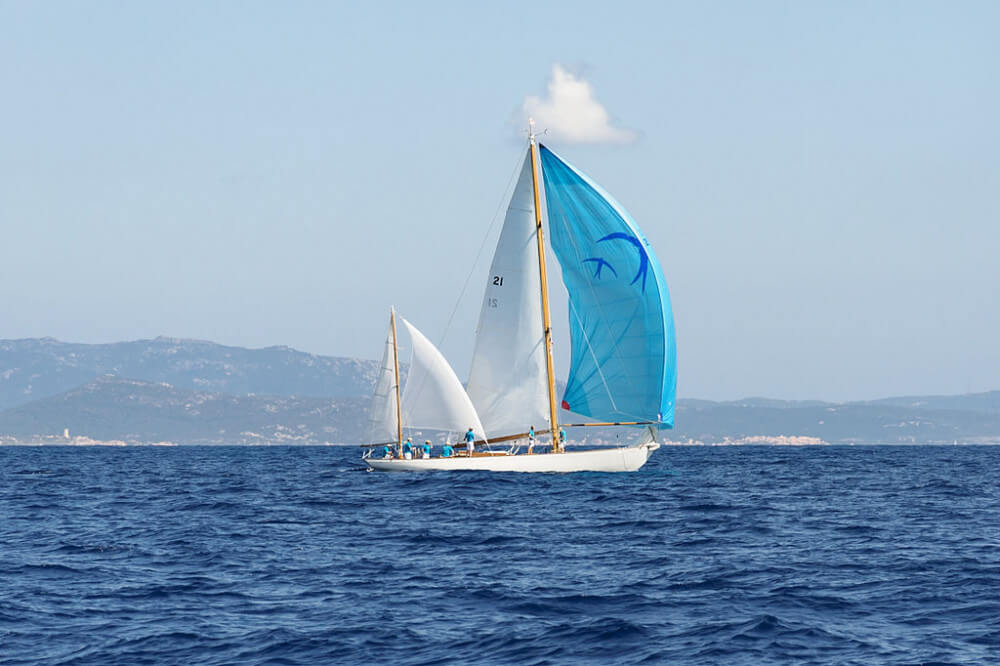 How to recognize a yawl:
two masts
main mast in front
much smaller mast in the back
back mast doesn't carry a mainsail
fore-and-aft rigged sails
The aft mast is called a mizzenmast. Most ketches are gaff-rigged, so they have a spar at the top of the sail. They sometimes carry gaff topsails. They are harder to sail than sloops.
The yawl refers to the sail plan (mast configuration and type of rig).
Common places to spot a yawl: they are not as popular as sloops, and most yawls are vintage sailboat models. You'll find most being used as daysailers on lakes and in bays.
Dutch Barge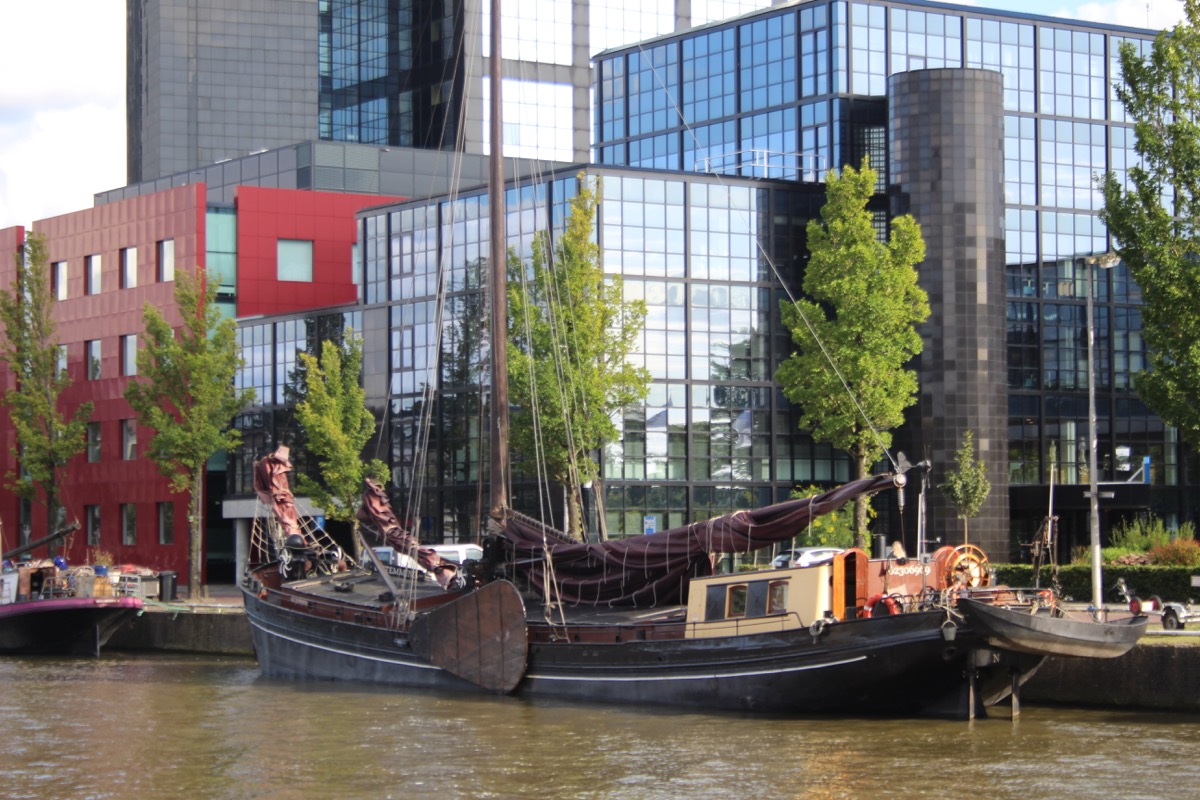 Dutch Barges are very traditional cargo ships for inland waters. My hometown is literally littered with a very well-known type of barge, the Skutsje. This is a Frisian design with leeboards.
Skutsjes don't have a keel but use leeboards for stability instead, which are the 'swords' or boards on the side of the hull.
How to recognize a Dutch Barge:
most barges have one or two masts
large, wooden masts
leeboards (wooden wings on the side of the hull)
mostly gaff-rigged sails (pole on top of the sail, attached to mast)
a ducktail transom
Clipper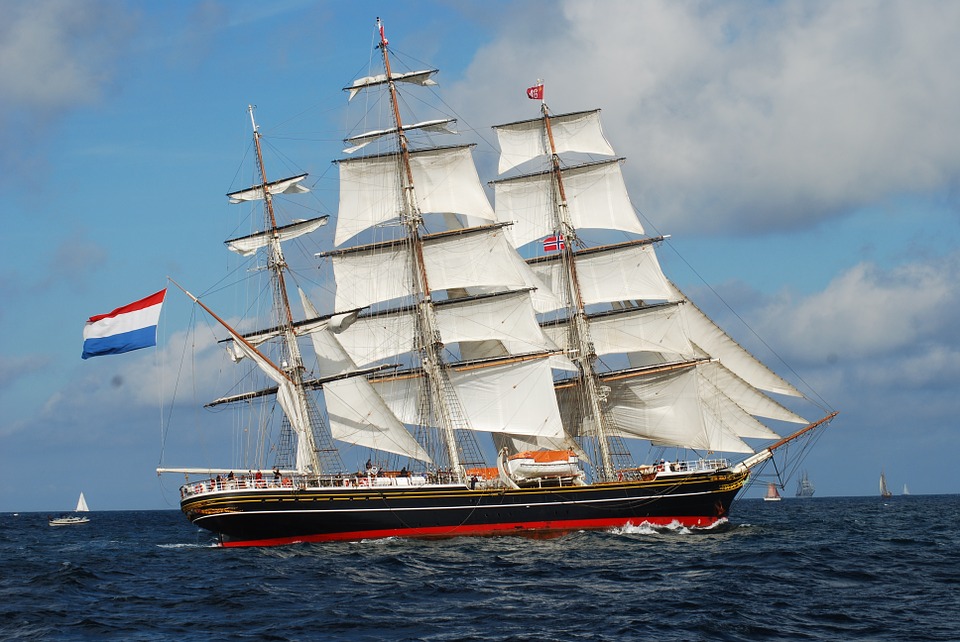 The clipper is one of the latest sailboat designs before steam-powered vessels took over. The cutter has a large cargo area for transporting cargo. But they also needed to be fast to compete with steam vessels. It's a large, yet surprisingly fast sailboat model, and is known for its good handling.
This made them good for trade, especially transporting valuable goods like tea or spices.
How to recognize a Clipper:
large ship
mostly three masts
square-rigged sails
narrow but long, steel hull
Common places to spot a clipper: inland waters, used as houseboats, but coastal waters as well. There are a lot of clippers on the Frisian Lakes and Waddenzee in The Netherlands (where I live).
Chinese Junk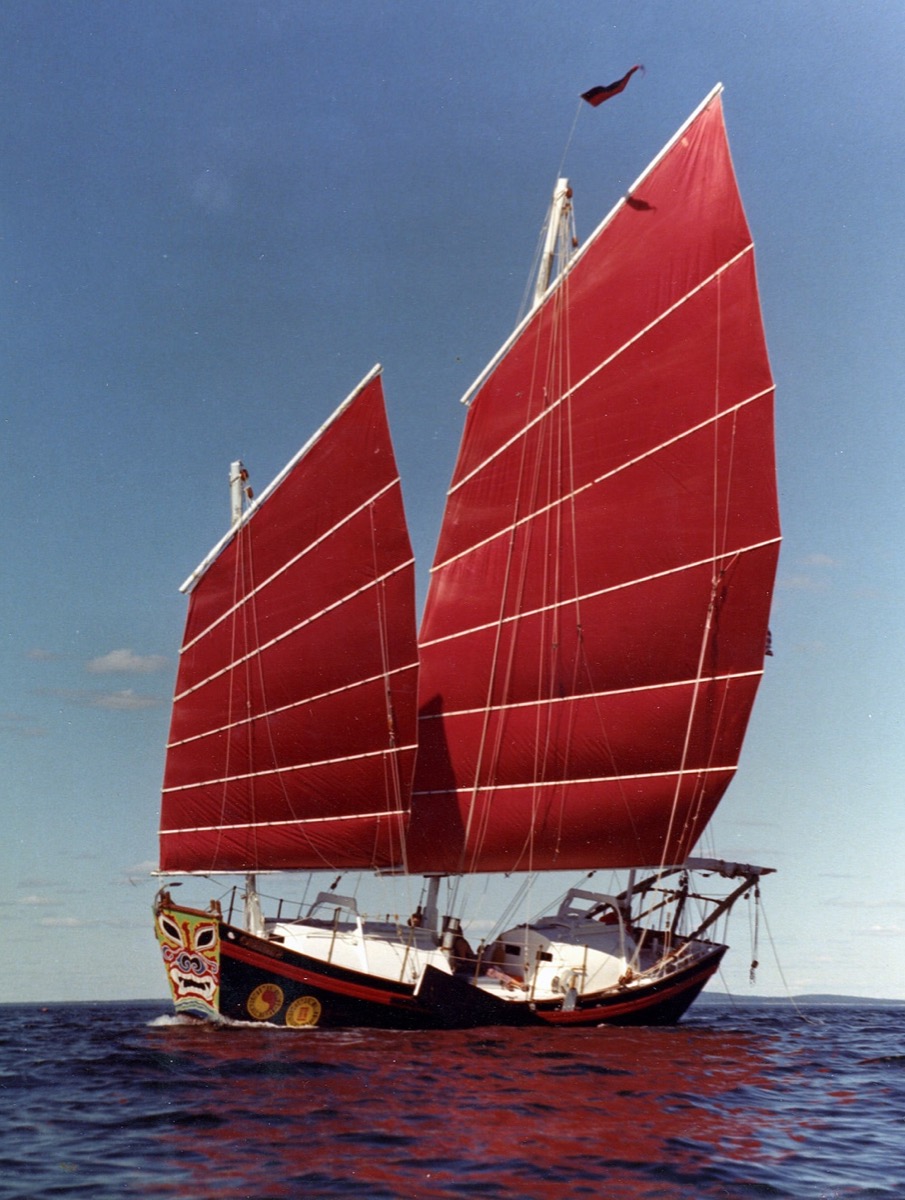 This particular junk is Satu, from the Chesapeake Bay Area.
The Chinese Junk is an ancient type of sailboat. Junks were used to sail to Indonesia and India from the start of the Middle Ages onward (500 AD). The word junk supposedly comes from the Chinese word 'jung', meaning 'floating house'.
How to recognize a Chinese junk:
medium-sized (30 - 50 ft)
large, flat sails with full-length battens
stern (back of the hull) opens up in a high deck
mostly two masts (sometimes one)
with two mainsails, sails are traditionally maroon
lug-rigged sails
The junk has a large sail area. The full-length battens make sure the sails stay flat. It's one of the flattest sails around, which makes it good for downwind courses. This also comes at a cost: the junk doesn't sail as well upwind.
Cats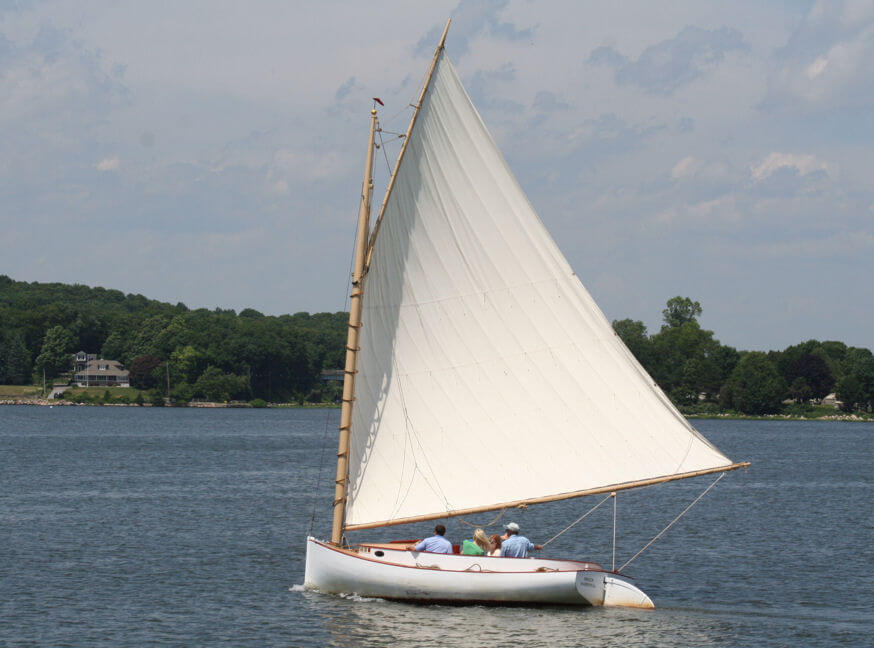 The cat rig is a sail plan with most commonly just one mast and one sail, the mainsail.
Most sailing dinghies are cats, but there are also larger boats with this type of sail plan. The picture above is a great example.
How to recognize a cat rig:
smaller boats
mostly one mast
one sail per mast
no standing rigging
Cat-rigged refers to the rigging, not the mast configuration or sail type. So you can have cats with a Bermuda sail (called a Bermuda Cat) or gaff-rigged sail (called a Gaff Cat), and so on. There are also Cat Ketches and Cat Schooners, for example. These have two masts.
The important thing to know is: cats have one sail per mast and no standing rigging.
Most typical place to spot Cats: lakes and inland waters
Brig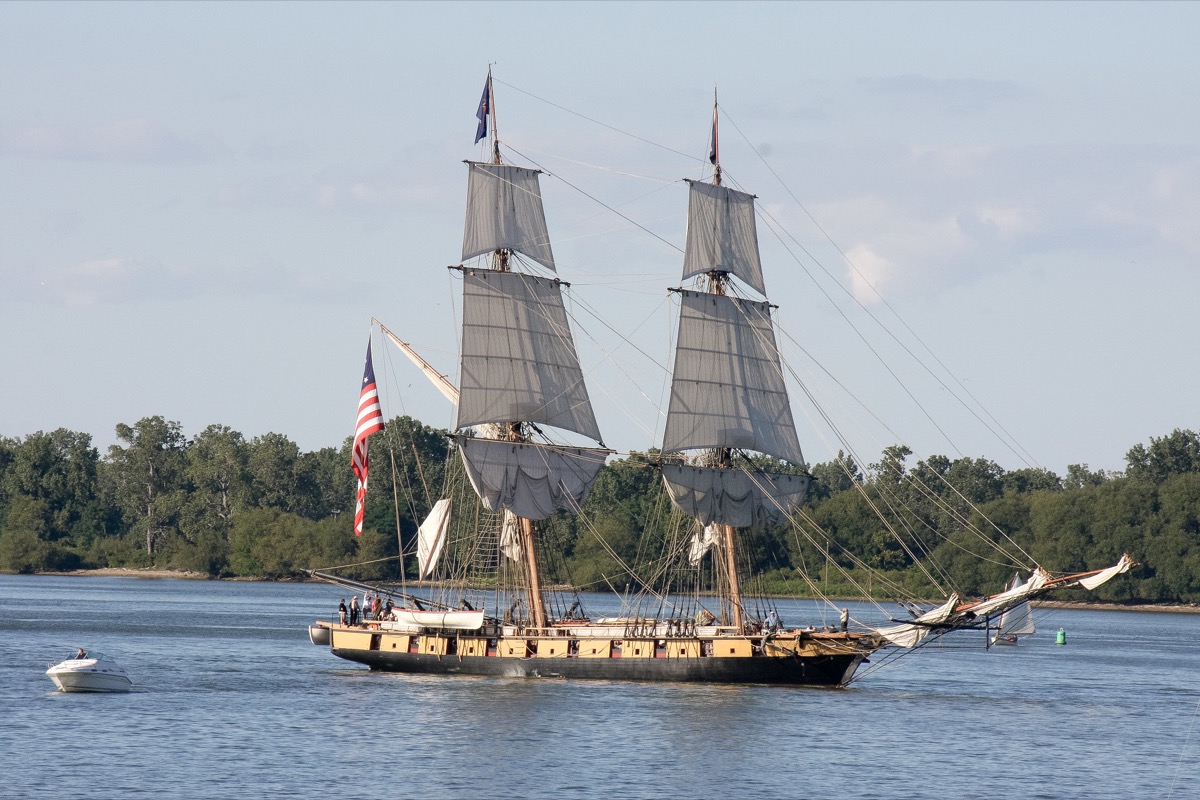 Famous brig: HMS Beagle (Charles Darwin's ship)
A brig was a very popular type of small warship of the U.S. navy during the 19th century. They were used in the American Revolution and other wars with the United Kingdom. They carry 10-18 guns and are relatively fast and maneuverable. They required less crew than a square-rigged ship.
How to recognize a brig:
two masts
square-rigged foremast
mainmast square-rigged or square-rigged and gaff-rigged
Square-Rigged Tall Ship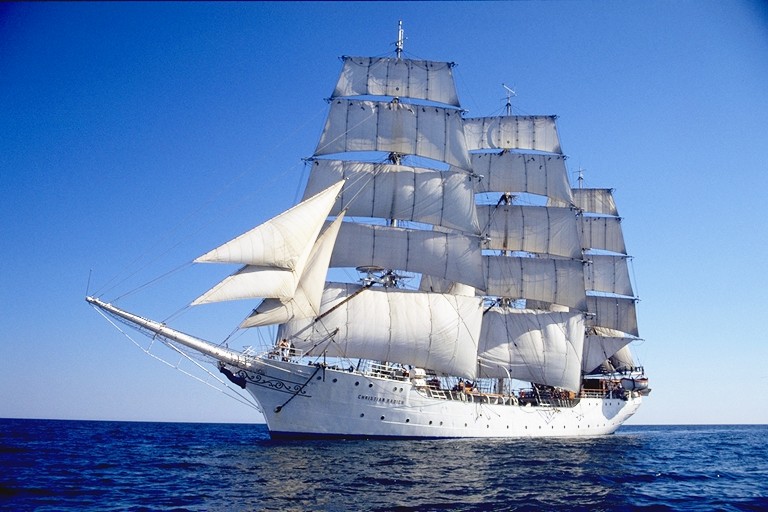 How to recognize a tall ship:
three or four masts
square sails with a pole across the top
multiple square sails on each mast
a lot of lines and rigging
Square-rigged ships, or tall ships, are what we think of when we think of pirate ships. Now, most pirate ships weren't actually tall ships, but they come from around the same period. They used to be built from wood, but more modern tall ships are nearly always steel.
Tall ships have three or four masts and square sails which are square-rigged. That means they are attached to the masts with yards.
We have the tall ship races every four years, where dozens of tall ships meet and race just offshore.
Most common place to spot Tall Ships: Museums, special events, open ocean
Trabaccolo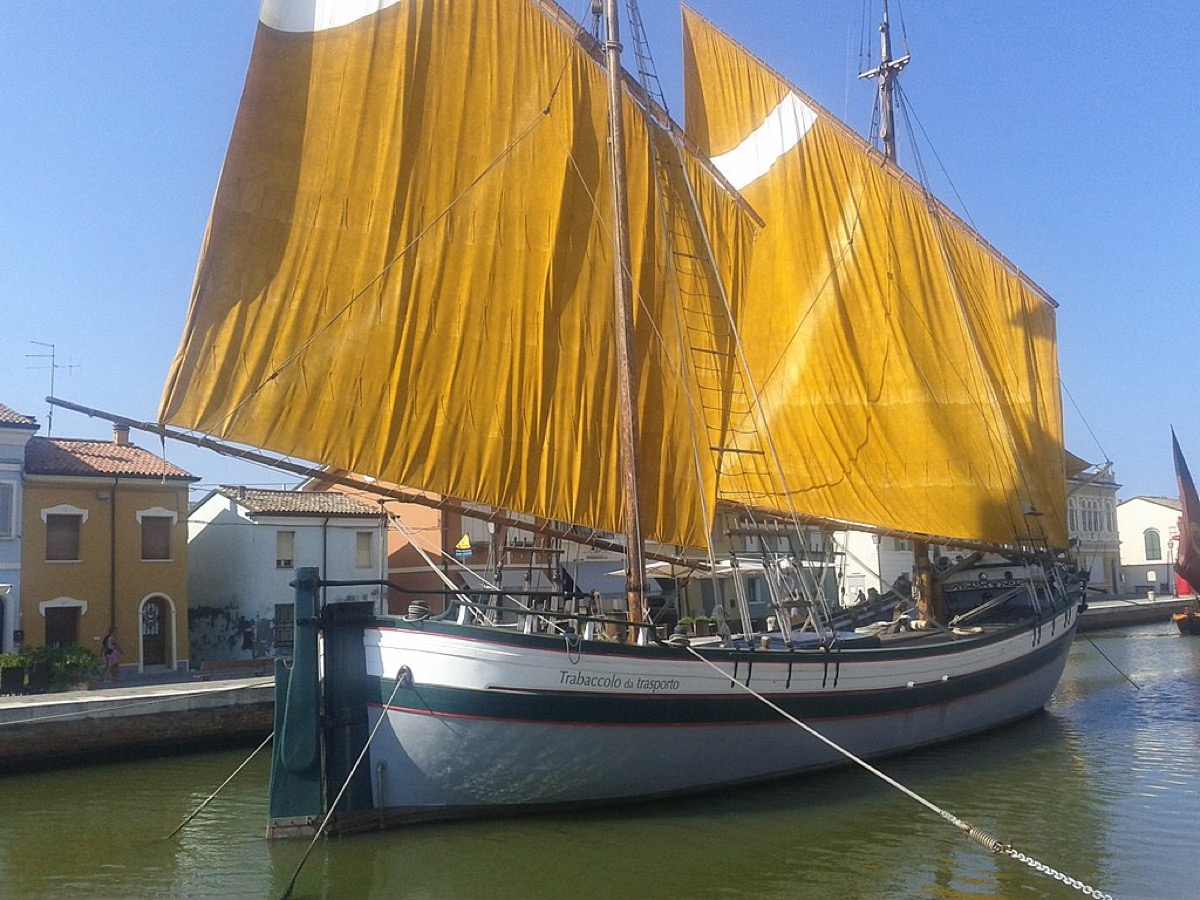 This is a bonus type since it is not very common anymore. As far as I know, there's only one left.
The Trabaccolo is a small cargo ship used in the Adriatic Sea. It has lug sails. A lug rig is a rectangular sail, but on a long pole or yard that runs fore-and-aft. It was a popular Venetian sailboat used for trade.
The name comes from the Italian word trabacca, which means tent, referring to the sails.
How to recognize a Trabaccolo:
wide and short hull
two masts
lug sails
sails look like a tent
Most common place to spot Trabaccolo's: the Marine Museum of Cesenatico has a fully restored Trabaccolo.
In Conclusion
So, there you have it. Now you know what to look for, and how to recognize the most common sailboat types easily. Next time you encounter a magnificent sailboat, you'll know what it's called - or where to find out quickly.
Did you find the answer to your specific question?
👍

52
👎

7