7 Trailerable Sailboats That Have Standing Headroom
Trailering your boat is a great way to sail in a lot of different places while keeping your boat budget in control. You can take a smaller boat a long way to launch it somewhere new, and you don't get saddled with a lot of mooring and dockage fees while your boat sits around unused.
That sounds great, but one key word in about trailerable sailboats is small. To move a boat on a street legal trailer without special permits and problems, it has to stay within certain size limits.
You may struggle to find a trailer sailer with head room when you're down below. But there are some out there that an average person doesn't have to sit to work in the galley, and we've put together a list of seven great pocket cruisers you can stand up in (if you're not too tall!).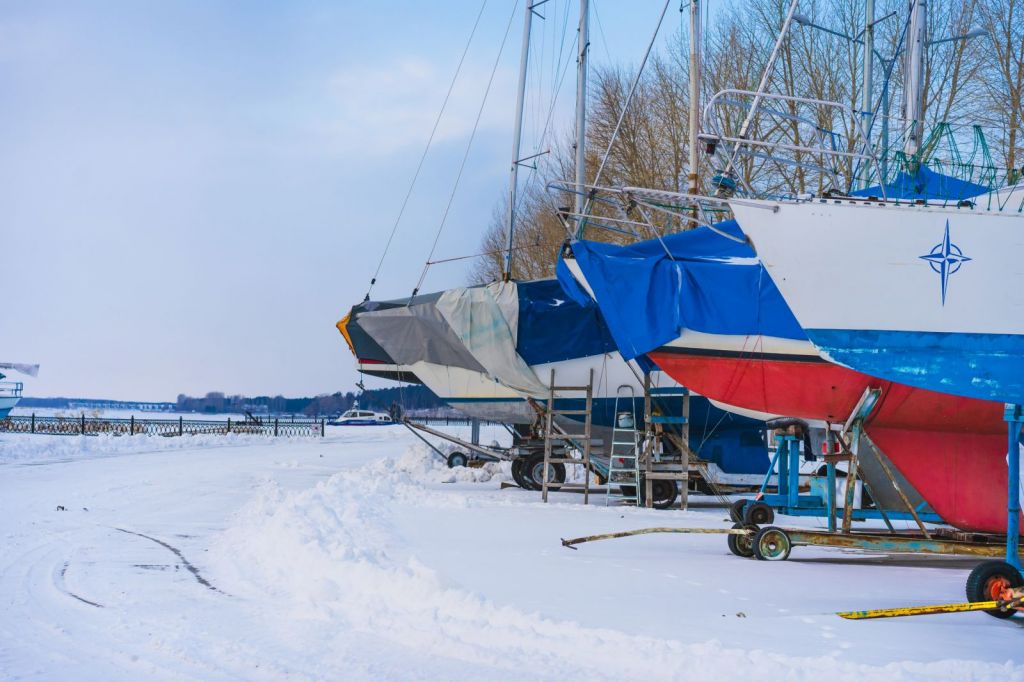 Our list includes some old classics dating back to the 70s, new boats in production today, and even a high performance multihull. The range of trailer sailers to pick from is enormous, but if you want something you can stand up in, here's a good place to start.
Westerly Pageant
Catalina 25 (poptop)
Telstar 28
Grampian 26
Nash 26
Beneteau First 27
MacGregor 26
Standing Headroom and Trailering
The terms "trailerable" and "standing headroom" are both a little vague. Many boats can be moved by trailer, but you wouldn't want to move them that way every weekend. Bigger boats require heavier trucks and trailers, and once they get past eight feet of beam, you may need permits, special routing, and commercial equipment. Just because you can get it on a trailer doesn't mean it's "trailerable" in this context.
And standing headroom means something very different to different people. It's not just tall and short people who need different space, but what space in the boat you can stand in. Most people can stand up inside a small boat with the companionway open, but can you cook standing up with your head out in the cockpit? Or stand and stretch on a rainy day?
For our purposes, we're going to use the following definitions:
A trailerable boat is one you can launched, rig, and recover with the crew which sails it, an move on normal roads with no special permits or commercial tow vehicles. Many boats will fit on a trailer, but to be "trailerable" it needs to be reasonable to use for a trip on a long weekend, starting from and ending on a trailer. Most roads in North America have a vehicle width limit of a little over eight feet without special permits. This eliminates any boat with a beam much over eight and a half feet.
Standing headroom for this discussion means a person of average height (5'10" or 178 cm for men) can stand inside the main saloon, out of the elements. It doesn't mean you can stand everywhere down below, but you should be able to stand and move around a bit, get dressed and undressed without doing calisthenics, and hopefully work in the galley if there is one. "Headroom" on a boat is a very fuzzy measurement, and is distorted by marketing hype and wishful thinking. There isn't a standardized measurement for it, so we'll work with our own.
Within these parameters, there are many boats. If you can deal with some inconvenience in your trailering, or you only plan to move your boat by trailer once or twice a season, you can get more boat and still get the headroom you want. But that's not what's on our list.
Westerly Pageant
Built by Westerly Marine in the 1970s, the Pageant is a 23' bilge keeled cruiser with full standing headroom in the saloon. At 4,300 pounds, it's heavy for its size and is known more for comfort than speed. The bilge keels may make getting onto a trailer interesting and require modifications to accommodate its under water layout.
There is a fin keeled version marketed as the Kendal 23/24, with a four-foot draft and two hundred pounds less displacement. They built only a few, so they're difficult to find.
| Hull Type: Twin Keel | |
| --- | --- |
| LOA: 23.00 ft / 7.01 m | LWL: 19.00 ft / 5.79 m |
| Beam: 8.00 ft / 2.44 m | Draft (max): 2.83 ft / 0.86 m |
| Displacement: 4,300 lb / 1,950 kg | Ballast: 2,094 lb / 950 kg |
Catalina 25
The Catalina 25 is one of the most popular pocket cruisers built, with almost 6,000 hulls built between 1978 and 1994. A variety of keel styles and rigs were built, including a fin keel, swing keel, winged keel, and a tall rig. But the most distinctive feature of these boats is the "pop top" over the companionway, which enabled the entire area in the saloon under the companionway to lift for standing headroom. Some owners built covers and sides, enclosing this area into a true part of the belowdecks space.
The pop top was an option prior to 1987, but became standard after that through the end of the production run. It's important to know the build year for any Catalina 25 you consider, since the features varied considerably. Always check pictures for the pop top!
| Hull Type: Fin w/transom hung rudder | |
| --- | --- |
| LOA: 25.00 ft / 7.62 m | LWL: 22.17 ft / 6.76 m |
| Beam: 8.00 ft / 2.44 m | Draft (max): 4.00 ft / 1.22 m |
| Displacement: 4,550 lb / 2,064 kg | Ballast: 1,900 lb / 862 kg |
Telstar 28
This trimaran is fast, but still has six feet of headroom. With the amas folded, the boat is narrow enough to trailer and with a 3,000 displacement is light and easy to move. While you won't have the interior beam of an eight-foot wide monohull in the living space, you will have quite a comfortable space with room to stand. But unlike most of the shallow draft, trailerable monohulls on this list, this one can hit fifteen knots under sail.
| Hull Type: Trimaran w/ centerboard | Rig Type: Fractional Sloop |
| --- | --- |
| LOA: 27.49 ft / 8.38 m | LWL: 26.51 ft / 8.08 m |
| Beam: 18.01 ft / 5.49 m (8.6' folded amas) | Displacement: 3,000 lb / 1,361 kg |
| Draft (max): 4.27 ft / 1.30 m | Draft (min): 0.98 ft / 0.30 m |
Grampian 26
The Canadian-built Grampian 26 was built from the late sixties through the late seventies, and many of the almost 1,000 boats that were built are still around. It has six feet of headroom inside, an enclosed head, and a galley. It's an ideal weekender for a couple, or even a couple with a small child. Some boats had inboard engines, others had outboards. Additional options were for a keel or a centerboard model; with 4'3" of draft, the keel model is still easy to trailer.
| Hull Type: Fin w/spade rudder | Rigging Type: Masthead Sloop |
| --- | --- |
| LOA: 26.00 ft / 7.92 m | LWL: 21.75 ft / 6.63 m |
| Beam: 8.33 ft / 2.54 m | Draft (max): 4.25 ft / 1.30 m |
| Displacement: 5,600 lb / 2,540 kg | Ballast: 2,600 lb / 1,179 kg |
Beneteau First 27
One of the few new and in production boats in this list, the Beneteau First 27 is a fraction of an inch under our 5'10" qualifier (technically 5′9 5/16"), but it's such a roomy and quick boat that it seems appropriate to waive a few millimeters. This lightweight boat has sleeping space for up to six, and has a galley, fridge, and a proper marine head.
Don't confuse this boat with the earlier First 27 from 1978 or the First 27 SE (for "Seascape"), sold as the First 27 from 2018 to 2020 after Beneteau acquired Seascape. Those were quite different boats, though they had their own merits and strengths. They didn't have quite the headroom or interior volume as the newest model, and the earlier boat had too much beam for easy trailering.
| Hull Type: Fin w/bulb & dual rudders | Rigging Type: Fractional Sloop |
| --- | --- |
| LOA: 26.21 ft / 7.99 m | |
| Beam: 8.33 ft / 2.54 m | Draft (max): 5.58 ft / 1.70 m |
| Displacement: 3,902 lb / 1,770 kg | Ballast: 1,345 lb / 610 kg |
MacGregor 26M / Tattoo 26
The MacGregor 26 series of boats is the most popular trailer sailor ever built. The first "Mac 26" was built in 1986, and went through several design upgrades and enhancements, including the 25D (dagger board), 26S (centerboard), 26X (dual rudder, motor sailing) culminating in the 26M (motorsailor with a rotating spar) built from 2002 though 2013. Earlier models have less headroom, but all are water ballasted, lightweight trailerable boats. The later 26X and 26M models can be equipped with rather large outboards (for sailboats) which could hit almost 20 knots under power.
Though the rigs on these boats are undersized and they're lightly built, they're spacious near shore and inland cruisers you can easily rig and de-rig for a weekend of sailing.
The founder of MacGregor Boats, Roger MacGregor, retired in 2013, and his daughter Laura founded Tattoo Yachts and bought the tooling for the 26M. Tattoo continues to build the Tattoo 26, which is a Macgregor 26M with a few modernizations and enhancements.
| Hull Type: Daggerboard | Rigging Type: Frac. Sloop (Rotating Spar) |
| --- | --- |
| LOA: 25.83 ft / 7.87 m | LWL: 23.17 ft / 7.06 m |
| Beam: 7.75 ft / 2.36 m | Sail Area (reported): 300.00 ft2 / 27.87 m2 |
| Draft (max): 5.75 ft / 1.75 m | Draft (min): 1.00 ft / 0.30 m |
| Displacement: 4,000 lb / 1,814 kg | Ballast: 1,450 lb / 658 kg |
Corsair 760
Corsair Trimarans offers several trailerable tris which meet the headroom test. The Corsair 760 is the smallest current production model, and like the Catalina 25, this 24' trimaran uses a clever pop-top over the companionway to get more headroom. It's sleeps two in the default configuration, though a foldable table can convert to sleep four.
Corsair designs their trimarans for easy setup and breakdown of the amas, and can be setup and launched in under an hour. The very shallow draft allows for anchoring in areas many boats can not, and even beaching.
The larger Corsair 970 is also trailerable with standing headroom, as is the older F-31.
| Hull Type: Trimaran Daggerboard. | Rigging Type: Frac. Sloop (Rotating Spar) |
| --- | --- |
| LOA: 24.25 ft / 7.39 m | Beam: 17.91 ft / 5.46 m |
| S.A. (reported): 410.10 ft2 / 38.10 m2 | Beam (folded): 8.17 ft / 2.5 m |
| Draft (max): 5.25 ft / 1.60 m | Draft (min): 0.98 ft / 0.30 m |
| Displacement: 2,094 lb / 950 kg | |
Did you find the answer to your specific question?
👍

1
👎

0