13 Popular Trailerable Sailboats with Lifting Keels
Trailerable boats come in a wide range of styles, sizes and capabilities. Dinghies and small sport boats are easy to trailer and even car top, but what if you're looking for something you can take some place, and maybe spend a weekend on board?
One good way to open a lot of shallow cruising grounds and gunkholes and to make your trailering life easier is to add a lifting or swing keel to the boat. With drafts under a foot on some models, these boats will give you a lot less trouble with overpasses, wires and launching.
While this isn't an exhaustive list, these thirteen popular boats will give you an idea of the range of trailerable boats with lifting keels you can find on the market. Some are older and no longer built, and you can find some of them at the boat shows and ready for purchase new today. Whether you're looking for a day sailer or a weekender for a couple to gunkhole along the coast, here are some great boats to consider.
Catalina 22 Sport
Com Pac Eclipse
CS 22
Flying Scot
Hunter 22
Islander 24
MacGregor 26
Montgomery 17
NorseBoat 17.5
RS Venture
Sage 17
Seaward 26 RK
West Wight Potter 15/19
Most of these builders have several boat models, and several them have specialized in pocket cruisers, trailerable boats, and smaller hulls. Remember the specific model listed may be a good sample of their work, but check their entire lineup for something closest to what you want.
Also - not all these boats are still in production, though they you can find them for sail used. Links are to the builder where possible, or to information pages to learn more if the builder is no longer around. Because we're looking at smaller boats, they won't likely be listed on brokerage sites, so you'll need to search for them on places like Craigslist, class association sites, and smaller regional boat sales sites and for sale boards.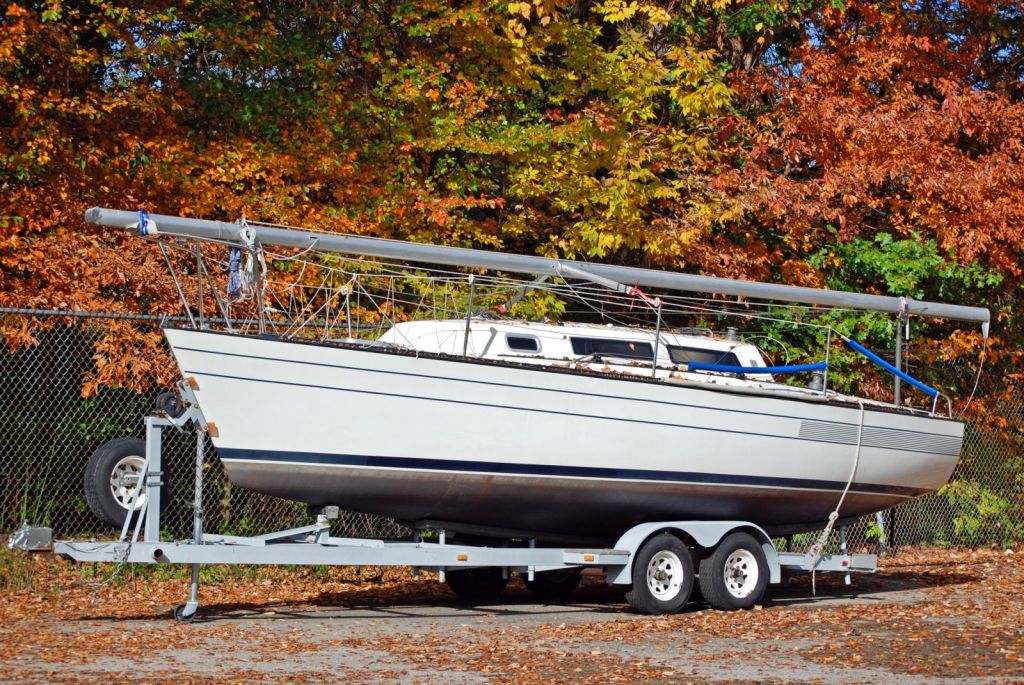 Catalina 22 Sport
First introduced in 1970, the Catalina 22 has been one of the most popular trailerable boats since its inception, though the Mk II update added a few inches of beam and couldn't race the Mk1 boats under one design class rules. The 22 Sport updates the classic original, while returning to the specifications for class legal racing out of the box with the original 22. It has a retractable lead keel, or an fixed keel option, and has berths below for up to four people. It's an easy weekender to launch and sail, with ready made fleets for fun, competitive racing.
Com-Pac Eclipse
Com-Pac specializes in small, compact trailerable sailboats. The Eclipse is a solid example of their sloop-rigged boats. With a 21 foot overall length, 7'4" beam, and a 2,200 lbs displacement, it will tow easily with a modest vehicle. Down below, you'll find a double v-berth and space for cooking and food preparation. This converts to sleeping space with two additional quarter berths.
When looking for a trailerable pocket cruiser, look at the entire Com-Pac line.
CS 22
Over five hundred CS 22 hulls were built in their production run in the early 70s, and this sturdy little cruiser is still a popular boat if you can find one on the used market. They conceived it as a lightweight, trailerable cruiser. It has a stubby externally ballasted keel with centerboard for added stability and pointing.
Though small, the interior has sleeping accommodations for four, a small galley, and a space for a portable toilet, making it a suitable choice for short expeditions and weekending. Though scarce today, the CS 22 is a good example of compact design that helped set the standard for later pocket cruisers.
Flying Scot
The Flying Scot is a day sailer, and a popular design with over a hundred racing fleets around the U.S. It's an older design, having been in production for over fifty years, but this 19 foot sloop will still get a small group out on the water for a day of sailing and fun. Although it doesn't have an interior, clever and adventurous sailors have rigged up boom tents and other means to spend the night on their boats. Options on new boats include space for motor mounts, swim platforms, and higher end racing packages, and there is a strong market for parts and equipment.
Hunter 22
The Hunter 22 is an updated replacement for the retired Hunter 216, another popular trailerable boat. The boat can be configured in a cruising setup with a V-berth and portable toilet, or a performance package with a sprit and asymmetrical spinnaker. For the size, it's a good value mini-cruiser with good performance and enough comfort to keep a small crew for a weekend.
Depending how you configure your Hunter 22, it can run the gamut from comfy pocket cruiser to sporty day sailer.
Note: Hunter Marine changed names to Marlow-Hunter, though there is an enormous base of used boats with the Hunter brand.
MacGregor 26
There are several varieties of the MacGregor 26 beyond the base boat, including the 26D (1986-89), 26S (1990-95), 26X (1995-2003) and 26M (2002-2013). MacGregor boats have proven very popular trailerable boats, selling over 38,000 boats during the company's lifetime.
The Mac 26 differs from many small sailboats by two things - water ballast for stability, and the ability to take what is, by small sailboat standards, a massive outboard engine. A seventy horsepower engine on a 26' sailboat can make it hit planing speeds under power. This popular boat is a compromise - the water ballast, hull design, and smallish rig make it a somewhat underpowered sailboat, but it will sail. But if there is no wind, the Mac owners will still beat everyone back to the bar even while towing a water skier.
Their blend of form, function and design have made them controversial boats with experienced sailors, but there is no doubt the MacGregor 26 has gotten thousands of new boats on the water and built a loyal following for one of the most popular trailerable boats ever sold.
After the closure of MacGregor yachts, the Tattoo 26 was developed from the Mac 26 and is almost identical in performance capabilities and design.
Montgomery 17
Built at first with a fixed keel with an optional centerboard, orders for the keel/centerboard version outstripped the original and more centerboard versions were built. If you're looking for one, make sure it's the right version.
Lyle Hess and Jerry Montgomery designed the Montgomery 17 as a cruising capable, trailerable boat. The lapstrake fiberglass hull deflects spray and chop, and the 1,550 lb boat gives a stiff, dry sail. The cuddy cabin below has comfortable space for two adults, space for a portable toilet, and ample storage for gear and supplies. A four-part tackle rig makes raising the deck stepped a snap.
NorseBoat 17.5
NorseBoats specializes in lighter day sailers and trailerable boats with a classic look but modern build and design concepts. Marketed as the "Swiss army knife" of boats, any of their offerings meet the criteria for an easy to trailer and handle boat with a shallow draft. The 17.5 can take a small outboard, has two rowing stations, and comes with a carbon fiber, rotating mast for easy setup and break down and solid performance under sail.
The larger NorseBoat 21.5 has an optional cabin version, with more sheltered space for sleeping and living than the open version.
RS Venture
The venture is a sixteen foot day sailer, and a modern design which can be sailed by up to eight people. The Venture has options for fixed keel, a centerboard, or a ballasted centerboard. As a forgiving design, it's a popular boat for inexperienced sailors and sail training, but still has enough power to be interesting and fun for skilled sailors as well. The RS Venture Connect features a lifting keel.
RS Sailing develops and sells many performance oriented small dinghies and day sailors aimed at a range of sailing skill and applications, from sail training dinghies to high performance racing skiffs.
Sage 17
Hand built with carbon fiber and vinylester resin over balsa core, this little boat is lighter than expected, but still sails well with options for a fixed keel or centerboard. At 16'10" overall, a 6'9" beam, and 1,300 lbs it's an easy boat to handle. But down below it's got a V-berth sized for adults and seating for two down below. The lapstrake designed hull deflects water and spray for a drier, more comfortable ride.
The smaller Sage 15 is another option for a lightweight boat using the same modern materials and techniques in a classically styled package.
Seaward 26RK
The Seaward 26RK is the successor to Nick Hakes' Seaward 25, with an edge to more comfort and better performance in a similar price to the last generation yacht. The result is the 26RK with more waterline, more buoyancy aft, and a lifting keel.
One of the larger boats on this list, the Seaward 26 RK, is still easy to move over land with a trailered weight under 6,000 pounds. The boat alone displaces 3,800 pounds, with 1,200 lbs. of that in retractable ballast with a bulb on the bottom. The keel lifts with an electric motor and is simple to operate. The cockpit is comfortable for four and has options for wheel or tiller steering.
Down below you'll find four six-foot berths and seating for four. Interior configurations include options for an enclosed head and v-berth, and a two-burner stove in a small galley.
Seaward Sailboats began sharing construction facilities with Island Packet Yachts and are sold through the same dealer network.
West Wight Potter (15 and 19)
For over fifty years, the West Wight Potter has been a compact, trailerable option for a weekender and vacation boat. The fifteen and nineteen foot models have been fixtures at boat shows and in harbors, and sailors have even crossed oceans in these doughty little boats. The fifteen displaces only 475 pounds, with 165 pounds of ballast in the lifting keel. It's self righting and self bailing, with added foam for stability and floatation. The 19 is heavier at 1,225 pounds with 370 pounds of ballast, but the extra volume adds two more quarter berths, more headroom, space below, and more waterline.
With a kick up rudder and retracting keel, these little cruisers can be beached or taken in shallow waters. They designed the hull for stability and reduce spray for a dry and comfortable sail. Factory options include several creature comforts, sail options, and even trailers. With over 2,600 West Wight Potter 15s built and 1600 of the nineteen footer, there's a ready market of these pocket cruisers for sale.
Finding Your Boat
While the big boats get the glory and high profile spots at the shows, smaller trailerable boats are what most people can buy. The corners of the shows where you see the West Wight Potters and Com-pacs to be just as exciting to me as the main docks filled with forty and fifty footers, because these smaller boats invoke a different adventure. An attainable adventure, for so many more people.
There's an array of smaller boats you can store in your garage or backyard and take out for everything from a casual day sail to a long summer vacation. This list gives you a flavor of what's out there in the trailerable boat market, but it's up to you to decide where you want to go and how you want to get here.
Did you find the answer to your specific question?
👍

1
👎

1