What's the Largest Sailboat You Can Trailer?
Trailer sailing has a lot of advantages for some people. Whether you live away from the ocean near a lot of different lakes, you want to move up and down a long coast to different spots, or you don't want to commit to paying for a slip or mooring, there are a lot of reasons to think about a trailerable boat. But some of them are so small, eh? What if you have a couple of kids or want to spend more than a weekend on your boat?
The largest boat which can be trailered easily is a Hobie 33. But large is ambiguous; the Hobie 33 is a narrow light displacement boat noted for its performance but not its liveaboard comfort. Other large trailerable sailboats are the Seaward 26RK Nor'Sea 27, Macgregor 26M, and the Corsair F-28 Trimaran.
Those last four are shorter boats with more displacement and interior volume, which are arguably "larger" by their displacement.
So how do you make sense of all these? First, you need to understand some of the limitations on towing a boat and what you need to consider when picking the best boat for you. We'll get into some of that detail and much more.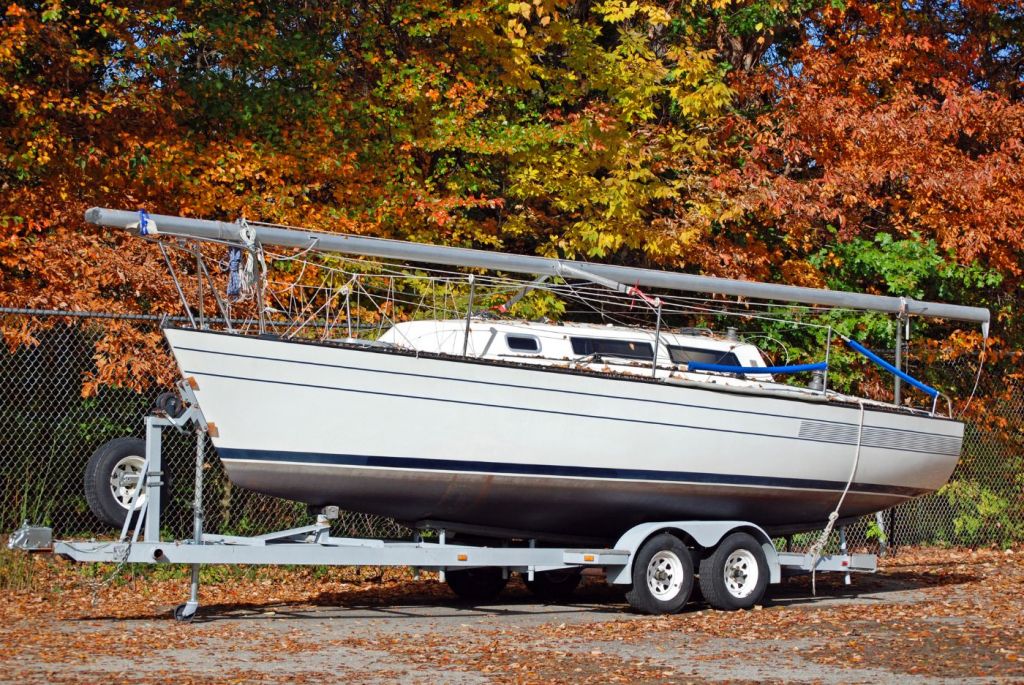 5 Large Trailerable Sailboats
Besides the Hobie 33 and the Seaward 26RK, here are a few more examples of larger, trailerable boats to consider. This list is far from exhaustive but gives you an idea of what's out there.
Consider the Hobie 33 with an LOA of 33' (10.06 meters) and a displacement of 4,000 lbs (1,818 Kg). Though a fast sailing boat, the maximum interior headroom is only 48" (1.22 m).
Compare that to the Seaward 26RK, which is 28'5" LOA, and displaces 3,800 lbs. (1,724 Kg). The Seaward 26RK displaces nearly the same, is 4.5 feet shorter, but has a maximum headroom of 5'10" (1.78 m) - most adults can work standing at the galley counter.
Nor'Sea 27 - LOA 27' (8.23 m), displacement 8,100 lbs. (3,674 kg). One of the heavier trailerables, six foot headroom and comfortable tankage with a fixed keel.
Macgregor 26M - LOA 25'10" (7.87 m), displacement 4,000 lbs (1,814 kg). Water ballasted with a daggerboard. The Macgregor 26 family can accept large outboards and motor quickly.
Corsair F-28 Trimaran - LOA 28'6" (8.69m), displacement 2,690 lbs (1,220 kg). The amas fold into make the trailered boat tow legal. While living space is tight, this is a fast, fully functional trimaran you can anchor in the shallows.
Watch all five sailboats in this playlist:
"Trailer Sailer" versus a "Boat on a Trailer"
Defining a "trailerable" boat is a little tricky. Is it ANY boat you can put on a trailer? Is it only a boat that can be sailed easily when it's been trailered? If you can take the keel off a boat, you can fit an awful lot on a trailer, but you wouldn't want to have to put that back on every time you went for sail.
For purposes of this discussion, we're going to look for the following guidelines for a "trailerable" boat. Not everyone will agree with those guidelines, but for we're considering the following:
It should be towable from its storage place to the water without special permits or escorts
Launching from the trailer should be accomplished without professional help by the people sailing the boat. While some facilities may not have ramps, in theory it should be able to be launched and set up by the crew headed out to sail.
Towing the boat shouldn't require commercial trucks or special machinery.
These guidelines cover a lot of boats, from sailing dinghies to comfortable weekenders and vacation boats.
Many smaller boats can be put on trailers, but the practicality of launching them and setting them up makes regular sailing with a trailer impractical. These may be boats with fixed keels that make them tricky to move and launching from a ramp, boats with larger rigs which are awkward to set up and take down, or boats past the size limits of permit-free trailering.
You can move these boats with a trailer and store them for the winter on the trailer, and they may be dry sailed and launched by crane from the trailer at the marina. But trailering them around wouldn't be the usual mode of operating and storing them during the sailing season.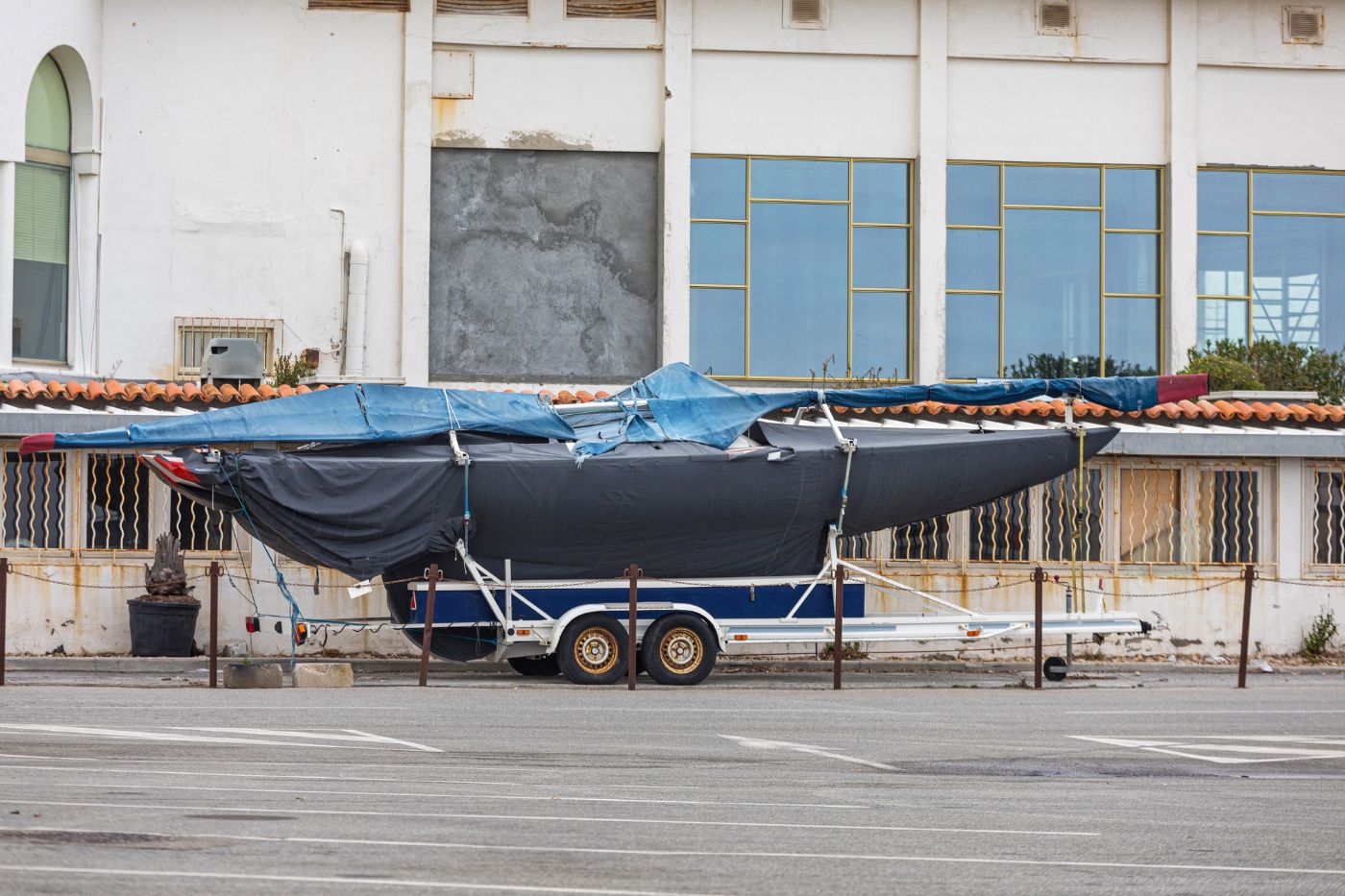 Rules of the Road and Limitations
Highway and local road limits vary in different parts of the world, but we'll use the U.S. as an example. You may find exceptions on a local level in the U.S. or different rules internationally, so check your local laws.
Width Limits: 8.5'
In the United States and much of the world, the widest load allowed on a highway without a special permit is 8.5'. Exceed that and you need an over-width permit. So eight and a half feet is the largest practical width for towing without advanced planning. It's also why many smaller boats (and almost all Recreational Vehicles) have a maximum width of just under eight and a half feet.
With a permit you can move a ten-foot (3 meter) wide trailer, but over ten feet and you will require an escort vehicle. Most boat owners do not want these hassles to go sailing for a weekend.
Height Limits: 14'6" or less
Height limits are more variable, and physics may overrule local laws on tow heights. If your tow route includes bridges, tunnels, or low hanging wires and trees you may need to make alternate plans.
14'6" (4.4 meters) is the national limit for oversized vehicles, but state limits will vary. Remember, the height is the height of the trailer plus your boat. Most trailer sailers have lifting or swing keels to help with this.
Weight Limits: 18,000 pounds
The maximum tow allotment for a non-commercial vehicle in some states in the U.S. is a Gross Combined Vehicle Weight (GCVW) of 26,001 pounds, (11,800 kilos). The GCVW is the total of tow vehicle + trailer weight + boat weight. Even the biggest super duty pickups weight less than 8,000 pounds (3,636 Kilos), leaving 18,000 pounds (8,181 Kilos) for boat and trailer.
Some states have much lower limits, and will require you to get additional certifications on your license to drive a trailer with a larger boat.
But there are no trailerable boats we could find that would put you over or even close to this limit. Remember, they design trailerable boats to meet towing constraints, and weight is a consideration so many are not over heavy.
If you have to cross any bridges on your tow route, check those limits and find an alternative route if your GCVW exceeds the bridge load limit.
How Big is Large?
The "size" of a sailboat is subjective. Is it Length Over All (LOA)? Displacement?
Consider the Hobie 33 with an LOA of 33' (10.06 meters) and a displacement of 4,000 lbs (1,818 Kg). Though a fast sailing boat, the maximum interior headroom is only 48" (1.22 m).
Compare that to the Seaward 26RK, which is 28'5" LOA, and displaces 3,800 lbs. (1,724 Kg). The Seaward 26RK displaces nearly the same, is 4.5 feet shorter, but has a maximum headroom of 5'10" (1.78 m) - most adults can work standing at the galley counter.
So which boat is larger? They weigh about the same, but one has more comforts despite being shorter. Going by displacement, they're about the same size even with the larger LOA of the Hobie 33.
And which boat is better for you? If you're planning to race up and down the coast or from lake to lake the Hobie 33 will be a better choice. If you're out to enjoy weekends on the water with a partner or small family, you may want something with more workable living space.
The Compromises of Trailer Sailing
By necessity, trailer boats are smaller. Physical limits on the design to keep the size manageable limit length, ballast, living space and rig size. Because of height limitations on roads, fixed keels are almost always impractical, and drafts are kept low to prevent too much height over the road.
Reduced ballast and swing keels and dagger boards affect a sailboat's upwind performance. Retractable bulb keels give you the best option for performance ballast, but most trailer boats will have added complexity involving the keel to keep on the road height low.
Reduced size affects speed with reduced waterline lengths, and limits on beam affect interior living volume. As a result, most trailerable boats may not sail as well or be as comfortable as a non-trailerable boat of similar length or displacement.
Not that there aren't great trailerable pocket cruisers out there, but it's important to know that trailerable requirements in a design are not without impact.
Making your Best Choice
If you already have a truck or tow capable vehicle and you don't plan to buy a new one, there's a natural limit on your trailer sailer size. Most of the larger trailerable boats over 3,000 pounds of displacement will require a half-ton pickup or larger to tow safely, but the specifics may vary with your vehicle.
Like any boat, consider how you plan to use it. The risk of getting a too-large "trailerable" is that you won't trailer it. Maybe you end up getting a slip or mooring because the towing and setup is too onerous. Then you have a boat in a slip anyway, but with the compromises for trailering built in.
In the worst-case scenario, you get a boat that is so awkward to use that you don't take it out.
Picking the right boat to suit your needs is the same whether or not you trailer it. But you have an extra decision about how much you're willing to do before you leave for a weekend and when you come back. You want a boat you're comfortable splashing for a day or a weekend, if you aren't you might consider something a little smaller.
Did you find the answer to your specific question?
👍

6
👎

0