13 Popular Full Keel Sailboats Worth Considering
Full keel sailboats are very stable and durable - they are great for cruising long distances. But there are disadvantages too. Let's look at what models to consider, and why.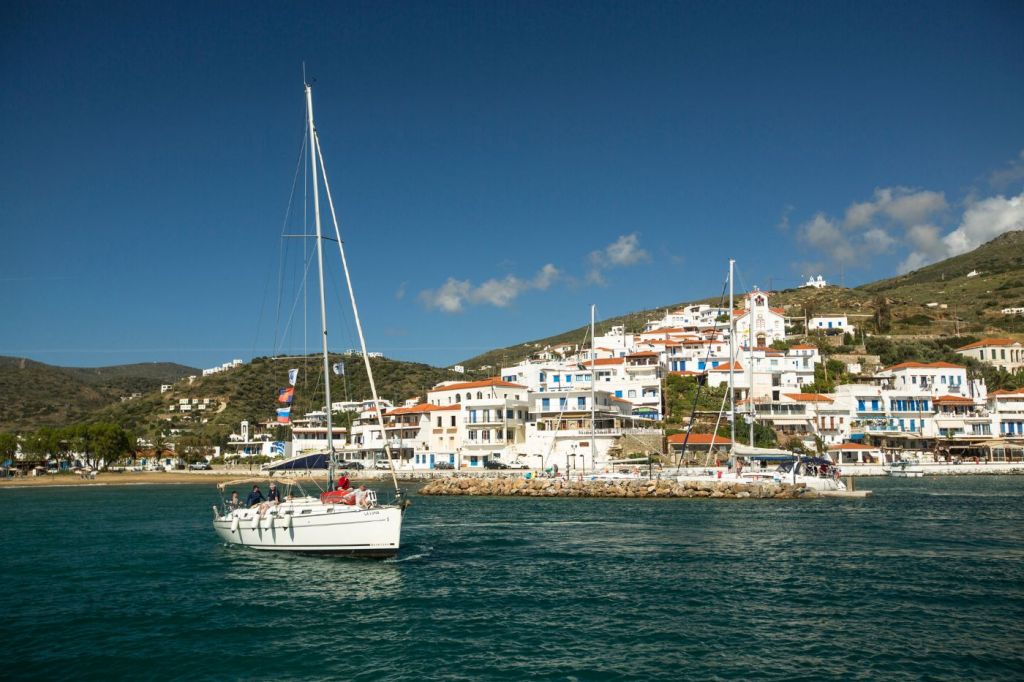 Here are 13 good full keel sailboats that are worth considering:
First of all let's have a look at why you should even be preferring full keel sailboats to a more traditional, widespread classical fin keel design.
Full Keel Advantages
As with everything, there are plenty of pros and cons on each side. Full keels generally provide better handling if the weather gets tricky, they track better, provide more stability downwind, and generally stabilize the boat movements better.
Furthermore, they are way more robust, thus less prone to damage. Running ashore isn't as big of a deal as it is with a fin keel and your rudder and propeller will be more protected with the mass of the keel in front of them.
Full Keel Disadvantages
With more mass and drag comes less speed. Plus the large surface area underwater holding the direction will result in a wider turning radius, which might be annoying in smaller spaces.

Also read:
Fin Keel vs Full Keel: Pros and Cons & When to Choose Which
Fin Keel Advantages
The largest advantage of fin keels is their speed. They also provide better maneuvering and a better turning radius.
Fin Keel Disadvantages
It is inevitably more prone to damage though, wear and tear will be a way bigger issue than a full keel. They won't have your back when a gust comes since the water-resistance to the side will be smaller.
It seems then that for serious longer passages, liveaboards, and long-term sailing, full keels are better. As long as you don't care for speed as much, but are concerned about the boat having your back, this is the answer. So let's now look at the superstars of the full keel universe.
Nicholson 32
The very prototype of a long-distance tough cruiser. It has been with us since 1963 and happens to be among the first fiberglass boat models produced on a mass scale. Nicholson 32 went out of production in 1981 and it was a model approved for the 2018 Golden Globe Race, proving that even older Nicholsons are still standing strong due to their toughness and ease of repair.
They were supposedly as durable as if made out of steel. Though I'll leave up to you whether you want to see that as a marketing claim or reality, such a statement can not be made without some base.
Plus the newer models have a lot of interior space, are manageable for solo sailing, and provide a sturdy ride to take one around the world.
Island Packet 380
The story here is similar to the above Nicholson - meaning that we are looking at one long-lasting high-quality cruiser. Not just because of this specific model's build - Island Packet in general was always known for this. And it is among the very few companies that, in the modern era, keep making full keel boats.
In other words, you don't see many shipyards focusing on full keels these days, so if you want one and you would rather go with a new boat, Island Packet will be one of the stops you will very probably make when doing your research.
If you are looking for reliable cruisers, you will like this one, since cruising is what it was built for, even if it meant sacrificing some performance aspects. It has a wide beam, a lot of interior space, all of the amenities a comfy cruiser should have, such as a big refrigerator with a freezer, as well as a fully equipped kitchen. The long keel here serves as a comfort helper, since, as mentioned before, it adds to the stability and reduces motion.
Folkboat 25
Not to sound repetitive, but the word 'reliability' has to be mentioned again. It seems that boat builders who choose the full keel design have something in common.
But since this particular boat was born during the Second World War and has been going strong to this very day, what other words to describe it? It has the Nordic blood in its veins since it was thought into existence by the Scandinavian Yacht Racing Union and since it prefers just about everything over comfort.
The boat is very stable, not just because of its full keel, but also because of its insane 55% ballast ratio. For those who haven't come across this before, the ballast ratio is the ratio of the ballast weight relative to the boat weight. So for instance the nearly 9 tonne Bavaria 40 with its almost 3 tonne ballast has a ballast ratio around 30 percent.
Thus you can imagine that a boat that 'wastes' more than half of its weight on ballast is serious about rigidity. These are performance racer numbers. But of course, if you are designing a boat that has to withstand the Scandinavian storms, you don't have a choice than to go overboard with specs. So if this toughness is what you seek, look no further.
Cape Dory 36
...although as far as I know, all Cape Dory boats have full keels, regardless of their length. Their 36-foot model is just their most popular one. Cape Dories are known for their sturdiness, ability to cross the oceans because of their stability, and relative ease of handling.
They were engineered by Carl Alberg, who was inspired by the Scandinavian Folkboat, where reliability is worth more than comfort, or the interior space. This boat rocks a heavy rig for hardcore traveling, but its 1.5-meter draft makes it ideal for coastal cruising as well.
What's quite interesting about this particular model is that during its lifespan it went through very few changes. Boats usually evolve, sailors' feedback is taken into consideration for upgrades, but Cape Dory 36 remained relatively unchanged inside or out. This is a big compliment, since the brand started out in 1963, stopped production in 1991, and sold its blueprints so that they could be built further. Talk about longevity.
Vancouver 32
Let's progress in technology! Just because a long keel is an old-fashioned or more traditional approach, it doesn't mean it remains monolithic in its ideology. There were innovations in the concept, such as cutaways in the keel, to reduce the biggest drawback of this design, the drag.
So it only makes sense that Vancouver, a company that had distinctiveness and innovation in its mission and vision, would take part in this. Their 32-foot model that begun its lifespan in the early eighties, had a deeply cutaway forefoot, plus a rudder that was wider the deeper it was underwater, meaning its widest point was at its lowest point. This was to increase efficiency, and rudder response.
Technicalities aside, this boat was very well made, no corners cut, no expenses spared. This resulted in quite pricey vessels, out of reach of many, but much time has passed since, so today it can be yours for around 40 000 USD and up. And since the build quality was so high back then, you can still enjoy a proper boat, usually at a higher quality than boats equal its age.
Freya 39
The great thing about Australian sailboat makers is that they design their boats for long passages. How else would they get off of the continent? Freya 39 is a good example of this since it has not only circled the globe many times but also won the Sydney-Hobart Yacht Race three times consecutively. And that's a famously hard race.
The boat is built like a tank, with thicker fiberglass walls than you would find in its rivals. Despite that, its owners claim to have crossed over two hundred miles per day on it, a figure that is well known when it comes to this model. Which sounds plausible with its 7.8 kts of hull speed.
Its construction makes her one stable boat since it has been noted that during races, it was able to carry a spinnaker longer than its competitors, well into the 30 knots of wind speed.
The only drawback here is that if you fancy it, since it is so highly valued, and in demand, it will be tricky to find one to buy. And once you do, prepare to pay around 60 000 - 90 000 USD for it.
Wylo 2
This one comes with a story attached to it. Once upon a time, a naval engineer Nick attempted to sail around the world. Halfway through, his boat gave up, which meant a lot of trouble for Nick, but he exited this disaster with a pretty precise idea for what his next project would be. He set on to design a boat that would be so sturdy that his sailing misfortune would never repeat.
Out of this incident paired with a smart brain, Wylo 2 was born. To make sure his design stands, after putting this boat on the water, he proceeded to live on it, while circling the globe a few times.
Others, seeing this success, bought his designs and they became quite widespread. As you might have guessed, this boat has a lot of space for living, for storing equipment and provisions, so it is comfy to live on, not only for your body but because of its sturdiness, for your mind too. These designs have accomplished some astonishing feats in all corners of the world, so if you put your trust in this design, you won't be making a mistake.
Tradewind 33
If I said this boat is sturdy and ready for just about any destination, I'd really be repeating myself now. So while that's true, let's talk about what's special about Tradewinds 33.
It has a rather small cockpit, so on-deck dinners while watching the sunset with the whole crew might be a bit improvised, but the space saved is used for an impressively spacious interior as well as a nearly flat deck. So moving about is a pleasure.
For liveaboards, this is a good idea, since storage space will be plentiful. Plus it's an elegant looking boat, with a forestaysail as a default setup. So rock on.
Endurance 50
Time for a larger boat. So that if you want something that won't lack anything you might wish for, including space, I have something for you too. All Endurances are full keels, so if you fancy a smaller model, there is a way.
Even though it is relatively new, (you will find models from around 1995) it will make you feel like a medieval pirate, with its old-school helm, wooden interior, and a spacious aft cabin that has large windows facing back!
It is a proper bluewater cruiser, built in South Africa based on a famous Peter Ibold's Endurance blueprint. It sleeps a whole family, so if a circumnavigation with a few friends is what you seek, this is one for you.
Frances 26
If you are up for some single-handed sailing, pause here for a bit. Small sailboats are usually nimble, on the top of it, this one is also quite sturdy and stable, as full keels are.
You won't find much space below the deck, so don't expect to have a party of more than around two people, but at least it's a good looking interior, with charming round windows and many of the usual amenities.
Mason 44
They say that Mason sailboats are premium quality for a non-premium price. I wonder whether them being built in Taiwan has something to do with it.
Here is a quote by an owner of a 1986 model that says it all: "I am absolutely captivated by the boat and am not objective at all in my feelings toward her. The general construction is of the highest standard. Like an Irish hunter, she is a workhorse and a lady-maybe not quite as fast around six furlongs as a racehorse, but for the long pull, through timber, brush, and over walls, she is really something."
Now although this owner admits subjectivity, this boat indeed was built with quality in mind. Sturdiness too - not only is its fiberglass hull properly solid, but it also features longitudinal stringers to add further rigidity.
There is a lot of brightwork, which might sound nice at first glance, but since it requires quite a lot of maintenance, some owners even said they could do with less wood if it meant less upkeep.
All in all though, when it comes to getting a lot of boat for not a lot of money, this is it.
Westsail 32
Does it make sense to even praise how heavy and sturdy this boat is built? Probably not at this point. Just know it ticks all the boxes. It is made of 12 layered fiberglass for Pete's sake.
The design was based on ideas of the Norwegian engineer Colin Archer, who made his boats such that they could withstand the northern seas. Pair that with the fact that the interior here is surprisingly spacious with 6 ft 2 in of headroom and you've got yourself one comfortable circumnavigator.
The issue stemming from the heavy build and a full keel, which is a slower pace, applies here more than usual though. This boat is absolutely reliable, but don't expect winning speed races.
Sadly, Westsail 32 was in production only for some 9 years. Sales were booming, they made over 800 boats, but bad business practices and cash flow issues resulted in its demise.
Hans Christian 52
Not the author, the boat. If beauty and elegance are what you are after, this one will catch your eye. Just as was the case with Mason, these boats were produced in Taiwan. But since the goal of the engineers was to create the 'ultimate cruising sailboat' and they spared no expense, expect to pay hundreds of thousands of dollars for these boats, even though decades old.
The gorgeous classical design paired with the high build quality makes these exclusive pieces of work, plus quite a modern one since they ceased production in the 90s. So if you don't mind the higher price mark and are looking for something relatively new, that will, thanks to the build quality, last you for many years to come, this might be your choice.
Conclusion
Full keel sailboats are sturdy. Not only is that because of the full keel which itself provides a lot of structural integrity. But also because the choice of putting the full keel in means you are building something that prefers ruggedness and reliability over anything else. So it is logical that the rest of the boat will be built in the same fashion.
So if you don't mind sacrificing the few knots of extra speed, if you don't mind the smaller pool to choose from, if you want a boat that will have your back in pretty much any situation and place you will choose to go to, if you want to sail the Scandinavian design, go for it.
Did you find the answer to your specific question?
👍

11
👎

2