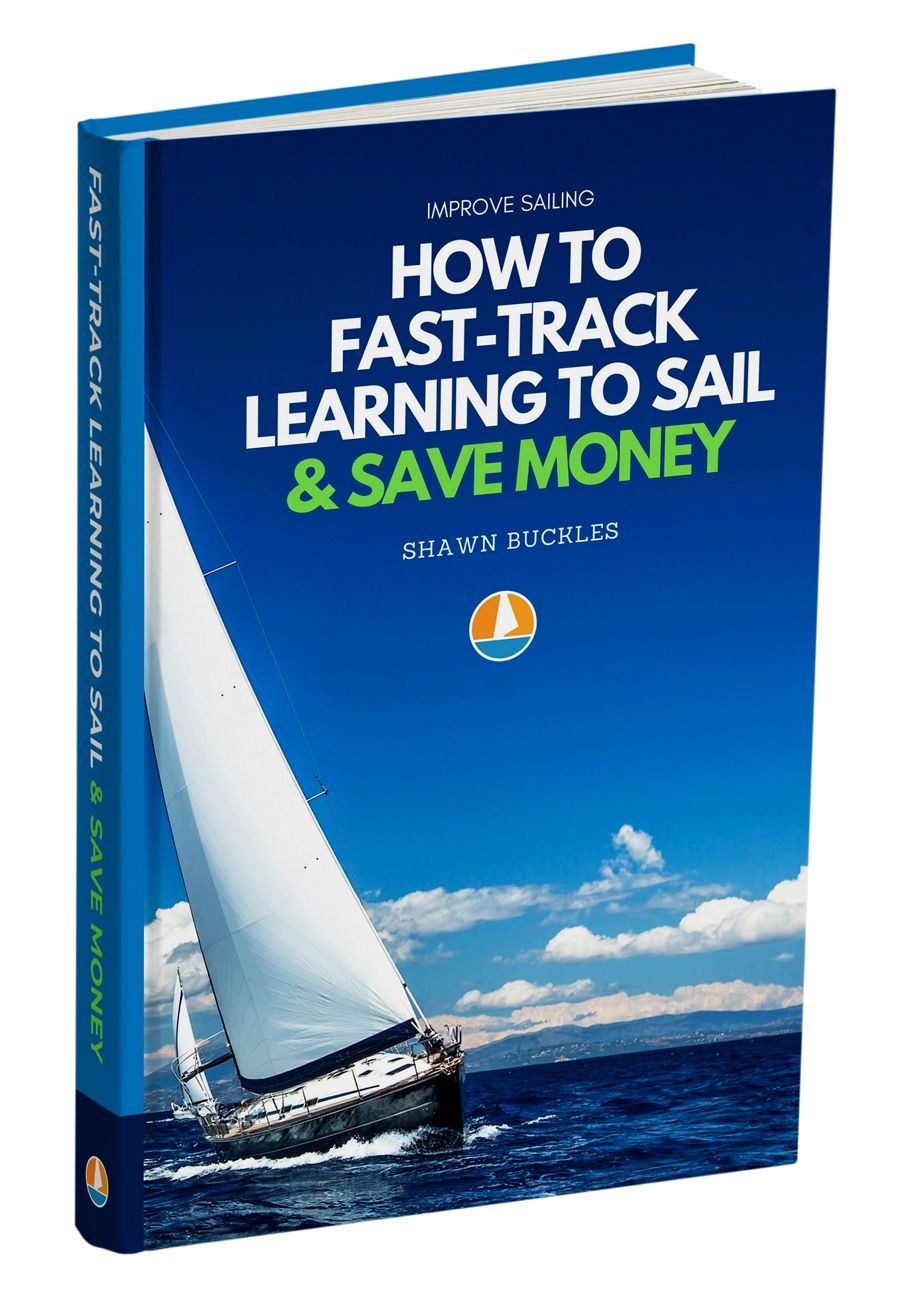 Fast-Track Learning to Sail & Save Money eBook
Level up your game from dreamer to seasoned sailor with my 65-page ebook. In just a few minutes, you can be implementing the strategies it took me years to figure out.
If you've dreamed about getting into sailing but are intimidated by the cost and all the specialized knowledge involved, this is the eBook for you.
Setting sail solo for the first time isn't that hard, but it'll likely take you many years if you just keep playing around, HOPING you'll one day set sail.
If this guide saves you even one sailing lesson, it will have paid for itself 10x.
Start Sailing from Home
First-time sailors tend to focus too much on the nitty-gritty. Start from home understanding the theoretical fundamentals, and get confident before taking lessons.
Master the Basic Skills Quickly
Sailing requires a lot of specialized knowledge, but there's no need for overwhelm. I'll help you focus on just the info you NEED to know and getting those down first.
Get the Resources to Feel Confident
You'll be amazed at how quickly you'll feel confident as a sailor by having the right resources. Know which courses to focus on and what articles to read before you hit the water.
Stop Wasting Money
You don't need tons of lessons, bags of gear, or even a sailboat at first! This eBook will save you dozens of sailing lessons, saving you thousands of dollars.
Get Started on Any Budget
You can get started on a tiny budget. Sailing doesn't need to be expensive if you spend your budget where it counts. I'll show you how to set sail solo for under $500.
Stop Procrastinating Your Sailing Dream
If you have a sailing dream, NOW is the time to take action. I'll help you get down the basics quickly, save money, and get you on the water within a couple of months.
Take your sailing dream a HUGE step forward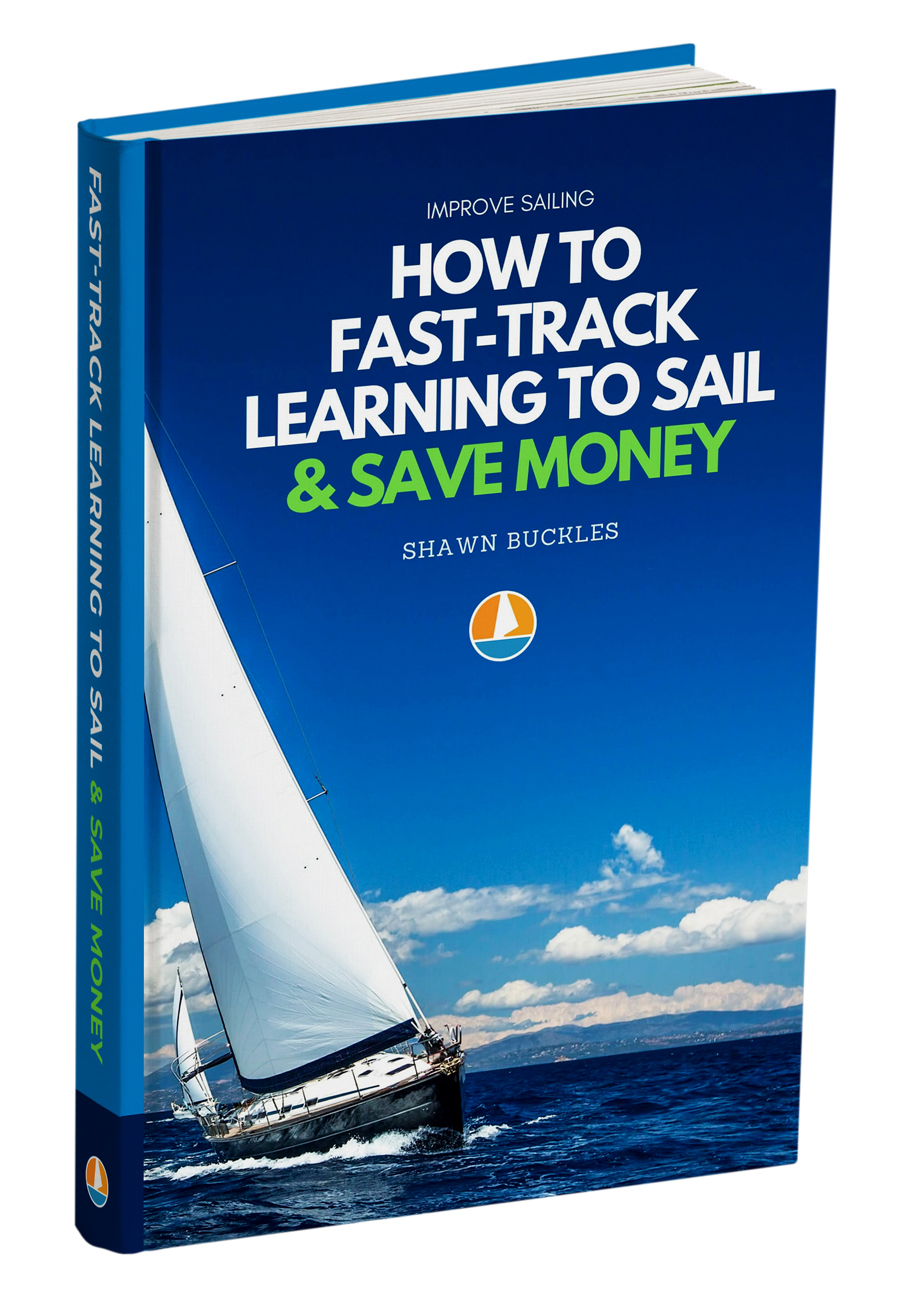 Avoid the Two Mistakes Most Beginners Don't Understand
There are so many things to learn in sailing that it's easy to miss the fundamentals.
Beginners make two mistakes that stop them: (1) They don't make use of online resources to cut back costs, and (2) They don't allow themselves to fail at first in order to learn a wonderful skill.
The internet gives us all an opportunity to learn so much for free, including sailing. This guide combines the best online resources to start your sailing dream on the cheap.
By using a clever combination of cheap resources, we can learn almost all theory at home. That way, when we take sailing lessons, we'll save hundreds or even thousands of dollars and know we can become confident sailors.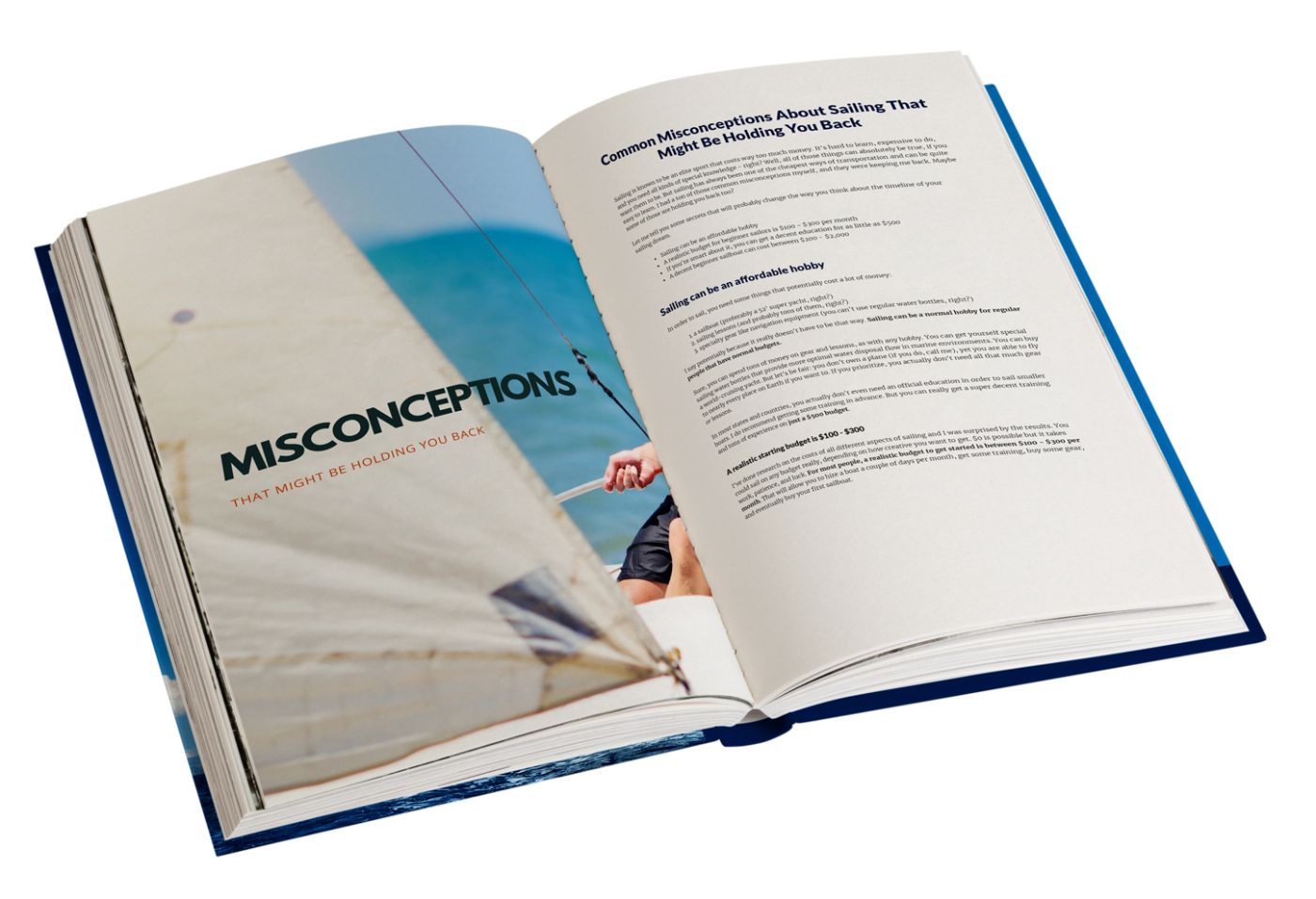 With this guide, you'll have the most important sailing information at hand at all times. Read it wherever you want.
What you'll get:

5-Step Bootstrap Plan for New Sailors
Links to free videos and online courses
20,000-word eBook in PDF, MOBI, and EPUB
Online resource center with recommendations
3 Simple step-by-step lesson plans
If this guide saves you even one sailing lesson, it has paid for itself.
Sailing lessons cost on average $150. That's an easy way to lose a lot of money. If you're smart about it, you can start sailing by yourself with just a few lessons. In this guide, I describe exactly what steps I'd take if I were just starting out, to reduce my cost of learning.
You don't have to learn all the basics under the expensive eye of the instructor. Just use the free articles and courses in this guide and you'll hit the water running.
This guide in four lines:
No-nonsense approach to sailing
Feel confident when you take your first lesson
Read it wherever you want
Set out solo as quick as possible
This guide will help you learn what skills you'll need and how to get them quickly and cheaply.
I think anybody should be able to harness the wind's free energy. Regardless of budget, skill level, or situation.
Learn to sail in two months, even on a tiny budget
Save hundreds, even thousands of dollars
Save hundreds of hours
Breakdown of what skills you need & where to learn them
Just $13.99
Here's a preview:

Getting into sailing can seem daunting. When I first got interested, I was completely overwhelmed by all the skills, conflicting information, - and man oh man - all those insider terms. If you don't know where to start, it can be very confusing.

Learning from my own experience, I wanted to create a very easy-to-understand resource that walks you through everything you'll need to know and learn when first starting out as a fresh sailor. If you're looking to learn how to sail but feel overwhelmed, frustrated, or just don't really know where to start, I've written this book specifically for you.

Not that long ago, I was like you. And I still am. I'm no fancy sailing instructor or super-experienced sailor. I'm someone who wants to learn to sail myself. I don't have a fortune to spend, and I don't want it to take ages before I can hit the water by myself.

So I documented my learning process. Over the last few years, I have written on a lot of different aspects of sailing. As I got further into the weeds, it became clear to me that with a good system learning to sail didn't have to be intimidating at all.