The Best Time of Year to Boat from Florida to Bahamas
The Bahamas lie off Florida like a scattering of white sand jewels on a blanket of azure and cobalt all within a day's sail from home. From Miami, the entrance to Bimini Harbour is less than fifty miles, and the distance from Palm Beach to Freeport on Grand Bahama is less than seventy-five. Even the slowest of sailboats can make it there on an overnight.
With year-round pleasant weather, is there a bad time to be there? Some times may be better than others, and the winter months - November through April - are the best time of the year to be sailing in the Bahamas.
The best time of year to boat from Florida to the Bahamas is from November through April, since there is a smaller risk of seasonal storms or hurricanes, resulting in more reliable, and thus safer sailing weather.
You'll also find very nice weather in the summers, and it will be cooler than Florida. But seasonal storm risks and the rainy season should give boaters pause before heading offshore. Let's get more into why.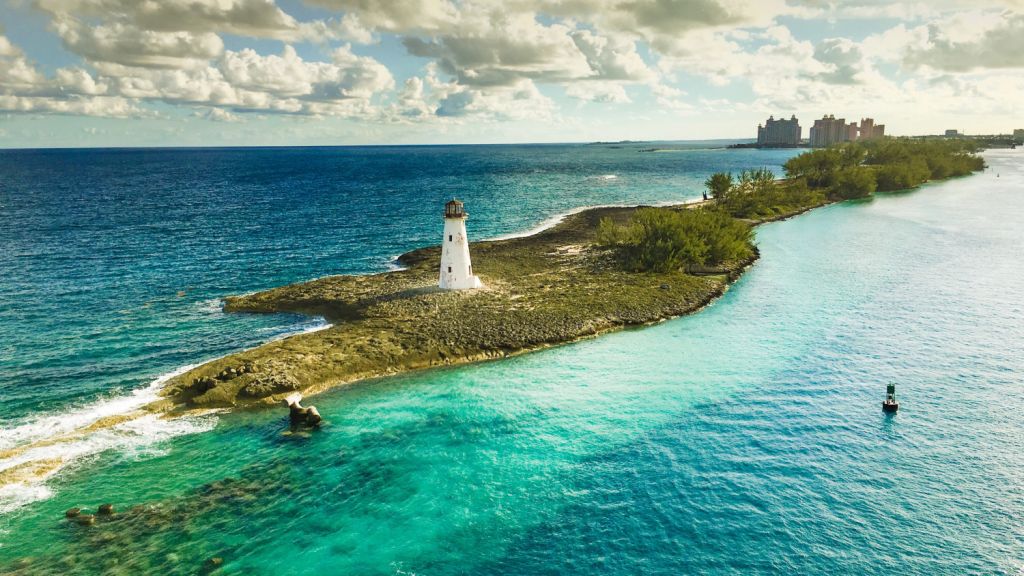 Bahamas Weather
Year-round, the Bahamas are nice. The temperature rarely drops below 60°F (16°C) even in the winter, and average temperatures even in the winter are in the seventies (22°C), and in the eighties during the summer (28°C). Warm, sunny and mild are the norms, and ocean breezes in the summer cool things down offshore like you don't get on the Florida mainland.
Hurricanes and Rainy Season
But summer is the rainy season, and it's hurricane season.
The average rains from June through October are three to four times the rain in the winter months. Nassau averages 6.5 inches (165mm) of rain in September, but only 1.6 inches (40mm) in December.
The good news is that while the summer rains are more frequent, they often show up in the afternoons and don't linger long. There is still plenty of daily sun, but you won't want to leave towels drying on the lifelines after lunch. But summer can be hot and muggy as the rain storms come and go, though there are breezes much of the other times.
The winter months are cooler, but they're also much drier and free of hurricane risk.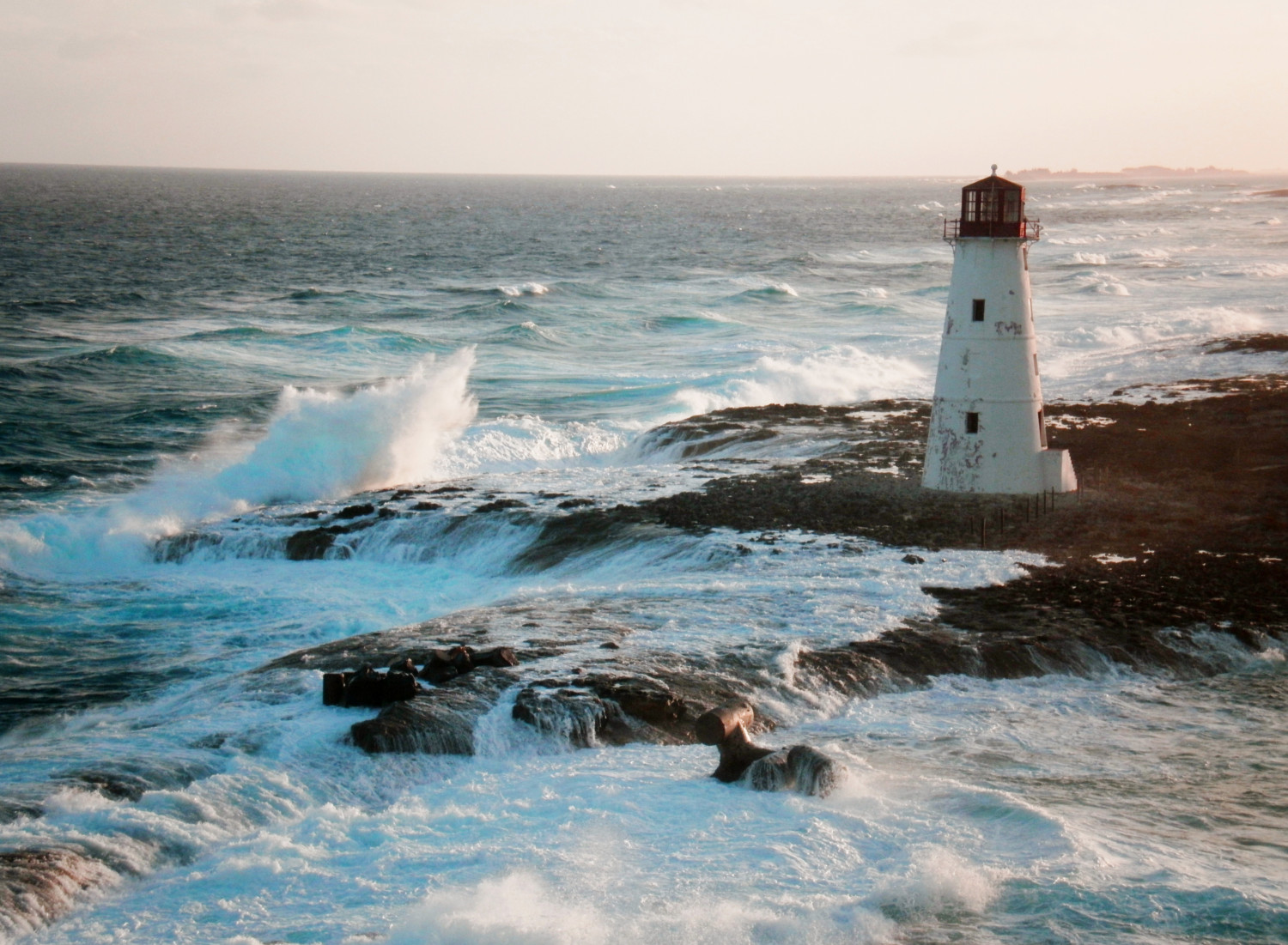 Regional Differences
The Bahamas archipelago covers about 150,000 square miles of water with over 700 islands, with more than five degrees of latitude separating the northernmost points off Florida to Mayaguana, which is further south than Havana. Almost three hundred miles difference between Freeport and Mayaguana accounts for significant weather effects.
The Northern Bahamas are cooler than points south, and you may be less inclined to peel down to a swimsuit every day in the winter in Freeport than down in Georgetown. Freeport climate is similar to Palm Beach, but it can get cooler in the winter from ocean air masses and winter weather encroaching from the North Atlantic. While the average winter temperature is around 70°F (21°C), there have been recorded temperatures that would make you reach for a jacket.
Further south the average temperatures are a little warmer in all seasons, but you're less likely to encounter the occasional temperature dips that Grand Bahama picks up from the weather patterns north of the islands.
During the rainy season, the rain and storms are higher in the northern ranges, and the average rainfall further south is less.
Depending on when you choose to sail the Bahamas, you may wish to head further south in the winter, and stay more north if you go in the rainy season.
Atlantic Storms and Hurricanes
While the rains can be inconvenient, hurricanes and major storms can be dangerous and devastating. The Bahamas isn't a great place to get caught in a hurricane, since it's mostly low-lying islands without lots of shelter for boats or people.
It's not a guarantee that a hurricane will hit in the summer, but the Bahamas does get one every few years. Over the last twenty years, the Bahamas have been hit by seven hurricanes which caused serious economic damage or loss of life.
Because hurricanes are so large, they can have a sweeping impact over large areas. You don't need to get hit by the eye to see tropical storm force winds (34-63 knots), a large storm can cause damaging winds hundreds of miles from the center.
If you keep your boat in Florida, you're no stranger to hurricanes and tropical storms. Your insurance companies will never let you forget them. But there's a difference.
In Florida, you can evacuate. You can get off the boat, and while Florida doesn't have a lot of high ground, you can get inland which takes you away from most personal risk. Even if a storm sinks your boat and rips the roof off your house, you will be okay.
But if you are deep in the Bahamas and a storm threatens, you've got a different problem. It may be impractical to get back to Florida, and you'll need to seek shelter for you and your boat in an area without a lot of it. Even if you just got there and are just on the edge of the islands when a storm develops, conditions in the Gulf Stream may make a quick return to Florida difficult and dangerous.
It's not that you can't go to the Bahamas in the hurricane months. But being on a boat isn't like flying there or being on a cruise ship. Your path to safety if a storm develops won't be so clear. If you spend a hurricane season in the Caribbean, you learn that tropical storms and hurricanes are never far from your mind. As soon as a new system develops that might come close, you have to start planning for "just in case."
The Gulf Stream
When you sail to the Bahamas from Florida, you will have to deal with the Gulf Stream. If you manage your crossing properly, it will be cobalt waters, warm breezes, and with luck, fresh mahi mahi for dinner.
But if you do it wrong you may be in for the worst sail of your life. You really want to avoid that.
The Gulf Stream flows from the south to the north, has an average speed of about three knots, and is 45 to 60 nautical miles across off Florida. The current is slower on the edges and higher in the middle, and your plotted course should account for the drift. If you're sailing along at six knots, you can find yourself thirty miles or more off course if you don't.
The shortest distance across the Gulf Stream isn't a straight line. You sail a straight compass course, but your traced course over ground will look more like an "S." For details on how to plan for current like this, see our article "How to Calculate Course to Steer" which goes into plotting this in detail.
The other issue with the Gulf Stream is the wind when crossing it. Since the stream flows towards the north, if there is wind from the north, you may have a problem. The Gulf Stream in a strong northerly will make large, steep and dangerous waves and your crossing will be miserable.
Heading out there when you have all the time to wait for a good weather window, this isn't much of a problem. But if you're in the Bahamas during hurricane season, you may find yourself on the wrong side of the Gulf Stream to get back to Florida if the wind is uncooperative.
And remember when planning your passage that the set of the current is always north. If you're trying to make landfall in the Bahamas south of your starting point, you will see a lot more adverse current. It's much easier to start south and end north.
Getting to the Bahamas
Getting to the Bahamas isn't a long trip from Florida, and you can spend months exploring once you're there. But getting out there takes planning. You can't pick a date to leave a month or two in advance and expect to leave that day. You might get close to it, but the weather may not cooperate.
So you plan, you pack, and you watch the weather. It's a short trip, but not one to try on a tight schedule.
The Other "Best Time" - Weather Windows
As we discussed in the section on the Gulf Stream, you do not want to head out into the stream if there is any significant northerly component to the wind. It's best to look for a forecast that is a day or two clear of any northerly winds before you go; you want to give the stream time to settle out of any built up winds from the dying northerlies.
The ideal weather window will have no strong northerlies for at least 24 hours, and none predicted for the next forty-eight. Southerlies are the best. You can leave on a tighter window since it's a fairly short trip, but for a pleasant passage and a safety margin if your trip is slow, it's best to wait.
If you're seeing more than fifteen knots of wind with any northerly component, do not consider leaving until it settles.
Resources for Gulf Stream passages
There are many excellent resources for Gulf Stream conditions, position and forecasts. The stream can be spotted with Sea Surface Temperatures (SST) in satellite photos, and you'll see your own SST sensor spike when you enter it.
A few samples include:
Commercial routing and other Gulf Stream forecasts are available from several sources for a fee.
Did you find the answer to your specific question?
👍

3
👎

0