13 Best Liveaboard Sailboats (under 30 & 50 ft)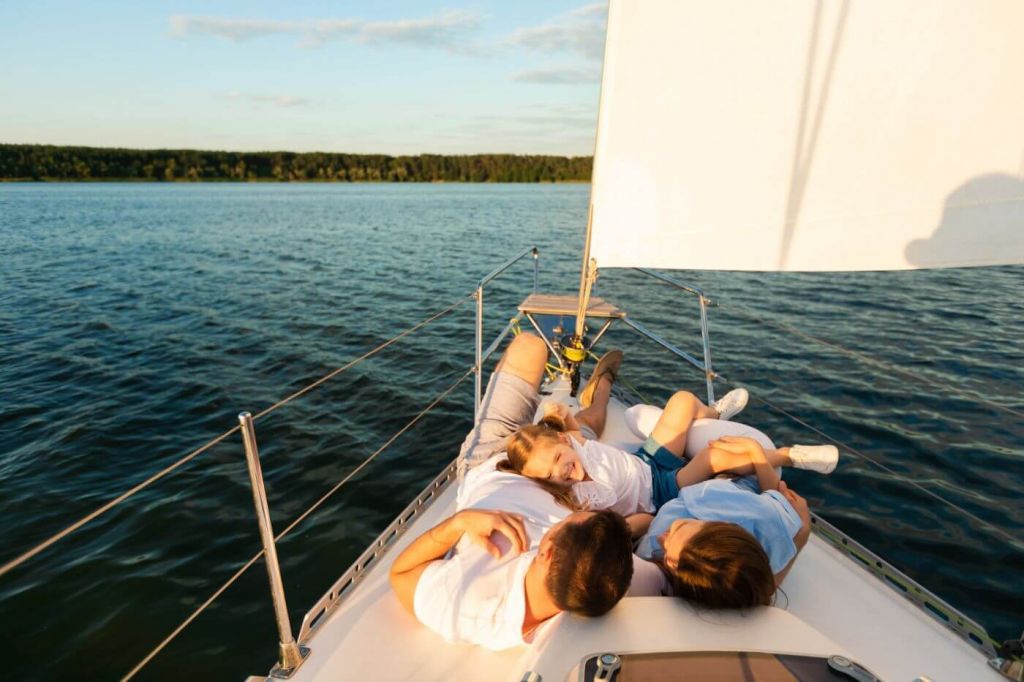 Choosing a boat to live on is a big deal — something you definitely want to get right. There are plenty of options to pick from, which can make the choosing process a bit daunting. So to help you navigate those deep waters (no pun intended), here is an article summarizing the 13 best liveaboard sailboats under 30 and 50 feet.
So what are the 13 best liveaboard sailboats?
Beautiful lineup, isn't it? Let me explain what makes these so special.
Picking the Right One Matters
Picking a liveaboard sailboat belongs among those kinds of decisions that require months, if not years of research and testing.
It is not like choosing a car - those are more or less the same, and although they vary widely in terms of comfort, feeling, and performance, rarely you would encounter one that wouldn't get you from point A to B reasonably.
The same goes for a house or an apartment. Regardless of if you get a 200 square foot condo or a 30,000 square feet mansion, it will most of the time provide a warm shelter with a shower and a kitchen and a bed, fulfilling its basic functions.
But this is only the case because there is extensive infrastructure in place helping cars and houses. A car can only get you from A to B thanks to roads. A house can only have a shower and a kitchen if it is connected to a grid.
But on a boat, you are on your own.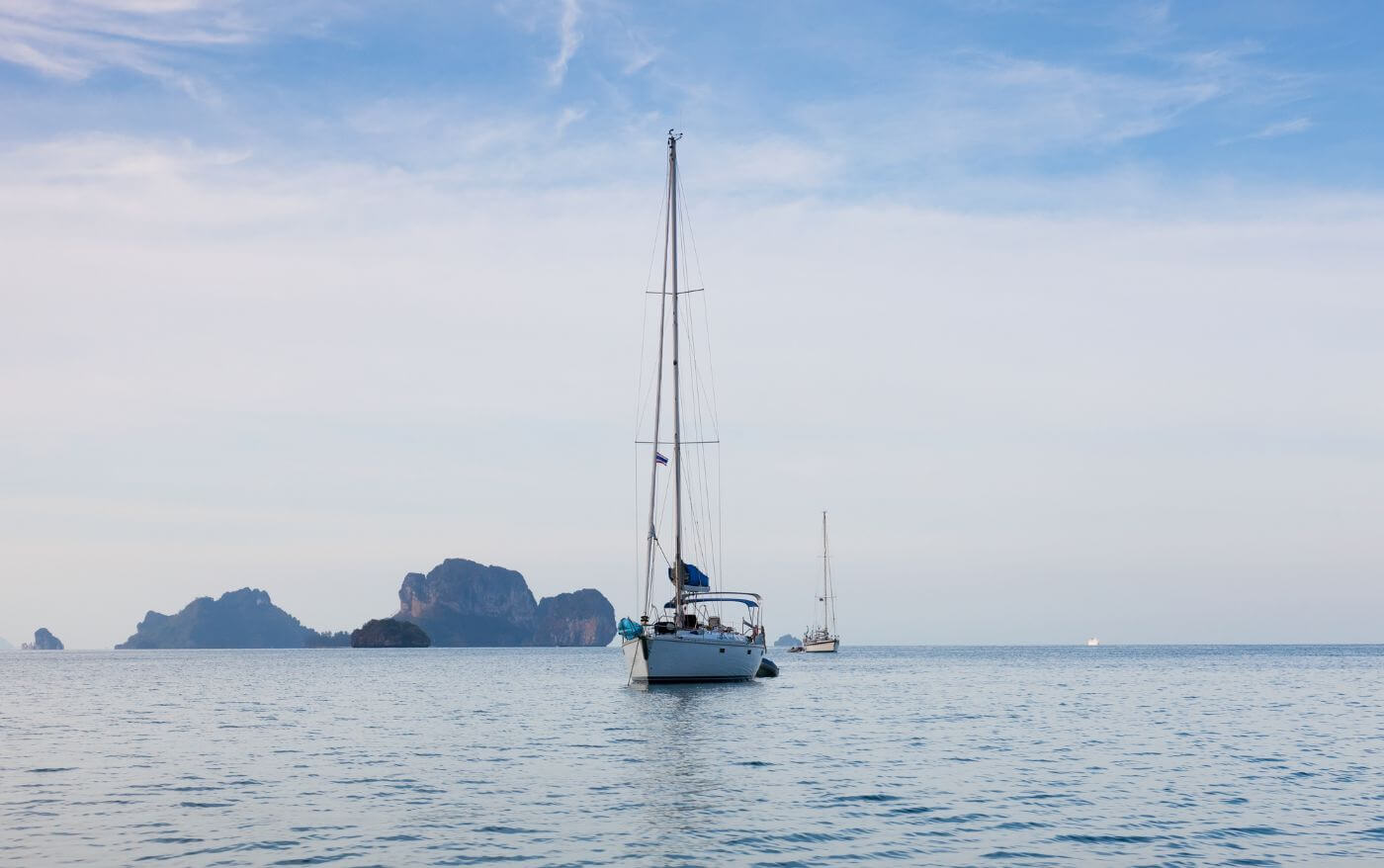 The sea doesn't adjust its waves for your comfort. If something breaks, there is usually not a repair shop nearby. You aren't always connected to water or electricity. And if you don't like what you see around yourself, it's not like you can just leave.
So a liveaboard boat needs to provide what a house does, what a vehicle does, and more, plus it needs to provide this regardless of if you are docked in a marina or in the middle of the Pacific Ocean. That is a lot to ask, especially if we are talking about boats around 30 or 50 feet.
Fortunately, every single boat on this list is an all-star that ticks all the right boxes. Let's see why.
Catalina 30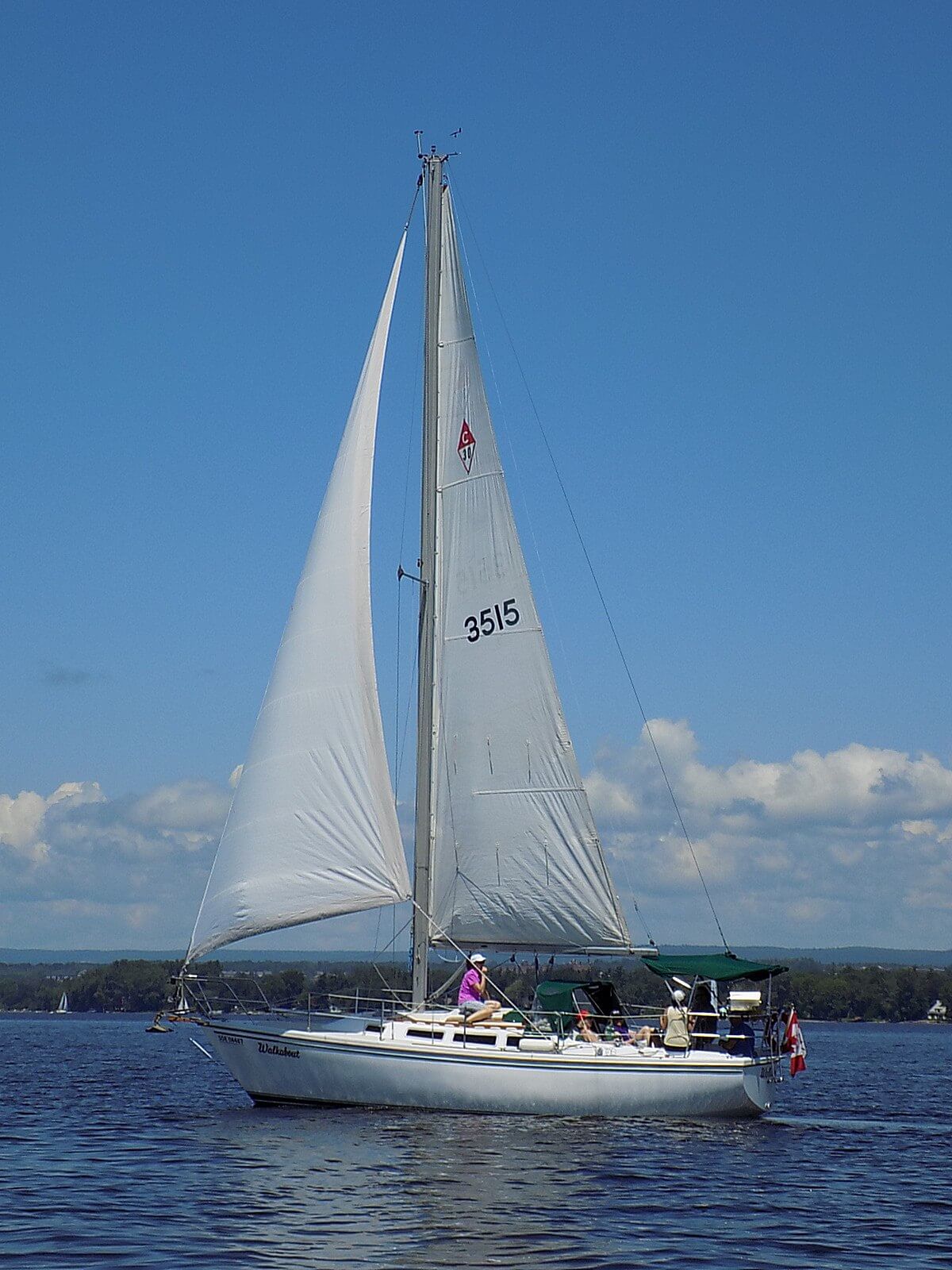 I know, I hear you, it isn't exciting enough as it doesn't perform that well. Sure. But we are talking about a boat that is supposed to be a house too. So why is it on the list?
This boat has been in production since 1975, which means that it has been extraordinarily well-refined according to the suggestions of thousands of owners. And this manufacturer is known for listening to the sailors' feedback. It is a very popular model, so finding spare parts for it will always be easy. Its famous well thought through the salon, and cabin layout is generous and spacious, so Catalinas are comfortable boats to live on. Plus, the boat has quite a wide beam, great ballast/displacement ratio as well as low sail area/displacement ratio, making it a stiff boat under sail, which adds to stability and comfort.
Good condition MkIII Catalinas can be found for about $35,000, but given the volume of these on the market, you can find a usable one even for around $15,000.
Nor'Sea 27
This one is a hero. I'd be hesitant to call such a small boat a comfortable liveaboard if it wasn't for this model. For its size, the interior is very spacious. It is also made for comfort since it seems to be inspired by the aforementioned Catalina 30. In fact, after reading some reviews, I am confident in saying that you will not find a significantly more comfortable 27 footer out there.
It also has a talent very uncommon for liveaboard boats - you can put it on a trailer, which can make your life easier when it comes to certain trips. But most importantly, it is a beauty. Just look at it.
Pricing this boat is a tricky task. You can buy nearly new ones (2015) for around $140,000, but even for $50,000, you can stumble upon models from both the 80s and the 2000s. This means the condition is a big factor, and you gotta inspect your choice well. The good news is that whatever your price in that range, you will find a boat for that money. The bad news is that the cheaper you go, the more effort will the potential repairs take.
Pacific Seacraft Flicka 20
I thought the Nor'Sea 27 is gonna be it, but let's push the size limit even more with the 20 foot Flicka, this tiny, towable, but seaworthy beast that accomplished several circumnavigations. Upon entering, you will be amazed at how spacious and equipped with amenities the interior is. Its designer lived on this boat with his partner (who too was a naval architect) for years and cruised all around the world - and what a proof of confidence in his own design that is.
Truth be told, there is a lack of deck space, but underneath it has the comfort and size of a boat a few meters larger, a space you can comfortably live in. Due to its size, it is easy to operate, tow, and sails better than what you would expect from a boat this length.
This boat is incredibly charming, and so its owners rarely sell it. In fact, it has amassed quite a following since it was designed into existence. So expect to spend quite some time searching for one for sale. Once you do find one, it will cost you around $30,000 - $40,000.
Nonsuch Ultra 30
This one's a weird one. But because of it, a very spacious one. It is structured as a catboat, that is, with the mast being all the way on the front of the boat, which makes for impressive space below the deck. It has all the necessary amenities, including a shower, so for the liveaboard lifestyle, this boat definitely deserves to make this list.
The single sail catboat design also means it is easy to handle single-handed, which makes for great solitary passages.
Expect to pay around $40,000 to $60,000 for this one.
Aventura 34
Though I am trying to keep this list in lower price ranges, I have to put this one in. If you don't mind the price tag of around $170,000, this boat is marketed as the currently cheapest liveaboard catamaran. As previously mentioned, cats offer the most in terms of space, and this model is a brand new one. Thus when it comes to service troubles and costs, you wouldn't pay much. The look is modern, relatively minimalistic and sleek, so for those of you who would like to give the liveaboard lifestyle a go but get cold feet upon seeing boats from the 80s, this is a way to make sure things remain stylish.
The modernity, space, and attention to practicality when it comes to using this as your home, make this a great entry-level liveaboard choice.
Island Packet 35
Again, this is no performance vehicle. Rather it focuses on the usual cruiser aspects - space, stability, sturdiness, and convenience, which makes it an ideal candidate for your choice when looking for a new floating home. Aside from the spacious interior, this boat also has an unusually large cockpit, great for those lunches on the deck.
As if the designers knew this might be used by the liveaboard people, this boat is easy to handle, which means even under sail, you won't have issues focusing on what you came for in the first place - sea living.
This boat can be found on the market for around $75,000 - $100,000.
Hunter 33
The great thing about the Hunter 33 is that it was designed as more of a house than a sailboat. The attention to accommodation details is great here; there is plenty of space for sleeping the owners as well as the occasional visitors, it has a fantastic headroom throughout the boat and one of the most spacious and comfortable dining spaces seen on boats this size.
Food preparation and consumption was probably high on the priority list of the makers; the kitchen has an L shape, which adds to the convenience.
The price spread on these is quite large, with the bottom around $55,000 for the 2004 models and the top around $95,000 for the 2013 models.
Cal 34
This one is for those who don't mind sacrificing luxury for space. If in the middle of the ocean, it makes sense that one would want as much of usable space as possible, so if you are okay with the simplicity that will inevitably come with a system like this, you have found your match.
An undeniable advantage of such a design approach is that the storage space is maximized. Long passages with the need for plenty of room for equipment and provisions won't be a problem here. The simplicity of this boat is not just in terms of design, but even the electrics and plumbing. Thus if something breaks, you will have an easier time fixing it.
This being an older model, you can get your hands on one for around $30,000.
Peterson 44
Since we are mostly looking at cheaper boats here, most of them aren't new - in fact, they likely have quite a few years behind them. The build quality is thus important. You want to go for builds that will last. Peterson is known for this, so it's gotta be on the list. As far as this list goes, it is quite a large boat. Moreover, it is one that has been built with spaciousness in mind, both when it comes to living spaces and storage.
A neat thing about this boat is its attention to performance. It isn't a racer; rather, it fits in the performance cruiser category, but they haven't made too many speed-related compromises here.
Peterson 44 can usually be found for $80,000 - $100,000.
Prout Snowgoose 37
There needs to be a catamaran on this list - they are, by definition, more spacious than monohulls, providing a large living area, which is, of course, an attractive characteristic for a liveaboard boat. Especially if they have a solid bridge deck, creating yet more square feet of usable space, which Snowgoose has. Unfortunately, they tend to be costly. While it is easy to recommend a bunch of half a million dollar cats, to make this list more within reach of the average sailor, I've found this beauty that you can get for around $100,000.
Aside from the extra space, this model is a true bluewater cruiser, meaning you won't be limited by its abilities when planning your journeys.
Gulfstar 44
Those of you who had the pleasure of sailing this boat know why it needs to be here. It was built for a liveaboard lifestyle. Its wide body makes for one spacious interior which is well ventilated, (a very important aspect) with a beautiful galley and it has a large aft cabin with a huge bed. It was made with comfort, practicality, and convenience in mind.
Not to sound like a salesman, but believe me when I say this boat is a genuine pleasure to be on. If you want the homey feeling, you don't get much closer than this in this size range.
Expect to pay around $80,000 - $100,000 for this one, though some digging around and 'fixing her up' can knock this number down significantly.
Nordic 40
This is another easy choice, space being the reason. Not only does it have an extra-large main cabin and salon with a kitchen, many small Parisian apartments could envy, but it is also very generous in terms of storage space. Stocking up for longer crossings will be a pleasure on this one.
Also, it was built as a racer-cruiser, so you won't be making many compromises in terms of performance, as is often the case with comfortable boats.
All of this comes for a price, though. You might be able to find one for around $100,000 if you put some time into your search and won't mind a bit of travel to see it, but otherwise, the average price is around $130,000.
Beneteau Oceanis 50
Let's end this list by stretching the ceiling too with this fifty-footer. It was designed as a holiday cruiser, and it is a popular choice among charter companies. The designers know that there are places in Europe where it is very easy to get a sailing license, so many inexperienced people who don't want to give up the comforts of their home end up on these boats. Oceanis 50 is thus comfortable, spacious, easy to sail, and the attention to accommodation details, amenities, and practicality, is very high.
As such, it is designed to house whole families, so if you live there as a couple, you will have a floating house for yourself, and if kids come, no need to buy a new boat. Even on the deck, this boat is designed for pleasure cruises, so as far as that goes, you will be taken care of. As far as their seaworthiness goes, some consider Beneteau an entry-level holiday brand, and some models are indeed more designed for coastal hopping than large crossings. But that can be fixed with some proper fitting.
If you fancy a new one, you will find yourself paying above the $500,000 mark, but older models start a bit above $100,000. Which is something a person who just sold all their possessions to escape to the sea is more likely to have. Just be a bit careful with boats sold by charter companies. Their previous owners serviced them regularly, but you can be sure the hundreds of sailors that touched the helm weren't necessarily skilled or kind to them.
Conclusion
So there you have it. $15,000 - $50,0000 range, 20 - 50-foot sizes, from cozy towable boats to large sailing houses. A range anybody can choose from to pursue the liveaboard dream. Nothing is stopping you now, so hit the yachtworld.com website and start browsing.
Know though that if you really want to take advantage of the boat market, you might have to travel quite a bit. If you are an American, the strong dollar will make it enticing to look for a boat in European countries without the EUR currency. Or you might find plenty of cheap models in Turkey, for instance. It requires more effort, but in return, it might save you tens of thousands of dollars.
Fair winds!
Did you find the answer to your specific question?
👍

3
👎

0