You'll Sail Away Before You Know It
Kickstart your sailboat dream from dreamer to boat owner with my 316-page ebook. In just a few minutes, you can be implementing the strategies it took me years to figure out.
If you've dreamed about owning a boat but are intimidated by the cost and all the specialized knowledge involved, this is the eBook for you.
Buying your first boat successfully isn't that hard, but it'll likely take you many years if you just keep playing around, HOPING you'll one day do it.
If you use just one of the tips in this guide, it will pay for itself 10x.
Regular price: $38
Flash Sale Price: $17.99
Start Boat Shopping Today
Buying a boat requires a lot of specialized knowledge, but there's no need for overwhelm. I'll help you focus on just the info you NEED to know to start shopping today.
Avoid Buying a Lemon
Learn what red flags to look for, what prices are reasonable, where to look, and when to walk away. Instantly unlock the insight of experienced boat buyers and avoid ruining the dream forever.
Get the Resources to Feel Confident
You'll be amazed at how quickly you'll feel confident about buying your first boat by having the right resources. Know what type to get and what costs to expect.
Stop Wasting Money
Get the insider tips by serial boat buyers to save money on buying your boat and your boat ownership. Use others experience to save thousands of dollars.
Get Started on Any Budget
You can get started on a tiny budget. Owning a boat doesn't need to be expensive if you spend your budget where it counts. I'll show you how to buy a boat on any budget.
Stop Procrastinating Your Sailboat Dream
If you have a sailboat dream, NOW is the time to take action. I'll help you get down the basics quickly, save money, and get you on the water within a year.
Take your sailboat dream a HUGE step forward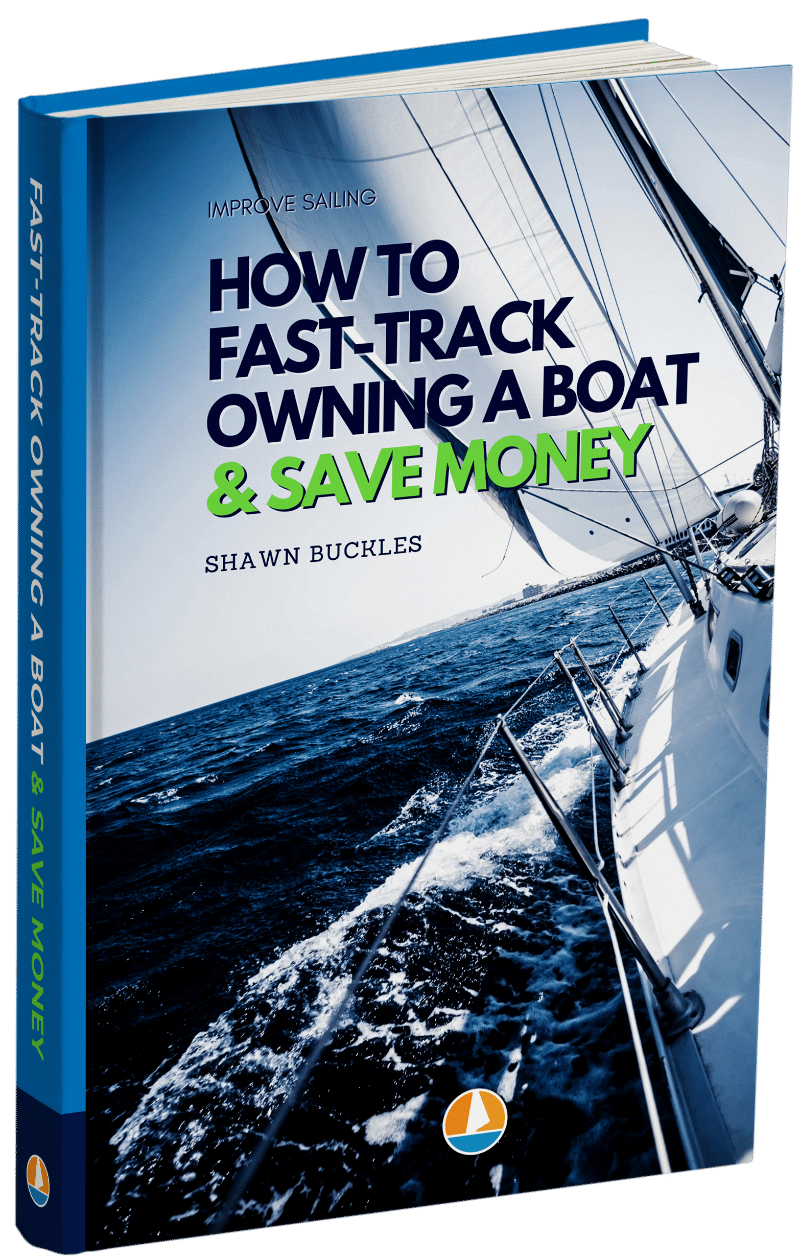 Avoid the Two Mistakes Most Beginners Don't Understand
There are so many expensive sailboats out there that it's easy to miss the bargains.
Beginners make two mistakes that ruin their dream. They:
don't evaluate their real sailboat needs
buy the wrong boat (too long, wrong type)
When it turns out they've bought a lemon, or things simply turn out too expensive, their dream is ruined.
With average sailboat prices of well over a hundred thousand bucks, it's not hard to imagine blowing your life savings. But if you know what you really need, you can drastically reduce those costs and limit your downside.
This will not only make your dream way more achievable but you can even do it within a year for just $3,000!
There are sailboats out there that offer everything you need to sail around the world at just a fraction of the cost. In this guide, I'll share dozens of examples of sailboats for different situations and budgets, as well as insider tips to save a lot of money on your ownership cost.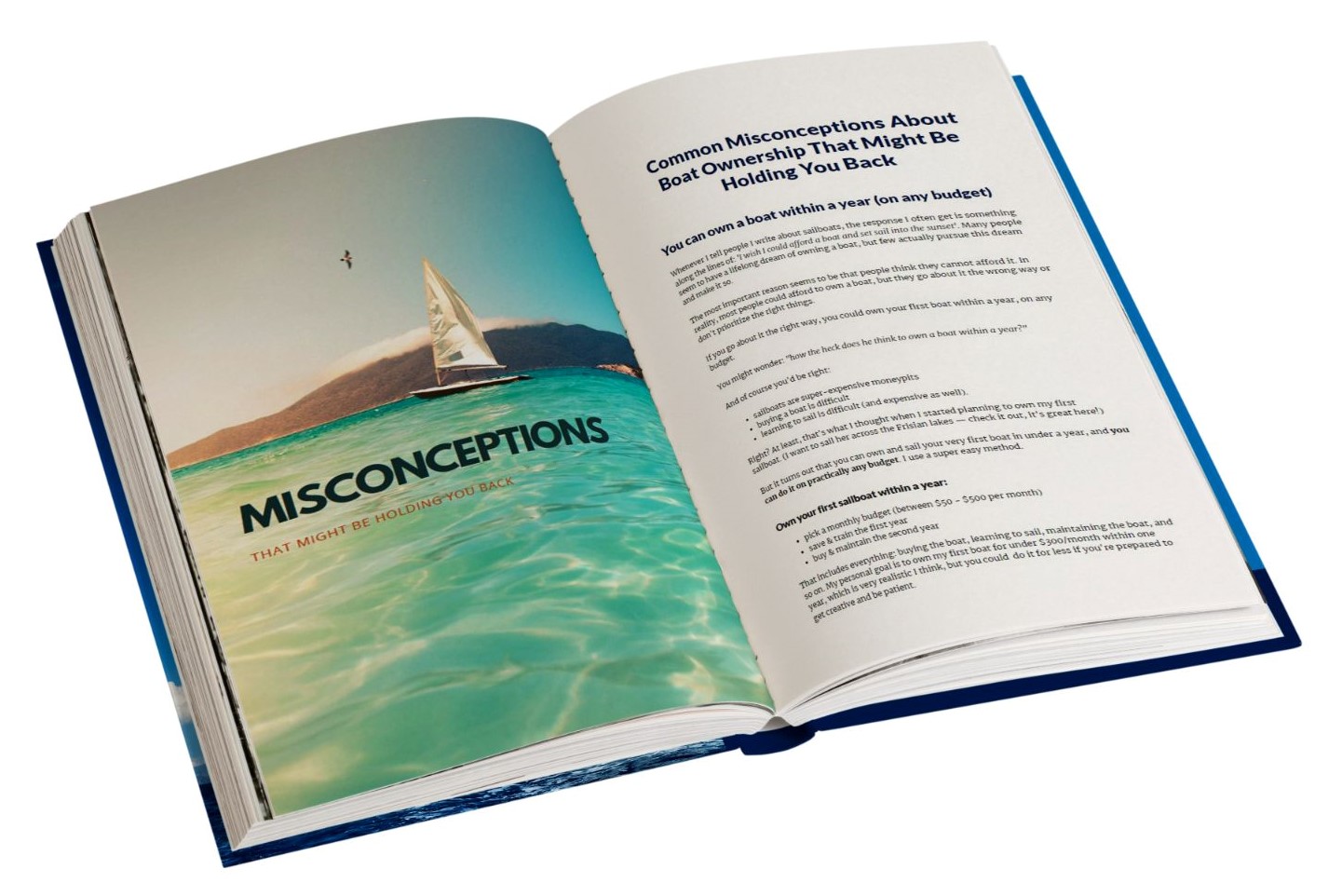 What you'll learn:

How to sail the world for just $3,000.
How to save $1000s on your boat ownership.
How to reduce your ownership cost to $100/month.
How to buy a reliable boat for a good price.
How to pick the right boat for your needs.
With this guide, you'll have the most important sailboat purchasing information at hand at all times. Read it wherever you want.
What you'll get:

10 Insider tips to save money on your boat ownership
98,358-word eBook in PDF, MOBI, and EPUB
Online resource center with recommendations
10 Crucial checks when buying a private seller's boat
8 Cost examples for different budgets
38 Detailed tables on boat costs
4 Chapters on picking the right boat
2 Gear outfit checklists
Maintenance schedule & costs
If you use just one of the tips in this guide, it will pay for itself 10x.
Used sailboats cost on average $111,000. That's an easy way to lose a lot of money.
If you're smart about it, you can own your first boat for just $3,000. In this guide, I describe exactly what steps I'd take to reduce my cost if I were just starting out.
Using just one of the dozens of money-saving tips in this guide will translate into hundreds or even thousands of dollars saved.
This guide in four lines:
No-nonsense approach to buying your first boat
Feel confident about your choice
Read it wherever you want
Sail into the sunset quickly on any budget
This guide will help you take action on your dream to own a sailboat immediately.
I think anybody should be able to harness the wind's free energy. Regardless of budget, skill level, or situation.
Own a boat within two years, even on a tiny budget
Save hundreds, even thousands of dollars
Save hundreds of hours
Breakdown of all the costs and knowledge you need
Just $17.99
Here's a preview:

In this guide we'll fast-track owning your first boat. I'll go over everything you need to know before you start your own journey of becoming a boat owner.

Many people would like to one day own a sailboat, but most think it's out of their reach. This book is about showing you what's possible —even on a tiny budget— and giving you the information you need to start making your dream a reality immediately.

This dream can be rather expensive, yes; but it can be quite affordable as well, since there are many possibilities, lots of cheap used sailboats, and all kinds of constructions — if you know what to look for.

I'm certain that you will be able to set sail within one to two years on a budget of just
$300/month.

There are many ways to go about it. Getting started may seem daunting, so let me help you. I'll walk you through a detailed cost breakdown, the things to consider when picking your first boat, and ways to save money on your boat ownership.

→ Introduction, How to Fast-Track Owning a Boat & Save Money
Table of contents:

Common Misconceptions About Boat Ownership That Might Be Holding You Back

You can own a boat within a year (on any budget)
A boat costs less than you think - really
There is a boat for every budget
Small sailboats are great for learning
You're so close to owning a sailboat



How Much it Costs to Buy and Own a Boat

The cost of buying and owning a sailboat
Why some used sailboats are so cheap
Monohulls vs. catamarans: cost comparison
The cost of buying and owning a catamaran
Maintenance costs in detail
The cost of buying a dinghy



What to Know Before Buying Your First Boat

Picking a boat part 1: Important considerations
Picking a boat part 2: Considering boat types
Picking a boat part 3: Examples for different situations
Picking a boat part 4: Picking a dinghy



Buying Tips by Experts

When & where to shop for boats
How to evaluate boat listings
Crucial checks when buying a private seller's boat
How to make an offer on a boat
The cost of transporting a sailboat



Tips for New Boat Owners

Save money on your boat ownership
Get the right insurance
Fit her out for your sailing dream
Take proper care of her
Good liveaboard locations in the U.S.