What You'll Need to Charter Bareboat in Greece (Requirements)
Wondering if you meet the requirements for chartering a bareboat sailboat in Greece? In this article, I'll go over the exact licenses and certifications you'll need.
What are the bareboat charter requirements in Greece? If you want to charter bareboat in Greece, you'll need a valid international sailing license to prove your experience. You also need an assisting crew member with some boating experience. This crew member must be at least 18 years old. You are not required to have a VHF Radio Certificate.
You don't necessarily need an ICC sailing license. As long as it's an internationally-recognized license, you should be fine. I've included a list of accepted licenses below.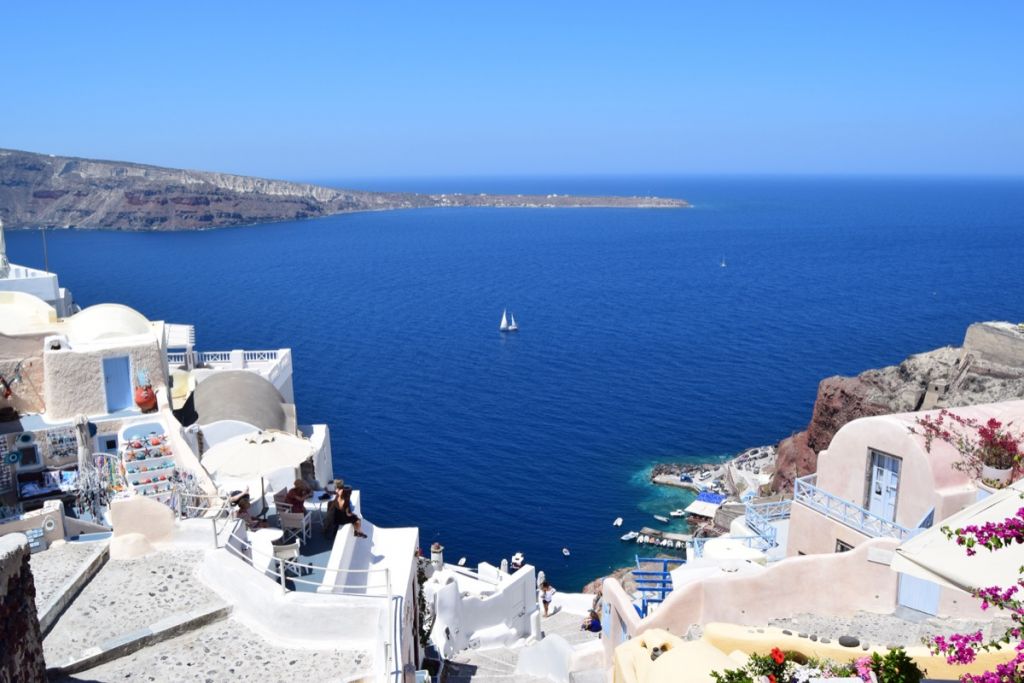 The Exact Charter Requirements for Greece
Here are the requirements for chartering bareboat in Greece:
Skipper with valid sailing license
Valid travel documents
Assisting crew member (18+ years old) with some boating experience
The right charter insurances
A sailing license or certification is defined as the appropriate documentation officially recognized in the charterer's home country. I have a list with accepted licenses below.
In Greece, you don't need a VHF Radio Certificate. This goes for most Mediterranean countries. It is required in Croatia, however.
Sailing License
The sailing license could be any of the following:
ICC - International Certificate of Competence or International Certificate for Operator of Pleasure Craft' with Sail endorsement,
RYA Day Skipper - you can then also get the ICC automatically from the RYA - OR
An equivalent national qualification/certificate like the IPC or SLC
Each country has its own licenses. It's all a matter of what license is easiest to get or the cheapest in your particular situation. Generally, I'd say it boils down to:
US - SLC is the cheapest and easiest IF you have prior experience
UK - ICC practical test is the cheapest and most direct way
Most European countries - ICC is integrated with the national sailing license
For a more detailed explanation of the different licenses, please read on.
Crew Requirements
Each charter needs to have an experienced skipper with the right licenses. The skipper should be competent at handling a yacht in close quarters, anchoring and mooring in varying conditions and be able to use navigation and pilotage skills to plan the day's sailing and know your position at any time.
Assisting Crew Member
The skipper should be assisted by at least one member of the crew with some boating experience. This assisting crew member should be 18 years or older.
Sending In Your Documents
You need to send a copy of your sailing certificates to the charter company at least 2 weeks before the start of the charter.
Skippers also need to bring their original certifications with them, as they will be asked to present them with their boat paper to the port authorities on arrival.
Accepted Sailing Certification (per Country)
To sail a yacht bareboat in Greece, the skipper of the yacht must have previous skipper experience on a similar size yacht and a recognized sailing qualification or certificate like the ICC (International Certificate of Competence) issued by a recognized sailing organization or statutory.
Here's a list of some of the national and international certifications that will be accepted by Greek charter companies:
Australia: ICC or Yachting Australia Inshore Certificate or higher
Canada: CYA Intermediate Cruising Standard or higher or Canadian Pleasure Craft Operator Card
Ireland: ICC or higher
New Zealand: ICC or higher
South Africa: ICC or higher
United Kingdom: ICC or higher or RYA Day Skipper practical or higher
USA: Bareboat Chartering Standard (ASA 104) (Intermediate Coastal Cruising), US Sailing Bareboat Cruising Certification, the International Proficiency Certificate (IPC).
France - LE PERMIS PLAISANCE
This list is by no means comprehensive. Every country issues it's own sailing licenses. In most countries, you can simply apply for an ICC if you have the national sailing license.
For a full list of the different licenses per country, and how to apply for ICC, please go to my ICC article here (opens in new tab).
What To Do If You Don't Have the Right Certifications?
If you have sailing experience but no sailing certificate, there are plenty of options available. Let's go over the different ways to go about getting your ICC in different countries.
United Kingdom
Experienced sailors can take the short ICC assessment with a recognized sailing school before they go to Greece. Many will offer pre-ICC training courses as well if required.
You can take the RYA Day Skipper practical course which entitles you to apply for the ICC which is required to skipper in Greece.
United States
You'll need to be certified for bareboat cruising to meet the requirements for chartering in charter in Europe.
The U.S. offers the equivalent to an ICC called the International Proficiency Certificate (IPC), which is recognized in European waters.
If you don't have the IPC, but you do have the required sailing experience, you can 'challenge' the sailing certifications at any US Sailing certified school. Check what the certified schools are here (opens in new tab).
Other countries
Most countries outside of the UK offer similar sailing courses and assessments.
Get Your Sailing License in Time
If you're getting a new license issued, contact your yachting association in time for your trip. It can take up to 20 days before the issuing organization to issue a certificate.
Required Travel Documents to Visit Greece
US Citizen: As a U.S. citizenship holder, you do not need to apply for a Greece Schengen Visa! You are allowed to travel to Greece and to all other members of the Schengen Area for up to 90 days for tourist or business purposes without a visa, as long as your U.S. passport is valid for at least 3 months after your planned return to the United States!
Please note: from 2021 onwards, a visum will be required.
UK Citizen: UK citizens who hold a full UK passport can travel to Greece visa-free. On the other hand, many non-EU nationals who reside in the UK are still required to get a Schengen visa to travel to Greece.
Canadian Citizen: Canadian citizens are not required to obtain a Schengen visa in order to enter any member country of the Schengen Area for tourism or business purposes.
Additional Information on Greek Bareboat Charters
Sending in the crew list
You first need to confirm the official crew list and pay the security deposit. I recommend sending the crew list to your agency at least seven days before the trip to speed up the process.
Security deposit for the yacht
Every licensed Greek charter yacht is insured, third party cover included.
There will be a deductible "excess" amount. This amount is provided to you by the charter company/yacht owner under the "Refundable Security Deposit" figure.
The Refundable Security Deposit will be held by the charter company. If there is no damage or loss to the yacht or her equipment, the money is returned to you at the end of the charter.
However, if any damage and/or loss has occurred, the deposit, or the appropriate amount, will be retained in order to rectify the damage or loss.
Required Insurance Policies
You'll need the following insurance policies:
Yacht- and Boat insurances - will be provided by the charter company
Professional skippers liability
Charter insurances - will be provided by the charter company
Did you find the answer to your specific question?
👍

2
👎

0